Gulpoly issuing further shares
Is this a matter of serious concern?
Why is the share being issued at around Rs 180 when the market price is Rs 300. What am I missing?
The Board of Directors of the Company in their meeting held on 9th October, 2014 has issued 5,00,000 Convertible warrants @ Rs 175 each against which 25% has been received and balance will be received at the time of conversion of warrants into equity shares with in 18 months from the date of allotment of warrants.
Bottomline is GPL was the sole provider of PCC. Every other product by GPL is also produced by other companies. It was unique only in PCC and to make matters worse, it has started gathering other competitors who started providing PCC.
Conclusion: GPL now doesn't have a single product/service that is unique to them. Its time to look for opportunities elsewhere.
However there is only one supportive argument to stay invested in GPL only if its product(s)/service(s) are better in quality and/or cheaper than its peers.
Disc: invested but will sell every single share on 9:15 a.m on Monday
Gulshan has truly been a strong Indian player in the CaCo3 market but off late their CaCo3 business has been facing stiff competition. Some of the notable names in CaCo3 are making huge inroads in this market such as,
Omya, Imerys and Mineral Technologies
Plus a large number of local players in this market means margins are difficult to come by. A few key local players are , 20 Microns, Calchem, Roha Carbonates, Wolkem + a Japanese partner. Tough days are ahead for CaCo3. On the other hand the Sorbital business which has been growing for Gulshan and their newer ventures are key for the company in the future.
Company is in expansion mode. Company's annual report mention that the following two expansion should be completed by Mar-2016 and both expansion should add around 250 crores to top. So I think company will be on strong footing and FY17 should be very good.
Distillery project for alcohol in MP, expect commission by Mar-16.

Grain based starch derivative in Muzaffarnager, expected commissioning by Mar-16.
Any one have info regarding new expansion commissioning and expected commercial production.
Key Events:
GPL is spending nearly 100 crores in the current financial on difference product verticals to boost the sales.
A/ Expansion of Muzaffar Nagar unit to increase the production capacities for Brown Rice Syrup, Fructose Rice Syrup and Liquid Glucose etc.
B/ Similarly the trial run for production of native starch is under progress, this unit contribution w.r.to sales can be observed in the second half of current fiscal.
C/ Similarly the setting up of potable alcohol at Chhindwara is under progress and it will report sales from last quarter of current fiscal.
D/ Company became market leader in India in Calcium Carbonate industry with 25% market share with 19 different grades.
E/ Company which used to manufacture Sorbitol,Liquid Glucose under starch derivatives when i monitor the stock price

@60

now expanded the product portfolio to include D-Glucose (Dextrose Monohydrate) , Malto Dextrin and Fructose Syrup, Brown Rice Syrup and Rice Syrup solid (last year additions), potable alcohol and native starches (this year additions) is a remarkable achievement.
F/ GPL completed one more Onsite PCC implementation and as informed by me in Nov 20,2015 mail, all the paper manufacturing companies will gradually adopt this technology in an effort to minimize the operational costs and to increase the quality of the product.
Ref:

Surprisingly as informed by blogger in conclsuion, management announced stock split rather than bonus , very good details are provided.
Disclosure : Invested
MP liquor ban is a hanging sword on Gulshan's new plant at Chhindwara. Although, liquor sales contribute 10,000 cr in revenues for the MP state government, liquor has now become more of a political issue with women voters urging for this ban. Here are some recent articles in this regard -
http://www.freepressjournal.in/bhopal/bhopal-gujarat-bihar-report-stops-chouhan-from-blanket-ban/1146303
I am not sure how this ban, if implemented around next elections, could effect Gulshan's Chhindwara plant. As happened in Bihar, consumption ban can be followed up with manufacturing ban as well (manufacturing licenses were not renewed). Gulshan is yet to get license from the excise department for this plant. Big investments have already been made on this plant.
Did someone attend the AGM? I came across the following note on AGM on MMB, though i cannot corroborate its correctness. My comments are in Italics.
Some of the key takeaways -
(1) Export to go up to 150 cr from 75 cr at present.
(2) Fuel and Coal Cost to be brought down by 15% by FY-end.
I am not sure how! On the contrary, coal costs are on the rise.
(3) Now three locations have best of manufacturing practices of substance i.e. at Muzaffarnagar, Bharuch and Chhindwara. All with latest pollution control norms and captive power plants.
(4) ENA plant may start production immediately after "Consent to Operate` letter is received from State Govt authorities (Excise Dept).
Refer to my other posts on MP Liquor ban - Gulshan Polyols(GPL) - Business by FMCG and Valuation by Commodity
(5) Margins of Sorbitol are under pressure due to entry of new player.
This is a big problem if this persists!
(6) Native starch plant is doing well and catering to 100 kms radius for all paper mills. Now they may extend supply up to 300 kms.
(7) Margins on Calcium Carbonate are good.
But this will remain a commodity, although many of my friends who are also dealing (manufacturing/treading) in Calcium Carbonate are rosy about the prospects of this industry. In last few months volume has really picked up.
(8) Some more satellite PCC plants may get established during current FY.
Very small contribution to the overall revenue.
(9) FY17-18 topline to cross 700 crs without contribution from ENA plant and next year well on it`s way to 1000 crs plus.
If this happens, would be amazing. But, should happen while preserving margins.
(10) Company`s new products are finding place in developed markets i.e.USA, Canada, Europe and Australia which will be scaled up in future.
(11) Capex Programme is complete for FY17-18 and Company has to reap the benefits incrementally in years to come.
That's good as i would like to see leverage going down with improving operation cash flows. Company has raised lots of debt (around 150 cr) from 40 cr in 2014.
   Company shares allotted to Antara fund @175 rs.
   Company shares listed on NSE exchange.
   Promoters had given 6% of stake to reliance growth fund @255 rs.

This stock is previously covered @212 levels in December,2014 in the same blog. Currently it is trading @300 levels.
Got this info on this blog: http://www.smallcap-valuefind.com/2015/07/gulshan-business-by-fmcg-and-valuation.html
But on BSE chart i see 120 levels is Lifetime high, can someone clarify abt this
Have you taken into account the 1:5 split?
http://www.bseindia.com/xml-data/corpfiling/AttachLive/ba601da3-69ba-4268-b494-defa7e99401b.pdf
Results out and after sometime it has shown a good growth in both revenues and profit front. After a dull Q2 margins have expanded in both maize processing and minerals business. Revenues up 22%, PBIT up 52%. Net profit down due to deferred tax asset.
company has started its ENA and rectified spirits division since december 2017.

30% Q-o-Q volume growth in maize starch

69% volume growth in HFRS
still available at market cap to sales 0.7
Discl: invested since 2 years
@nitin_verma @Chaitu_1614 Do you still follow the company? With the present price action, I am very tempted to invest but not sure what I am missing about market evaluation of the company's worth.
yes i am still holding the company, below are my reasons:
last year the margins were tepid due to high raw material prices ( mainly maize). this year that has tapered a bit.

this quarter the same has been demonstrated with a profit growth of 59.3%. EBIDTA margins have expaned to 14.7% from 8.5%. https://www.bseindia.com/xml-data/corpfiling/AttachHis/bf34a8aa-f3ec-4b40-890e-d1a91e38a7d6.pdf

the pre tax profit would have been higher by 5.2 cr adjusting for the loss on the distillery segment. if the company can scale up its distillery segment this year, it can be a huge earner.

the industries the company caters to has shown good growth such as paper and consumers which bode well

the valuation provides a lot of comfort. market cap to sales 0.5
I will watch it how it performs this year and let the earnings and the scaling up of distillery guide me
Look at this segment performance chart for Gulshan Polyols! Once distillery ramps up, profitability would be much higher.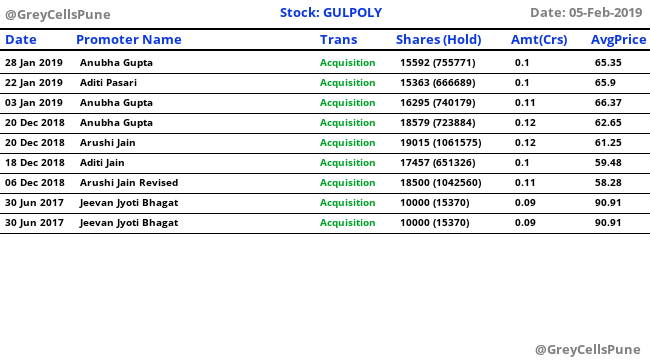 Fellow investors,
I am a relatively new swimmer in the ocean of investing knowledge. I happen chanced to research a bit on Gulshan and I do believe there is an opportunity here. Like a few experts here, I am waiting for the IMFL & Animal Feed story to unfold. I am also keeping an eye on the sales of new products (Fructose and Native Starch) which have better margins than the existing starch sugar products.
However, I am aware my biases are working against me at this stage and therefore would like to thrown open a few questions to the experts here…
Is there a reasonable explanation regarding the inconsistent tax payouts? What kind of subsidies does the company get for it's business segments?

The company is particularly proud and bullish regarding the manufacturing of onsite PCC in India. From the annual reports, it is clear that this segment saw a good growth in 2014-2015 by exporting 2 onsite plants to Bangladesh, followed by a decline and now the company no longer reports standalone figures for this business vertical. Does anyone here have a better idea of the breakdown for this segment? (It could very well be that my untrained eye missed something)