This stock is always part of my core portfolio for the last 4 years. I enjoyed the multibagger run always and surprised to see it is never covered in VP blog.
Gulshan Polyols :
It is demerged entity from Gulshan sugars in the year 2000.
GPL's business portfolio covers Starch Sugars, Calcium Carbonate; Agro based Animal Feed, Alcohol business & On-site PCC plants. PL has 10 manufacturing units spread across 8 locations.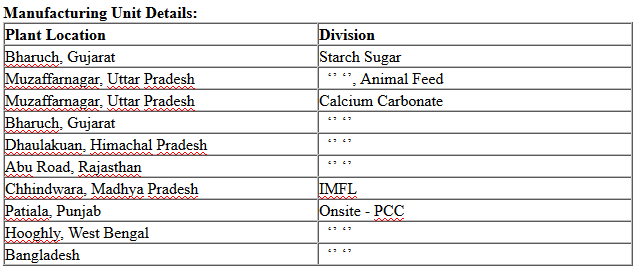 Starch Sugar division constitutes products such as Sorbitol70%, Dextrose Monohydrate (DMH), Malto Dextrine Powder(MDP) and Liquid Glucose. GPL is the biggest producer in most of these products according to my knowledge in India. These products are widely used across the industries.

2. Calcium Carbonate and it's by products:
GPL manufactures different types of Calcium Carbonates using Lime stone. Premium quality Activate Calcium Carbonate (ACC), Precipitated Calcium Carbonate (PCC), which finds applications in Plastic industry, Paint, Rubber, Cosmetics and Printing ink etc. GPL manufacturing activity spread across 4 plants with a capacity of 1, 05,000 MTPA backed by power plants.
Onsite PCC concept:
Gulshan Polyols Ltd is the first to introduce the concept of On-site PCC plant in India, at the site of Magnum Papers ltd. This has been recorded in the Limca Book of Records, 2010.Gulshan provides the know-how to set up an On-site PCC plant and maintains the supply of the raw material for the same. After success of its first partnership in this field, it is tying knot with other paper mills for On-site PCC technology.
Gulshan is supplying PCC for alkaline paper to Paper Mills like ITC Ltd, TNPL, BILT, Shree Krishna Paper Mills Ltd etc.
Onsite PCC Projects:
(1) ITC Ltd. Hoogly, Kolkota (PCC)·, (2) OPIL, BirlaGroup, Amlai (PCC)· (3)BMPIL, Meghnaghat, Bangladesh (PCC)· (4) BMPIL, Joya, Bangladesh, (WGCC)· (5)DSG Paper,Patiala (PCC)· (6)Magnum Paper, Sahibabad (PCC)
3. IMFL division:
GPL manufacture and supply of a low range of Alcoholic Beverages under the brand name "Tiger". Management expects this segment as one of the future growth drivers and it has plans to setup 4 Grain based distilleries across India.
GPL's distillery unit located at BoregaonIndustrial Area center in Madhya Pradesh with a capacity of 4.5 Lakh cases per month. Current blending capacity is 1.5 Lakh cases per month. Company has plans to manufacture Extra Neutral Alcohol (ENA) in the same location with capacity of 60,000 KLPD and commencement by March 2016.
4. Animal Feed:
Good thing about the company which I like mostly is the management is continually introducing new products in starch/rice segment and increasing the value products thereafter. The raw material for this division is derived from "By-product of the wet milling of corn to produce cornstarch, sweeteners, oil and applying steam drying OR produced in the processing course of corn starch".
This division manufactures the products such as Cattle Feed, Corn Gluten, Rice Gluten, Corn Gemand others.Company claims their cattle feed products are vitamin rich such as amino acids, Proteins which are necessary for animal growth and their milk yield.
Both Animal Feed and IMFL divisions will provide additional revenues on both sides(top &bottom) considering that they are still in nascent stage.


Achievements:
GPL is the first Indian company to produce Dextrose Monohydrate (DMH)
from rice.
GPL has been recorded in Limca Book of Records, 2010, for pioneering in setting up the first on-site PCC plant in the country.
GPL is the single largest producer of Sorbitol and Calcium Carbonate in the Country in the organized sector, which meets the requirements of all the customers in the various industries, and the customer's list includes top corporations in Tooth Paste, Pharmaceuticals, Paper and Paints etc.
The Company has its own power generation plants of 15 MW located at Muzaffarnagar and Bharuch plants that makes it self sufficient in meeting the energy demand 24x7.
Long term agreements with most of its marquee clients.
Recent Developments:
Company shares allotted to Antara fund

@175

rs.
Company shares listed on NSE exchange.
Promoters had given 6% of stake to reliance growth fund

@255

rs.
Dividend payout increased from 2.5 to 3.5 rs for the completed FY.
Conclusion : Stock is currently trading at 315 rs with a PE of 12 in the current bull market. The current market capitalization of 300 crores is still small with plenty of growth opportunities ahead with good promoter integrity. I strongly feel that it can be a multibagger even from the existing levels.
Disclosure : I bought the shares at different levels @58(tracking position) @175 (medium quantity) and recently @319 levels. Hence my views are biased.