About the Company
GGL is India's largest City Gas Distribution company, with 25 CGD licenses spread across 41 districts in 6 states and 1 Union territory across the states of Gujarat, Maharashtra, Rajasthan, Haryana, Punjab and Madhya Pradesh and Union Territory of Dadra & Nagar Haveli.
Holding Disclosure:
Together with GSPL, the parent company, total 10% of my portfolio since past 2 months. Have been adding since PE has been falling even as performance remains good/improving. As seen from screener.in, PE is at historical lows, while performance and outlook is the best ever.
Preamble:
Discovered this after having invested in Gas space about 3 years ago when first starting my investment journey. First picks were Petronet LNG, GAIL, Mahanagar and Indraprastha Gas. Exited most of them after some disappointment by the modest gains within a year. 2017-18 were turbulent times to judge value!
Mostly the bet was pre-mature and in case of Petronet LNG I could foresee that it would be a laggard in the terminals business. Was shocked by Indraprastha gas re-rating and hence re-entered.
Objective is to create a thread for collecting/sharing ideas/opinions/information. The ValuePickr way!
Disclaimer:
Most of this article is credited to this report of BOB capital markets published a week ago:
The analysts write:
At our recent meeting, GUJGA's management assured robust outlook on volumes driven by (a) implementation of anti-pollution measures by the state government (new CNG state buses), and (b) relatively low LNG prices.
Volumes continue to trend above 9 mmscmd, as Morbi units sustain >6 mmscmd offtake, and carry additional 1-2 mmscmd potential. We raise GUJGA's TP to Rs280 (from Rs270), as we roll forward valuation to Mar'21.
At 12.7x FY22 EPS, GUJGA remains most attractively value among its peers.
Buoyant volume outlook:
Ceramic units in Morbi (Gujarat) continue to offtake >6 mmscmd volumes, and carry potential for another 1-2 mmscmd as new units get connected. Concerns on Morbi customers shifting to GAIL for sourcing gas seems to have alleviated, as GUJGA's pricing remains most attractive, along with its commitment to add incremental pipeline capacity to connect more units. CNG volume growth could improve as Gujarat state transportation (GSRTC) has approved induction of 1000 CNG buses (250 in Q4 FY20). Over the long-term, management expects most of the GSRTC's ~7000 fleet of buses to convert to CNG.
Volume potential from new areas to fructify from FY21/22:
GUJGA is aggressively pursuing expansion into newer areas, maintaining capex guidance of Rs6-7bn annually. Initial strategy is to tap potential from existing network from Rajasthan until rural Thane region near Mumbai. Simultaneously, this would help tapping volumes from new areas such as Dahej, Punjab (GUJGA has license for about 6 areas) and Rajasthan, that offer 4-5 mmscmd potential.
Undemanding valuations:
At 12.7x FY22E EPS, GUJGA's valuations remain relatively attractive to CGD peers (~16x for IGL/MAHGL). This gap may get bridged gradually, given stability in volumes and margins.
Valuation methodology
GUJGA's unique positioning in the CGD space makes it one of the best bets on gas volume growth potential, based on a) access to more than 80% of CGD potential in Gujarat, and b) strategic expansion into new areas (such as Dahej in Gujarat, Rajasthan, western Maharashtra and Punjab) that are contiguous to its parent GUJS' pipeline networks.
At 12.7x FY22E EPS, GUJGA's valuations remain one of the lowest among CGD peers (13x-17x for MAHGL/IGL). This gap may get bridged gradually, as volumes and margins sustain as elevated levels. We raise GUJGA's TP to Rs280 (from Rs270), as we roll forward DCF valuation to Mar'21.
Key assumptions for our DCF-based fair value are as under:
 Cost of equity of 11.9% (from 11.4% earlier) and terminal growth of 5%
 Long-term average EBITDA margins at Rs5/scm
Key risks
 Lower-than-expected margins over FY21-FY22 could change our valuation outlook for GUJGA
 Below-expected volume growth.
 Change in the PNGRB regulations, or an unfavorable court ruling (against NGT ruling for ceramic units), could alter volume growth outlook.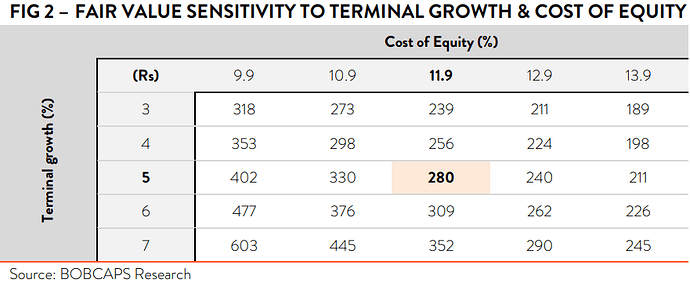 Note:
GSPL owns 55% of Gujarat Gas. Gujarat govt owns 5% and only 25% is free-float for public.
Apparently there is an old "special situations" thread about an open-offer in 2012 when GSPL wanted to fully acquire this