An overview of Fluoropolymer Industry
Fluoropolymers_Market_Data_Update_-Final_report-_May_2022.pdf|attachment (1.2 MB)
Source: https://fluoropolymers.plasticseurope.org/
Summery of the above report
The fluoropolymer producers in Europe anticipate strong growth in the fluoropolymer market in the medium term (e.g., by 2025). The Allied Market Research "fluoropolymers market" report indicated that the global fluoropolymers market is expected to grow at a compound annual growth rate (CAGR) of 6.5% from 2020 to 2027.
Sales of fluoropolymers onto the EEA market generate a revenue of around €750 million per year, and sales onto the EU28 market generate €740 million per year. This is the sales value of sales of fluoropolymers in basic form; this is just the first stage of the value chain. The value of the final products made using fluoropolymers would be substantially greater.
The first sector breakdown (as in the 2016-2017 Fluoropolymer SEA study) breakdown, transport (15,500 tonnes worth €280 million) and chemical and power (11,000 tonnes worth €200 million) were by far the largest sectors in 2020. Compared to 2015, in terms of tonnages, most sectors remained stable (electronics, renewable energy) or experienced a decrease in volumes which was most pronounced for medical applications (-67%) and textiles and architecture (-50%). The only exception was "other sectors" (not elsewhere classified) which grew by about 50%. However, in terms of sales values, several sectors experienced significant growth, namely renewable energy (+300%), electronics (+40%) and "other sectors" (+100%).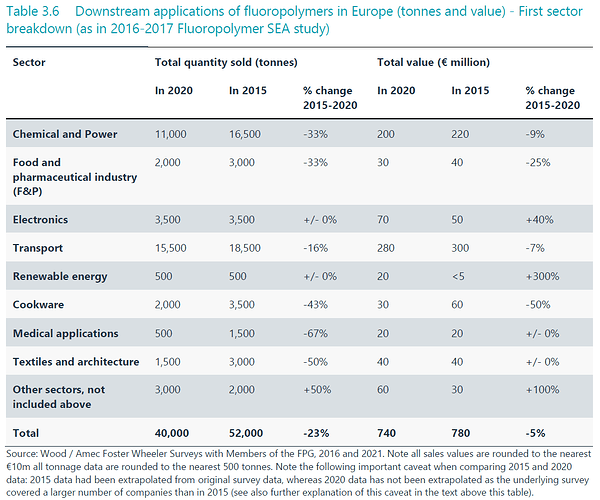 Industry wise application of fluoropolymers:
AEROSPACE INDUSTRY
Fuel lines and hoses
Hydraulic systems
O-rings, gaskets
Electronic systems
Coating for a variety of purposes (cables, wires, etc.)
Tapes, wires and cables
Satellites: Fluoropolymers can be used as a fuel for satellite propulsion systems (solid fuel instead of liquid fuel)
Exterior surface coatings
AUTOMOTIVE INDUSTRY
Turbocharger hoses

Multilayer fuel hoses

Hydraulic hoses

ABS break lines

O-rings used as seals in fuel containment systems and fuel injectors

Shaft seals and valve stem seals

Air intake manifold gaskets

Cylinder head gaskets

Automotive venting products

Lambda oxygen sensors in exhaust systems

Reliable Electronic systems

Wires and cables
CHEMICAL AND POWER SECTOR
Tanks, vessels, pipes, tubing, column packing, heat exchangers, pumps, filters, seals and/or the lining of these components
Power and data cable insulation
Coal burning and waste incinerator heat exchangers and desulfurization units
Battery binders
Chloralkali processes
Nuclear industry fluid handling, filtration and gas sampling
ELECTRONICS INDUSTRY
Semiconductor and photovoltaic cell manufacturing infrastructure: pipes, vessels, valves, pumps, spinners, filters, seals, fluid storage containers and wafer baskets
Printed Circuit Board and semiconductor part cushioning, packaging and release film
Wires and cables
FOOD AND PHARMACEUTICAL INDUSTRY
Lining of valves, piping, tubing, filters, seals, gaskets and other standard fluid handling components
Lining of mixing vessels and tanks
Coating on processing belts
Labware
Medicine Packaging
Items that need sterilization
MEDICAL EQUIPMENT AND DEVICES
Surgically implantable medical devices such as vascular grafts
Heart patches
Catheters
Diaphragm pumps
Membranes for filtering and venting purposes
Fluoropolymers play an essential role in enabling medical imaging and analysis (via electronic chips and semiconductors in X-ray, MRI, CT scan and echography) as well as medical analysis (blood, tissue, urine analysis)
Sterile container filters, needle retrieval systems, Tracheosto, catheter guide wire for laparoscopy, valves, fittings, pumps, tubing and medicine inhaler canister coatings
TEXTILES
Aerospace suits
Outdoor applications like awnings, umbrellas, furniture, boat covers and sails
Fabrics with fluoropolymer membranes are a key component for a composting solution for the treatment of organic waste (green waste, food waste, source separated organics, biosolids or Municipal Solid Waste – MSW)
Industrial filtration and gas sampling to prevent emissions in the chemical and power sectors
ePTFE sewing thread, fibers and weaving yarn are used in demanding environments and high-performance ropes
ARCHITECTURE
Architectural films. Films from fluoropolymers such as ETFE are used as parts of the roofs in stadia, domes and other structures
Fluoropolymer coated glass fabric roofs, and laminated coatings
PTFE Woven Fabric
Fluoropolymer-based paints
Bridge and offshore bearing pads. Made from fluoropolymers as they provide the lowest friction coefficient of all plastics
"Cool Roof" technology
RENEWABLE ENERGY
Photovoltaic:
Front sheets: protected by fluoropolymers, provide weather resistance, ultraviolet blocking, optical transparency, fire resistance
Back sheets: improve electrical insulation, protection from weathering and chemicals
Vents: fluoropolymers are used e.g. in junction boxes
Wind turbines:
Control centers for offshore windparks
Paints and coatings: long term protection against weathering to increase product life, extend maintenance cycles
Release film: support production of composite turbine blades esp. for offshore
Fuel Cells and flow batteries:
Ionomer exchange membranes offer an environmentally safe way to generate large amounts of hydrogen, without emitting CO₂.
Energy storage: used as a component e.g. binders which provide chemical, heat and oxidation resistance, and long-term storage of renewable energies and stationary energy storage
COOKWARE
Non-stick coatings for cookware, ovenware and small electrical appliances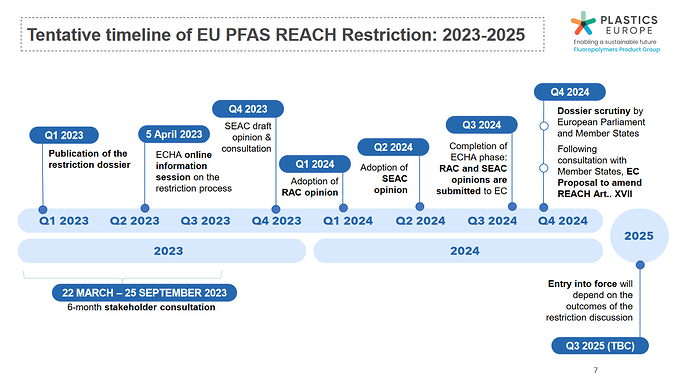 A similar report from US but published in 2020:
Socio-Economic-Assessment-of-the-US-Fluoropolymer-Industry-Executive-Summary.pdf (1.8 MB)
Thanx…