What is the expected revenue potential or market size for the same?
I could not find any reference for exact revenue potential Thymosin alpha1. In my opinion it may not have any significant impact. Even though DCGI have approved it, use of the above drug may not increase in clinical use. We have to take the above study results with pinch of salt. Its likely that above study is ?funded by Gufic and there will be obvious biases, other things like quality of study, no of patients and case profile does matter.( hope they publish the study in some journal to understand in detail). As desperate measure, I have used Thymosin alpha in very few severe covid cases without any benefit.
There are many studies (most are China based) on thymosin aplha use in Covid cases without clear evidence of benefit and meta-analysis has not shown any significant difference. Unless it gets included in standard guidelines for treatment ,thymosin alpha use will be limited.
Thymosin alpha1 was tried in other clinical scenarios like sepsis but does not found its place in standard management even after many years.
Its good to see Gufic getting into these therapeutic areas but for investors like us, its better not to build much revenue potential from Thymosin alpha. Next concall we may get more details.
Discl: not invested,
Very rightly pointed out. I too believe that revenue potential is not much. But we need to appreciate the ability to innovation new things in time and their R&D capability. The company has demonstrated their R&D capability many times.
Press release being issued by the Company on the subject " Gufic receives permission from CDSCO to manufacture and sale Isavuconazonium Sulfate API and Finished formulation Isavuconazole
Q4 results and investor presentation link below; Strong operating cash flow reported
FY22 Business Highlights
Critical Care Division
Launched Zarbot - First Botulinum Toxin in India targeting Cerebral Palsy, Migraine and Over Active Bladder.
Received permission from Central Licensing Approving Authority, (CDSCO), Ministry of Health and Family Welfare for manufacture, sale and distribution of Isavuconazonium Sulfate API and finished formulation Isavuconazole for Injection 200 mg/vial. Isavuconazole for Injection 200 mg/vial is indicated for the treatment of patients having 18 years of age and older for the treatment of Invasive Aspergillosis and Invasive Mucormycosis.
Received DCGI approval for Thymosin Alpha-1 (Immunocin α - A Brand of Gufic for the said drug) as an add-on therapy for the treatment of moderate-to-severe COVID-19 patients requiring ventilator support. Immunocin , an Immuno-modulator drug, significantly reduced the risk of death in the Phase 3 Clinical trial in adult patients with moderate-to-severe COVID-19. We have also applied to DCGI for Sepsis indication.
Penetration into Primary care hospitals and nursing homes, which is a fragmented but a large and fast-growing market.
Clinical Trial for D29 has progressed well. This is a novel once a week anti-infective to be launched for the first time in India.
Ferticare Division
IVF Sales have rebounded and have crossed pre-CoVID levels
Improved technology for one of the flagship brands – Puregraf which will help to increase traction
Exploring two new indications for an existing peptide molecule (endometriosis and recurrent implantation failure)
Healthcare & Spark Division
Launching a multi vitamin formulation to augment our well diversified product portfolio
Aestherderm Division
Post CoVID-19, the cosmetic procedures have increased two-fold and we are seeing a similar momentum in the aestherderm portfolio
Doctor coverage and acceptability has increased
We are creating a centre of excellence to impart training as well as to import novel innovative practices, equipment and products in the field of hair and body aesthetics, ensure adaption and penetration at an affordable pricing for the Indian market
Stellar Division
The division was launched last year, and we are seeing good traction
Launched Sallaki Max - a nutraceutical targeting arthritic pain
Gufic Biosciences Limited forays into Cancer Immunology by undertaking research collaboration with Selvax Pty Ltd, a company based in Australia
Under this initiative, Gufic will undertake mutually agreed development activities in return for the exclusive commercial rights for Selvax immunotherapy in India along
with an equal share of future revenues that might be derived from future sales of the product in Europe, subject to the approvals received from the regulatory
authorities in India and Europe, respectively. Selvax's goal is to develop a safe, effective and immunological-based treatments for a range of hard-to-treat solid tumours.
Update on International Business
We have commenced exports to regulated markets for molecules such as Vancomycin, Clarithromycin, Teicoplanin, Tigecycline
In FY22, 5 new product approvals received in regulated markets and 8 new product approvals in semi regulated markets. We have entered two new regulated markets(Brazil & Canada).
In Q3 & Q4 FY22 we have aggressively invested in a new biological technology platform
Growth Strategy


QOQ growth is hampered , imo OMICRON VIRUS hits the country in jan22 to mid feb 22, majority patient is treated on at OPD basis,no major required admission required, no major gufic COVID 19 basket drug uses are almost neglgible ,in that period infertilty, cosmetics, ayurvedic,work badly hampered due to fear of OMICRON , in this type pandemic people delay this type treatment.
YOY growth is very good because majority uses of COVID 19 basket drug .
my opinion may be biased,
disc:
invested in stock
not sebi register.
hope it add some value to this wonderful forum.
concall notes
Out of 780 cr revenue this year 180 cr was related to covid. compared to 480 cr in FY21 this year non covid growth is 25% or 600 cr non covid revenue. This FY23 expected revenue should be around 750 cr and if things are good it can touch 800 cr too.
Indore capex will have capacity of 1.5 times of present gufic size. it will contribute to revenue from q1fy24. but over time margin erosion will happen naturally.
8-10% of revenue spend on r&d. this year 60-65 cr spend on r&d. (I don't know how many Indian pharma company does this much r&d. For a company of their size they are doing pretty good job)
Many newly launched products are first time in India where no competition as of now so will get first movers advantage.
Revenue degrowth for last few quarters: Q1&Q2 due to covid mix, Q3 due to return of some covid 19 drugs due to inventory built up, Q4 usually revenue always falls historically (across pharma industry after 15th march purchase at the stockist level goes off), inventory build up in certain sectors like critical care (which will go down in q2fy23).
gross margin going up since last few quarters:fy21 gm was 48% and fy22 46% this is due to write off of covid drugs at q2&q3 because they have no markets. In Q4 gross margins are 56% which reflects actual gross margin, though this is not sustainable as admitted by CEO.
Competetion in critical care and going ahead: Indian market size is 1.8 lakh cr. chosen 38000 cr segment. have products whicj have market of 14000 cr. as time passes margin erosion will happen naturally (products are genereic so competition comes) which will be compensated by economy of scale and other products being launched. so we'll take this 14000 cr to 38000 cr by launching new products which is very important.it will be done either by genereic or innovative or ndds.
botulinum toxin: growing 20% month over month. not seen in history of gufic something like that. stunnox was promoted by 20 ppl last year now it's 150. non asthaderm products launched which is zarbot. zarbot has more applications than that of stunnox, this is first time in india. revenue of zarbot+stunnox: expecting this year 4 times of what we did in fy22 and next year 10 times of fy22. 1200-1500 cr market size in India for non cosmetic application of botulinum toxin (if we commpare with people who can afford this in India as a comparison with USA and even if we sell 1/10 th of that happens in usa). but people are not aware. so awareness needs to be increased
present capacity utilisation is 70%. indore will have 1.5 times of present capacity with additional products. but with time margin erosion will happen.
My opinion: Revenue will be flat this year because no covid related revenue this year. So if current valuation sustains then this year we should not expect any return. If the share price exactly traces the eps of trailing 12 months. however we should be back to similar eps at fy23 end as a conservative estimate. However in the past im 2017 this company used to have a PE of 50-60. Bit I don't think that will happen because prducts are genereic in nature. I request some senior members for valuation. Valuation is harder than predicting earnings
Disclosure: Invested at a price of 217.
I missed some parts of the concall because I could not understand some fine details for which I need the pdf version.
Sharing insights on Gufic from IQVIA Salesview app (free login, hence in public forum):

Note: All the above is only domestic data, does not include exports.
Disc- no holdings as of now but tracking closely
Sharing Concall Notes for Q4 and FY 22 :
Overall Developments :
5th fastest pharma company among the top 100 companies in India

Zarbot : Botolinum toxin for non aesthetic use launched (Used in ailments like Cerebral Palsy, Migraine and over active bladder).

D-29 : Clinical trials in progress . This is a novel once a week anti infective to be launched for the first time in India. (Upgrade of existing therapy of Vancomycin, Linezolid and Teicoplanin).

This is backward integrated with API capability also.

In Ferticare division improved technology for Puregraf which is their flagship brand and are also exploring 2 new indications for existing peptide molecule targeting endometriosis and recurrent implant failure.

In the case of Aesthaderm division setting up a center for excellence to impart training for doctors on novel practices , equipment and products in the field of hair and body aesthetics .

In Stellar division , new product Sellaki Max launched (Nutraceutical targeting arthritic pain)

In International business exports to regulated markets for molecules like Vancomycin, Clarithromycin, Teicoplanin and Tegicycline . Received 5 new approvals from regulated markets and 8 new approvals from semi regulated markets. Entered regulated markets of Brazil and Canada.

Foray into cancer immunology by undertaking research in collaboration with Selvax.
Other Points
Critical care segment is 1.8 Trillion Rs market out of which Gufuc has selected 36000 Cr as target market . They currently have forayed into only 14000 cr of the target market. Mr. Pranav (CEO) is foreseeing margin erosion to happen as more players venture into these therapies so they are trying to stay ahead of the curve by launching newer products and therapies.

Estimate 15-20% growth in the foreseeable future.

Indore new plant will not contribute in FY 23 but will start contributing in FY 24 .Indore plant is approximately 1.5x the size of Navsari and will add meaningfully to the topline as its also expected to be for regulated market with requisite approvals

Penem facility in Navsari will start contributing to topline in current FY.

Zarbot and Stunnox are growing at a frantic pace albeit from a very small base. Used to be promoted by 28 MRs now by 150 MRs.

R&D spend is approximately 8-10% of the overall revenue and planning to continue so. (Highly unlike a company of this size and makes me optimistic of their trajectory)

CMO capacity was kept on hold due to demand from Covid related drugs in last FY and hence non Covid portion of CMO was in degrwoth. CMO will resume this FY.
Capex Update
Total Capex : 220 Cr
Capex already Incurred: 60 Cr.
Balance 160 Cr planned in this fiscal
Internal accruals and Bank Loans.
Addnl 25 Cr incurrent for Penem project in Navsari + Dual chamber bags+Lyophilisation capacity augmentation.
On Sales Decline and Margin Contraction Q on Q
Q1 revenue was more of covid bump up
Q2 rev was Covid+ Black fungus
Q3 had to take back some Covid related inventor and write off from the books
Q4 Post March 15th stocking stops due to year end.
As per management out of the 779 Cr revenue in FY 22 610 Cr is non covid related which implies a 25% growth in top line YoY. With Indore facility coming in and possible growth in Botolinum portfolio and foray into biologics this company is poised for good growth .
Mr. Pranav Choksi seems to understand the business and comes across as straight forward and forth right.
Key Monitorables: Indore facility coming online, Regulatory aspect especially in regulated markets since they are primarily into injectables which is risky, ability to execute across multiple divisions.
Apologies for a slightly longish post.
Disc : Invested .
Gufic has launched New Drug Delivery System: Dual Chamber Bags at affordable price for the first
time in India. Link
For more clarity of VP Members on Dual Chamber Bags:-
Dual Chamber Bags are made up of polypropylene (DEHP free) with a peelable aluminum foil allowing the storage of unstable drugs which needs reconstitution just before the administration to the patient.
The peelable seal separates lyophilized (or powder) drug and its diluent. It can be reconstituted just before administration by simply peeling off the aluminum foil and folding & squeezing the bag, thus the diluent enters the drug chamber and mixes with the drug. Looks like below:-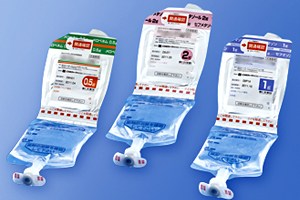 Thanks. Not an investment advice.
I have read all the replies and it seems that members here are getting more fixated for Botolinum. This is not going to be game changer I believe.
Also why mutual funds are decreasing their stake? Anything they know which we dont? Also FII investments are also less considering Gufic's size.
They will have a facility going live next year in indore. it can make gufic twice the size they are today. botulinum doesn't contribute much right now so it's an optionality.
Hi. Thanks for your reply. But isnt this expansion already discounted in current valuation/price?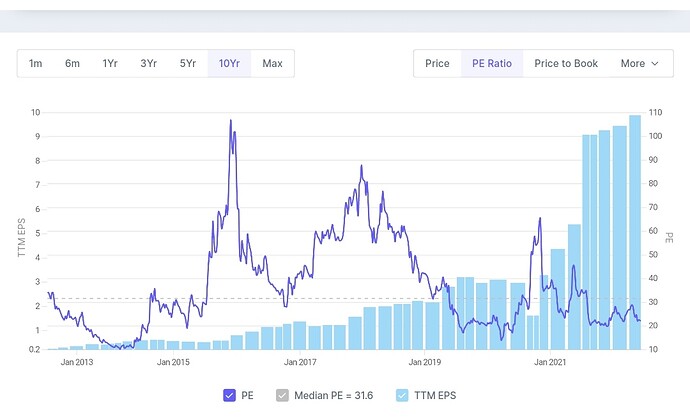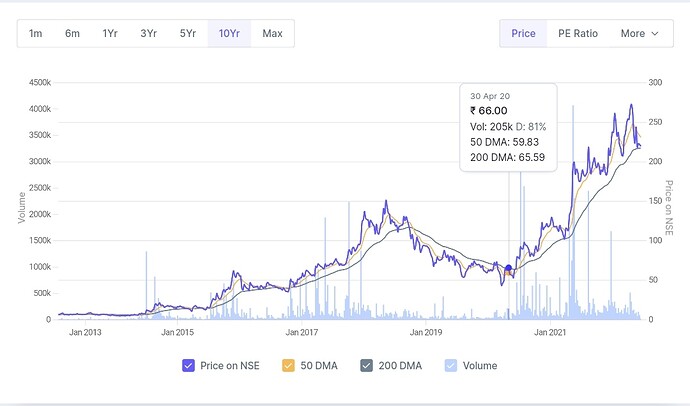 This is the historical price and valuation based on PE ratio. now their margins are improving. This year earnings might stay flat. To me it seems it's fairly valued. Based on FY23 earnings it's trading at 22 pe. Now if by fy25 they double the earnings then trading at Pe of 10-11 based on that. Historically PE has stayed around 10-11 only once.
see around 2015 earnings were flat and pe was at the same range as of today and the price was also flat following the eps and company was not overvalued based on the range of it's pe in past. But after that price increased following the earnings with rerating of pe. Now if same things happens this year so price should remain flat or fall slightly based on eps remaining flat this year. But after that price must increase because company is on good earnings growth track based on what I understood from the concall transcripts.
I don't really know if future is already discounted. But based on PE don't you think it's not discounted? When future is discounted PE usually stays on the higher side. Pe ratio is not very high based on historical pe range. Valuation is very tricky. It's easier to predict earnings comparatively.
Upgrade in credit rating: