I did a rough estimate of incremental value addition to GPIL's present fair value because of this CAPEX, assuming ₹10,000 Pellet prices, 20% PAT margins, 90% capacity utilisation and a 15% Discount rate.
It came to ₹80-90 per share.
1000 Crs NPV not just PV. PVs of inflows are 1000 Crs over and above PVs of cash outflows
First they won't be making CAPEX today rather over the next three years and that too highly weighted towards FY26. So in today's rupees, the CAPEX amounts to less than 1000 Crs.
Second, let's say I was being too optimistic with my assumptions and do a simple calculation:
In FY24,25 and 26 they will make a combined CAPEX of 1000 Crs meaning cash outflows and thereafter 5 years of cash inflows of 400 Crs (15% margins if 10,000 Rs pellet prices) and then a 2.5 multiple for all the future cashflows. If we discount all these cashflows to today at a 15% discount rate, we get ₹450 Crs the NPV.
I might be wrong about the estimates as the future is unknown, but given the track record of this management team's performance (high returns on incremental capital invested), it would be more profitable for long-term shareholders if the company invests internally rather than paying dividends
I could be wrong, but I will take the odds
Iron ore is the best China opening play, accounting for 77% of world's iron ore trade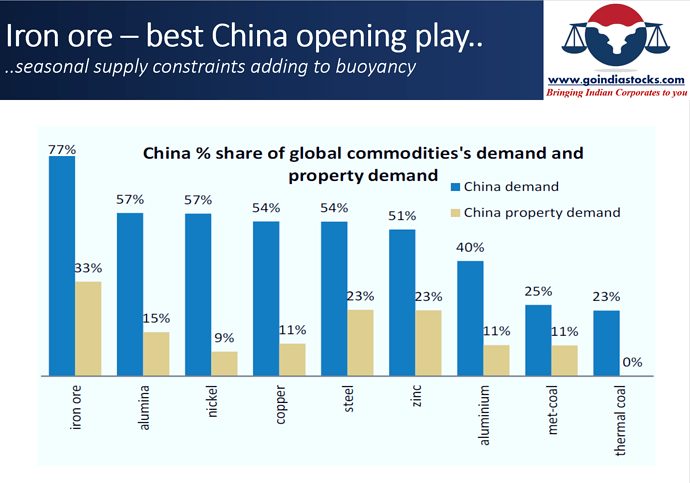 Source:
Will this kite soar high?
@Kumar_manas How do you see Q3 results of Godawari power as revenue increased(QOQ,but decreased YOY), but expenses increased drastically and hence profit decreased. Company said it was due to export duty ban. But ban was in Q2 also. So wanted to get your thought
Higher/volatile coking coal costs + lower pellet volumes/realizations may have affected Q3 margins. Suspect pellet sales will be a lot higher in 4Q (0.6+ Mill Tons) as:
only 1.9/2.7 Mill Tons have been produced till Q3 this FY
company has hit production ceiling allowed from sponge onwards, and will sell more pellet.
Estimating 1500-1600 cr Q4 revenue (with pellet ~40%) and 350-400 cr EBITDA because of higher pellet realizations (at ~10,000/Ton is +2000/Ton more vs Q2/Q3).
company already mentioned in PPT that it is due to fall in prices of other products (excluding pellets).
Q4 will be block buster- highest ever EBITDA and PAT!
That is also mentioned in PPT itself.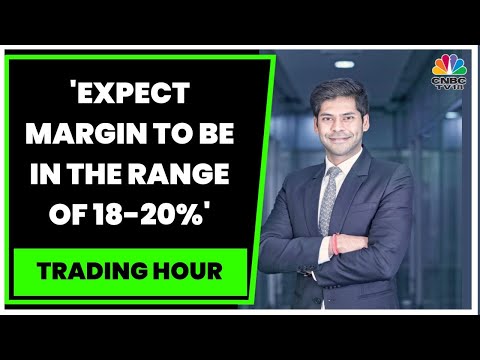 Summary by Chat GPT:
Godawari Power and Ispat reported weak earnings in Q3 of FY23 with a decline in revenue and margins. Pellet realizations have improved but are still lower compared to the previous quarter. The executive director of the company, Abhishek Agrawal, stated that the current pellet prices are about 10,000 rupees for normal pellets and 11,000 rupees for highgrade pellets. The company estimates to produce about 7 lakh tons in Q4 with an improvement in realizations. The lower margins in Q3 were due to the removal of duty in November and the impact of energy costs. The company is optimistic about margins improving to 18-20% for the entire year if everything goes well. The company is open to both domestic and export sales, whichever offers better realizations. The company is on track to achieve its guidance for iron ore pellets of 2.6 to 2.62 million tons this financial year and target 2.7 million tons next year. The company's guidance for iron ore mining was 3.05 million tons and they expect to reach 2.7 million tons this financial year.
Request you to please point out where exactly in the presentation this is mentioned.
The only guidance they have given is that Q4 will be better than Q3 - don't know where you got the impression that it will be their "highest ever EBITDA and PAT".
This is what was in the notice posted to exchanges:

Disc: Not invested, tracking
Information May be Useful for Some -
What is Iron Beneficiation Plant?
Low grade iron ores cannot be used as such for the production of iron and steel and need to be upgraded to reduce its gangue content and increase its Fe content.
The process adopted to upgrade the Fe content of iron ore is known as iron ore beneficiation (IOB).
I learned for better understanding of transcripts.
Godawari Power and Ispat Ltd, the board of directors are going to consider buyback of shares in its scheduled board meeting on 18th March 2023.
Buyback price of Rs. 500 is more than all time high price.
Buyback will reduce number of shares and increase EPS by 3.7% as well.
This will also give me decent TAX-free income.
Is the buy back going to be through tender route?
Looks like the buyback is through open market…does not help much…IEX did buyback recently, price did not move much
So, it is not from the market, but from the share-holders. I will remain a holder. Not selling.
It is a tax-free way for share-holders to sell ~3.67% of holdings at ₹500 (as by 2019 amendments, the company is taxed at 20% + surcharge + cess). Just shows even with 67% promoter holding, company is equitably rewarding minority shareholders too.
Perhaps the company hasn't found a way to invest ₹250 crores (+taxes/surcharge) in near-term capex and is confident enough to accrue such money when needed.
Corp governance of this co is top notch. Infact, they never give forward guidance, never try to talk up the share price- their pure focus is on their business. One can gauge this from their TV Interviews.
Please refer to BSE announcement only. This is mis-leading information.