Falling TDI prices is a concern. However, GNFC continues to excel in its day to day operations.
Regards,
Suhag
After WNA & TDI, GNFC comes up with highest ever daily sales of Aniline. GNFC is the only producer of Aniline in India.
Regards,
Suhag
Hi guys,
I went to GNFC AGM. i have been tracking the company since past 3 months.
So i was excited hoping i would get an advantage of a guidance towards future outlook for TDI.
couple of investors including me asked about the price trend and demand going forwards in TDI, But the management did'nt gave any guidance. Infact according to management fertilizer segment pain will be there in future. in TDI they said they're very small infront of players like BASF. they are planning capex in formic acid and acetic acid plants.
I think the newly apointed MD will take time to settle.
Can anyone tell me where do they source Natural Gas from ?
Almost all your questions are covered in the thread. You need to go through it to get the answers. Management never gives guidance on any chemicals.
As far as TDI prices are concerned, the trend is clearly on the downside. TDI prices peaked at 335/Kg around Feb-March and from there on its a downwards journey till the current levels and its expected to go down even further.
Regards,
Suhag
i've gone through thread quite a few time. just want to know if you have information on Natural gas they procure and crude dervatives. so that we get the idea of the Cost structure
While TDI market is weak, Acetic Acid is constantly trading at multi years high. Lets see how much other chemicals are able to make up for TDI.
Current TDI price is Rs. 230/kg in domestic market. Almost a 33% correction from the peak price of Rs. 335/Kg.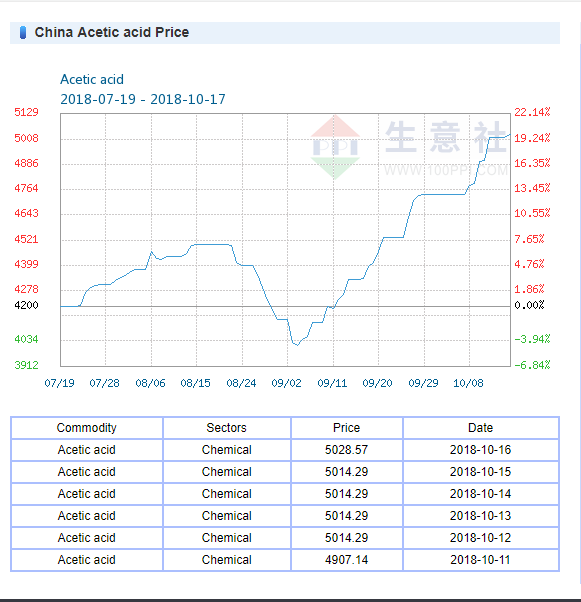 Acetic Acid price source - Sunsirs.com
Regards,
Suhag
Strong numbers posted by the company
Revenue increase of ~10% in Q2 on a yoy basis

The EBITDA margin for Q2 FY19 is 22.6% vs 21.2% in Q2FY18

Fertilizers segment has posted EBIT profits

Despite the TDI prices peaking out, the performance chemicals business has come in strong

Overall a ~78% increase in profits on a yoy basis

The FCF for H1FY19 (as per my rough calculation) is ~ Rs. 600 cr
Disc:Invested
SJ
@bharat19 Rs. 127 Cr was written off in June quarter not current quarter. I am not a P&L expert so won't comment on that part.
@jajushobhit results are achieved despite TDI being at the lowest level in last 12 months. Chemical EBIT has fallen (QoQ) for obvious reasons. Fertilizer EBIT turning positive has helped. Also, falling rupee must have helped to a great extent to their exports.
PAT is supported by NIL interest expenses.
It would be interesting to see which non-TDI chemical segment is supporting the growth. They did not do any concall last quarter due to management change. Hopefully the new MD will come forward and provide guidance on future outlooks, progress on the capex plans etc.
Overall GNFC continues to do well.
Regards,
Suhag
Did anyone got a chance to attend Concall of Sheela foam? What is their outlook on TDI Prices? TDI has been stable or slightly up in China in last one week.
Acetic acid prices have been crashing from recent top. Current price close to Rs. 4450. Recent peak around Rs. 5100.
Regards,
Suhag
Hi All,
Came across this press release from BASF, hope it helps.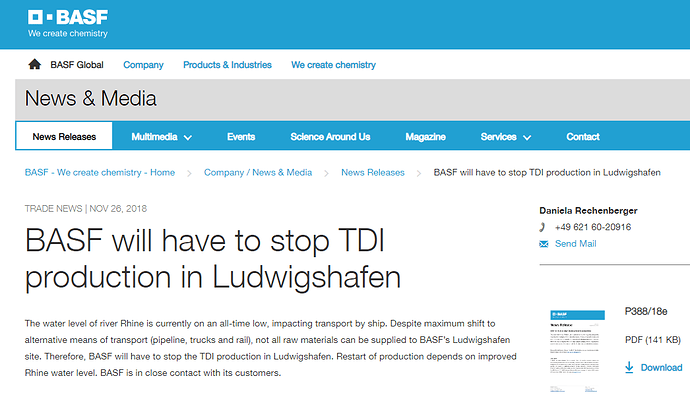 Regards,
Yogansh Jeswani
Disclosure: Invested
Thanks. Chinese markets are more or less stable for TDI currently with small uptick. Domestically Sheela Foam said in their Concall that TDI is as low as Rs. 200/Kg which is around 33% lower than the all time high of Rs. 335/Kg seen in Feb-Apr 2018.
Acetica acid prices have also crashed from the peak of 5100 to 4200.
One concern for me personally is new management is not coming forward to share details. Its been 2 Qs since the new MD took over but company is not doing any results concall the way it used to happen during Mr. Gupta's tenure. There is no clarity on the current status of planned capex as well.
Regards,
Suhag
As mentioned in above threads, TDI prices have come down sharply from highs:
At the same time, I understand that raw material prices have also come down sharply.
Overall, as increase in TDI prices was the key driver hence market continues to give a very low PE. Perhaps one will get a better picture on margins post this quarter.
Ayush
I understand about 65% of GNFC's revenue are from Chemical operations.
I wanted to know a break-up of the revenue per chemical (atleast the major ones that are talked about - TDI, Methanol, Formic acid etc), but i am not able to get it anywhere.
I observed that even in concall, management refused to divulge these details, just wondering why so ?
From Marketsmojo.com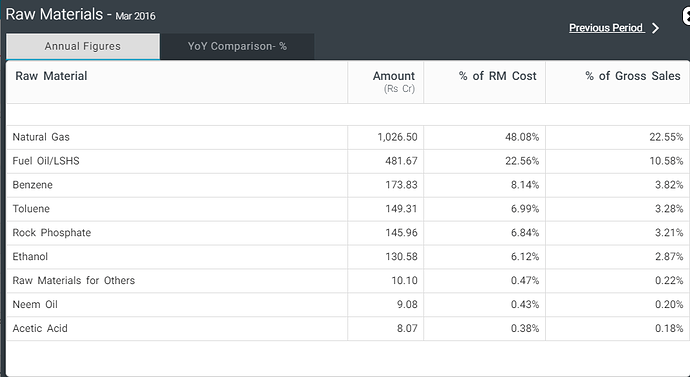 happy days of gnfc are over for sure , atleast temporarily… the direction & style of dr. rajiv gupta is completely lost . correction to deepen in coming days
GNFC: Weak show
lower TDI prices impacting revenues?
Weakness led by both chemicals and fertilizers segment
Q3FY19-YoY
Revenue down 23% at 1219cr vs 1591cr
EBITDA down 81% at 80.5cr vs 428cr
OPM at 6.6% vs 26.9%
PAT down 27% at 165cr vs 227.8cr
Other Income at 74.7cr vs 33cr
The company has written off subsidy income which is due for quite long and made a provision for investments in IL&FS.
Notes to Accounts Employees' Provident Fund Trust of the Company is holding investments aggregating to Rs. 41 Crore in various long term secured/unsecured listed debt securities issued by IL&FS Group. Co has made provision of 25% of the amount
Plant was shut for 27 days for annual maintenance.
Latest offer from GNFC is at Rs. 140-150/kg for TDI.