The Company is engaged in manufacturing of Coil Springs, Leaf Springs, LHB Springs and forging items.
Springs for LHB Coaches
Suspension Coil Springs for Freight Stock
Suspension Coil Springs for Coaching Stock
Suspension Coil Springs for Diesel and Electrical Locomotives (EMD, WAG 9, WAG 7, etc.)
CLH and VLH Coil Springs for Power Sector (BHEL)
Frontier Springs Ltd. comprises three different units all working in synergy to fulfill the demands of clients and also developing new products periodically.
Its major client is Indian Railways which is witnessing a lot of modernization and developments.
The company has received many orders of the Springs which are used in LHB coaches. LHB coaches are being used in super fast trains like rajdhani or shatabdi. These coaches were being imported earlier and now they are being made in India. The company has benefited from this which is clearly visible in its performance over last 4 years.
company has stared production of air springs which will be again used in metro and LHB coaches. This will be an import substitute.
The company has also received orders of springs for Metro coaches from Chennai and another state. This also opens a door for further development.
Company is continuously expanding its product base. Approval of spindle rod, Anti roll bar, Anti roll bar bracket & Anti roll bar fork have been obtained from Rail Coach Factory; Kapurthala
Following are the financials of last few years where we can see consistent improvements in sales and profits. Interestingly, profit margin is also improving YOY.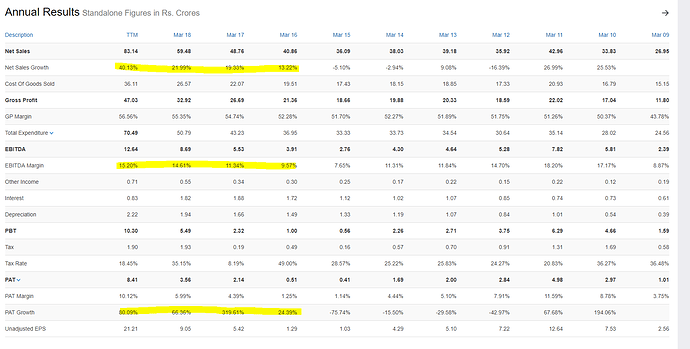 Current market cap is 70 crores and profit of the company in TTM is around 8 crores. The company has not diluted equity in many years. Company's website seems to be good for a 70 crore market cap business, no that this is anything to base decision off.
Risks :
Major risk is that the company's revenues are highly dependent on government spending which is always lumpy and risky.
Other risk is that the company might be at the peak of its good days if subsequent orders and projects don't fructify from the government.
Disclosure:
Evaluating, no investments