Why is it called a tracking position?
Want to see how far it goes. Cost is nil. If goes beyond 200 will sell.
CARE CEO is sent on leave until further notice: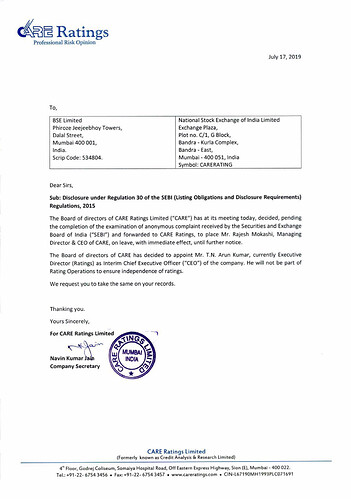 First comes all the defaults of NBFCs, followed by rating agencies CEO being sent on leaves. Shows the standards of rating agencies.
Its really horrible although I personally never had respect for audits, ratings, certifications specially in India (may be true for others as well).
The main reason of such feedback is that each of above are MANAGED in this or that way. No offence to boarders with above backgrounds … but they will agree as even they can't answer that why an Auditor (let it be internal) is TREATED as guest & offered illegal means to either remove NCs or use wording which dilute the impact & become easy to address atleast on paper.
In above cases even the guys sent on leave may or may not return or even they may be guilty of wrongdoings but can someone guarantee that their replacements are NOT going to follow same. These are not issues with individuals but this is problem with system followed by institutions.
Its a good article, but I thought LIFO accounting is no longer allowed. Earlier I think cos that followed LIFO also had to create a LIFO reserve but that practice has been disbanded. Correct me if I am wrong as no expert. Inventory accounting has been used to inflate earnings effectively by many cos. Even fifo can be used to do that in a situation where raw material prices are increasing rapidly I.e reverse of the situation presented in article. More recently OMCs had to suffer major inventory losses due to fall in oil prices which they wrote off.
In the dollar industries thread , operating profits had gone up due to this reason. Not that its illegal or anything however its a good point to keep in mind while investing in cos where inventory forms a major part of assets.
Can this be considered a red flag? I found it a way to smooth out the revenue growth.
Need opinions.
Stunning.
See slides 25-31 / #CGPower
investor should sue the auditor …


who the auditor is ??

Go ahead and sue, pending cases 3.5 crore. You might get a judgement after 25 years.

The following excerpt from the book Bull bear and other beasts by Santosh Nair is very good in the subject cited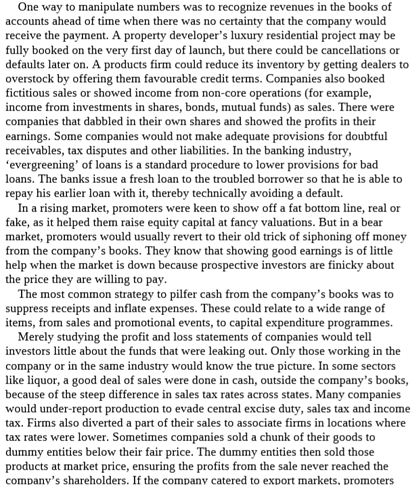 regards
Benford's Law
it is used for fraud detection in banks a good article below help you to understand

Regards
Independent director's update on outcome of board meeting:

Promoter's response to the outcome of the board meeting:

Not an expert in accounting. Was going through a Company AR "One Point One Solution" and noted few points which i felt uncomfortable with. Thought to highlight the same.
Companies holding more than 5% share holdings are disclosed. Yes Bank and Pantomath Stock Brokers Pvt Ltd holds around 14%. In fact Pantomath increased their holdings from 1.7% to 9.3% in 1 year.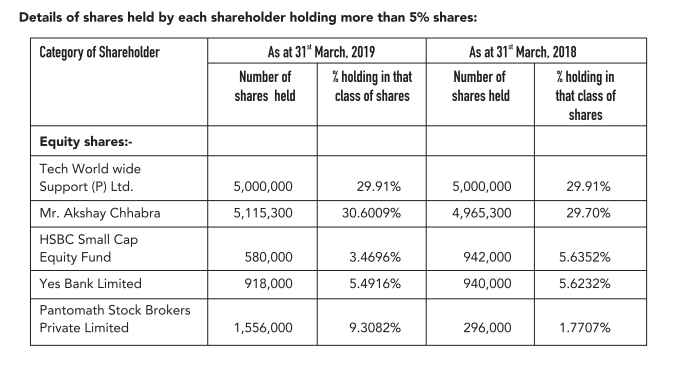 Looking at the CSR of the company , the company has paid entire CSR to Pantomath Group company. Is it a possibility that part of same CSR funds is again invested in the company by Pantomath through other group company.

Similarly company has huge loan exposure in past year from Yes Bank which again holds a high stake in the company. It seems it is the only banker of the company.

!!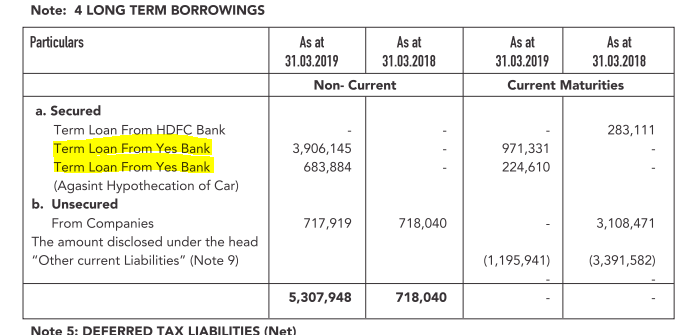 Company has given Loans and Advances to some entity which are not disclosed. The amount of deposit looks high.


Coming to the finance cost , it is shown as a Net off with interest income. Unable to get the details from where they are receiving this interest income as all of the cash is in Current account.

They have computer systems of worth around 35 Cr. Is not that too high for a 40 Cr M-Cap Company.

Also how should one see company not paying the PF , ESIC and Labour Welfare Funds.

Company has 1171 permanent employees and has paid 55 Cr as Salary amounting to 4.7 Lac per employee on average. Read a lot of reviews on employment portals for One Point One Solutions , got a feedback of average salary paid around 1.8 Lac for BPO job. There are around 317 employees on Linkedin that looks fair.
@Yogesh_s You seems to have studied the company in more detail. Do you still track it.
Pantomath Investor Awareness & CSR Foundation has also collected 35,44,000 from Innovators Facade Systems Ltd,under CSR. No idea about other SME issues where Pantomath was Lead Manager.
Excellent Talk by John Hempton

NHAI held its maiden investors meet to assuage investors' confidence. HDFC report on same would appreciate your view on this . @diffsoft