Focus Lighting & Fixtures limited is an SME company traded on NSE emerge platform. They sell focus lights under brands PLUS & TRIX. Trix brand is Chinese imported products and PLUS brand is manufactured by associate firm Shantilal & Bros.
Their financial performance is awesome.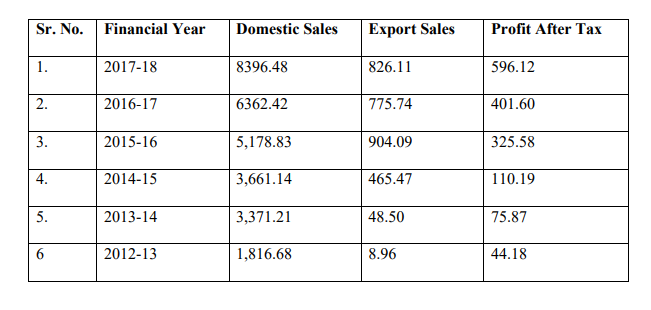 (Data in Rs Lakhs)
Profit Growth rates at 60% plus on any time frame, sales growth of 40%, ROEs of 30%+ consistently.
Such a company trades at a PE ratio of 10.5.
Technical Collaboration: Strategic collaboration with Bartenbach AG for cutting-edge innovations and technical development.
Exports: Started export operations in the Middle East and Italy with an office in Dubai
Clients: AND, Tata, Raymond, Shoppers Stop, Inifinty Retail, Reliance, Addons etc
Source:Focus Lighting And Fixtures Pvt. Ltd - Manufacturer from Goregaon East, Mumbai, India | About Us
They have about Rs 4.34 cr capital work in progress for the upcoming factory at Ahmedabad. The facility which spans 40,000 sqft will house Design & Development, Experience Center, State-of-the-art Testing Laboratory and Production and Assembly.
Negatives:
Loads of transactions with Related Parties:
Salary of Mr. Jigar Bharat Ghelani (Father in law of promoter MD, Country Sales Manager) is higher than that of Managing Director (Rs 54.00 Lakh) and Executive Director (Rs 42 Lakh) at Rs 58.50 lakh. Also, consider that they pay their CFO Rs 19.50 lakh. Their other country sales managers are Santosh Prasad, Amit Raj & Jitesh Doshi but their salaries are not mentioned.
Arion Online Pvt Ltd: Loan Rs 22 lakh, Sale to them Rs 25.68 lakh. Not even a single rupee of sale amount recovered from them.
Shantilal & Brothers: It is their manufacturing unit. Not the part of the company. Almost 80% of the material is sourced from them. Even for exports around 80-90% is sourced from them. Nature of their contract with them is not known. I feel this is kind of financial engineering. Profits can be easily shifted to the manufacturing division. Also, without checking the financials of this entity, one can not say if the profits shown in the listed company are genuine or not.
The company has started exporting to the Middle East and Italy, however, instead of wholly owned subsidiaries they again chose a model of associate entity there. Focus Lighting FZE & Plus Light Tech FZE are associate companies who do not remit any sale proceeds. There was some Rs 1.20 cr sale to these entities but only Rs 20 lakh has been recovered. Are these sales real? If these sales were real, why did not they pay back the amount to the company?
Such a kind of financial structure is a deal breaker for me. Still looking for more insights. I want to give the company benefit of the doubt as they are now building a manufacturing plant. Their margin picture should become clearer then. I would also have prefered if the company were to set up an office in Dubai themselves (instead of associates) or through an unrelated third party.
Disc: Tracking. Not invested yet.