Hi All,
I am a newbie in both share market as well as This text will be hiddenin the forum. I liked the forum and felt the members are very kind. That gave me the courage to raise my question here on the second day itself. Please find my portfolio below. I am new to market and started reading 3 months back. So far with whatever little I read and understood, I built this PF. The considerations I had was 1) consistent sales performance over last 5 years, consistent profit increase in last 5 years, ability to drive the business forward and past returns of the stocks. Except couple of stocks, mostly I selected the top 3 companies in the respective sector. My rational behind this is that no one can become the top 3 without hard work and if someone reach there, then more often than not such people tend to continue the same way. Even though I read about all the PE,PB……all sorts of ratios but still getting a grip over it, so I have not used those parameters to judge these companies. Rather I reviewed it with my little knowledge on P&L & BS. I humbly request you to review this and let me know if I made any errors here. Based on the past performance records, PF should be providing more than 24% CAGR. I simply took the average returns of every stock for 5 years and 10 years and took the yearly average from that. Even the SmallCase performance comparison shows that portfolio will be reaching `157 vs 120 (Index). Please correct me if my understandings are wrong here.
I intend to invest every month on a SIP basis without looking at the price points using the SmallCase I created. I am looking upto 15+ years. I intent to relook into the portfolio on a monthly basis and correct it if needed. Please advise if you find any gaps in my understanding or approach.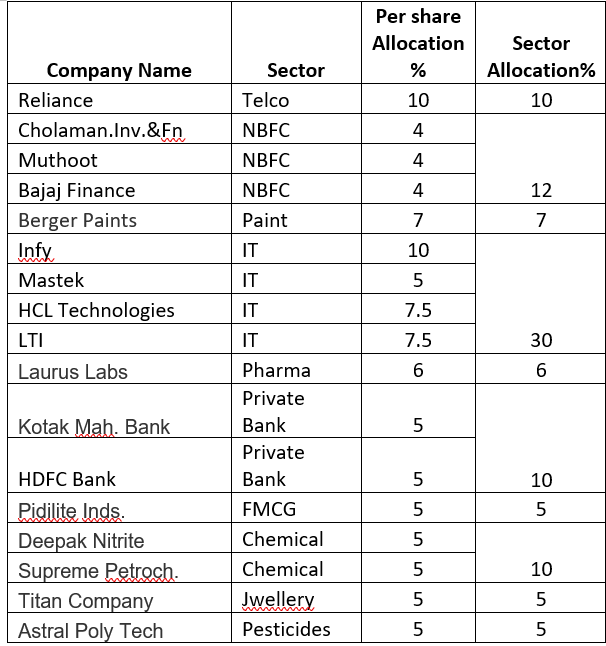 My rational of choosing these stocks.
Reliance : a unique company who is a leading ISP with over 60% market share + Leading Oil&Gas company in the country + a leading retail company in the country. The combination of all these with a lot of other group companies puts RIL into a great position.
Cholaman.Inv.&Fn : A well managed profitable NBFC. Consistent performer over the years. With my little understanding, I felt their books are clean. Even the reviews in many sites were +ve. Good returns in the past
Muthoot : A well managed profitable NBFC. Consistent performer over the years. I know their working style and they should be profitable all the time. Even the reviews in many sites were +ve. Good returns in the past.
Bajaj Finance: Consistent performer over the years. Great performance all the while. Even the last quarter result also not very bad though it is not at par with their own standards.
Berger Paints : A good number two who is giving better returns to share holders than Number One. Overall review was good.
Infy : A good IT company with strong fundamentals. Me being a part of this industry knows a lot about these IT companies.
Mastek: A rising star. They are doing very well. Evosys is getting business from everywhere. Wanted to be part of their growth
HCL Technologies : A stalwart along with Infy & TCS. It will continue like this for ever
LTI : A good service provider with a lot of focus. The management is superb and they will catch up with the other 3 very soon.
Laurus Labs : Good reviews and sales numbers.
Kotak Mah. Bank: Selected Kotak ahead of ICICI because of two reasons. First the leadership and second all the subsidiaries of Kotak comes under the same entity. May be this is a reason for this stock being overprices all the time.
HDFC Bank: No1 bank in India with stellar performance all these years. It was a no brainer pick.
Pidilite Inds.: the first case study I read when I started learning market. A good company to invest. All the FI,DI and other institutional investors gives more comfort to invest in this. Consistent performer all these years
Deepak Nitrite: All the reviews were positive. Spoke to a friend of mine who is chemical engineer. He also gave +ve feedback. So selected it.
Supreme Petroch. : Heard it from twitter and figured out that this is a good company with good numbers and performance. On further research many people were pushing it as a multibagger. Couldn't see anything wrong, so selected it.
Titan Company: A good company with some great management delivering consistent performance.
Astral Poly Tech: Stumbled upon this from a site which showed the increased number of MF, FII and institutional investments. Good performance so far and also riding on the institutional /MF/FI investment. I am 200% sure that they would have done the due diligence. Past performance was mind boggling.
Eagerly waiting for your feedbacks.
Thanks,
Vipin Kaimal