Fairfax India Holdings (Ticker: FIH.U, listed on Toronto stock exchange) is Fairfax's investment vehicle for Indian investments. This was initiated in 2015 with an equity raise of $1.1bn at a book value of $9.5. Fairfax provided $300 mn capital (28.1% equity; 30 mn shares) that holds differential voting right shares having control of 95.1% of votes. Other investors held lower (subordinate) voting right shares (count: 76'678'879) with total share count of 106.68 mn at time of listing. They did a further equity raise of $500mn in 2017 at a share price of $11.75. Their major holdings (as on 31.12.2019) are shown below: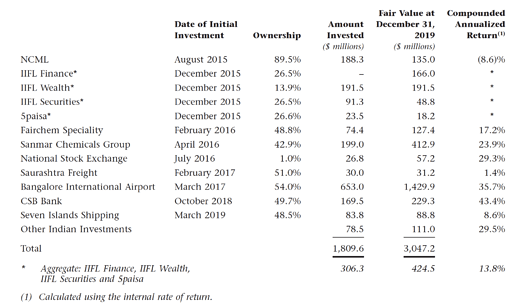 They invest in both listed and unlisted entities. Their largest investment is in Bangalore International airport, of which they hold 54% stake with the rest of stake with Siemens, Government of India and Government of Karnataka. Their original investment was $653mn in 2017 which has been recently valued at $1.35 bn (30.06.2020). They plan to list it by the end of 2021 at a target valuation of $3bn (implying their stake at $1.6bn).
Of their listed investments, the biggest one is in IIFL group ($22.3mn as on 30.06.2020) which was recently demerged. Other significant investments are in Fairchem Specialty (which will be de-merged into two units soon), Sanmar Chemicals group ($24mn as on 30.06.2020), CSB bank, 5Paisa, NSE, Seven Islands, etc.
They charge an advisory and investment fee of 1.5% on common shareholder equity + 0.5% of undeployed capital + 20% performance fee of increase in book value (including distributions) above simple interest of 5% increase in book value, chargeable every three years since inception in 2015. Basically, it looks like a classic hedge fund model (2 + 20). Their independent directors comprise Chris Hodgson, Alan Horn, Deepak Parekh, and Lauren Templeton.
Here is how the book value has evolved over time, and also how market has valued this company.
Risks:
The large increase in book value in 2019 came because of re-valuation of Bangalore airport based on a new investor buying 5% stake. However, this transaction is based on the assumption that Bangalore airport can be successfully listed at a market cap of $3bn. If that doesn't happen the investor will get additional stake in the company. More details are available in the 2019 shareholder letter.
This fee structure can only be justified by superior execution.
Their recent investment of $84mn in Seven Islands Shipping seems to be at high multiples (1.7x P/B), which is steep for a company that operates and owns tankers.
Disclosure: No investments as on date