Exports play an important role in the country's economic growth and India is no exception. If we look back at the data exports as a contribution to country GDP has grown rapidly during the period 2002-03 to 2008-09.
Those were the best years for Indian stock market to lead by exponential earnings growth for Indian companies. In general exports revenue has better margins also. From 2009-10 exports as % of GDP was almost plateaued and in declining trend. Subsequently even the corporate profit as a percentage of GDP has reduced.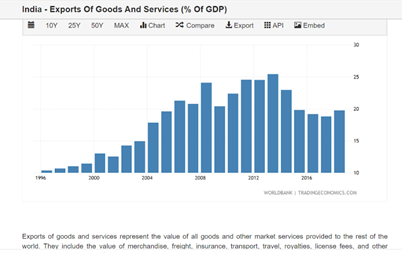 Drop in corporate profit to GDP from 2008-09 onwards.

During the last few years Indian chemical industry is getting benefited as global companies are shifting their sourcing from China mainly due to environmental issues. Ongoing Covid crisis and visible sentiment against China may further accelerate the shift in global outsourcing to other industries as well.
During the latest con-calls many companies across the sectors gave an optimistic view on export opportunities from Europe/US clients as they want to avoid China as a single source.
Other changes happened during the last few quarters as GOI reduced the corporate tax and offered various incentives for companies to set up manufacturing factories in India to become alternative source for global outsourcing.
Does the export pick up really happen on ground or not is to be backed up by data. Govt of India releases export import data of major commodities on 15th of every month (service sector data for previous month) along with macro view on total import, export, trade balance which is a reliable and practical way to track.
Using export import data we can substantiate some of the changes investors think as fundamental change happening in particular sectors/companies and build our conviction in what we track/invest. Exports have become more important in the present scenario of domestic slowdown due to Covid.
Also possible is first look at the data and if there is significant change (either positive or negative) in the trend of a particular sector, we can follow it up further to assess what has changed fundamentally, so that investment decision becomes easier.
Whole Idea is to identify the trend on what we think is changing fundamentally and substantiate it by nos. (Not to focus too much on macro data but to get limited and information for the investment purpose)
May 2020 export data: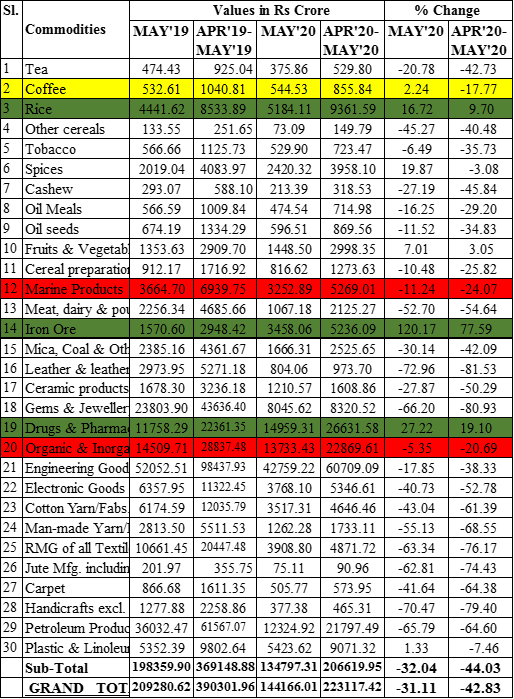 Link for the details:
(http://164.100.117.97/WriteReadData/userfiles/Quick%20Estimates%20May%202020.pdf)
As expected most commodities have shown significant degrowth during the month of May-20 compared to May -19.
Coffee exports have shown slight uptick of 2% MoM but down by -17% for corresponding months of FY (April to May) ( related CCL products which gets majority of revenue from exports, may be even for Tata coffee ltd?)
Rice exports have positive growth of 16% MoM and 9% for the corresponding months (April to May) of FY ( important data for KRBL, LT foods and Chamanlal exports)
Drugs and pharmaceuticals have registered growth of +27% MoM and +19% for corresponding months of FY (April to May) as anticipated.
Surprisingly Iron ore exports have shown a big jump of more than 100% MoM and +77% for FY.( Need to check what is changing here and which companies to benefit)
Chemicals exports degrown by -5% MoM and -20% for the year.
June 2020 export data: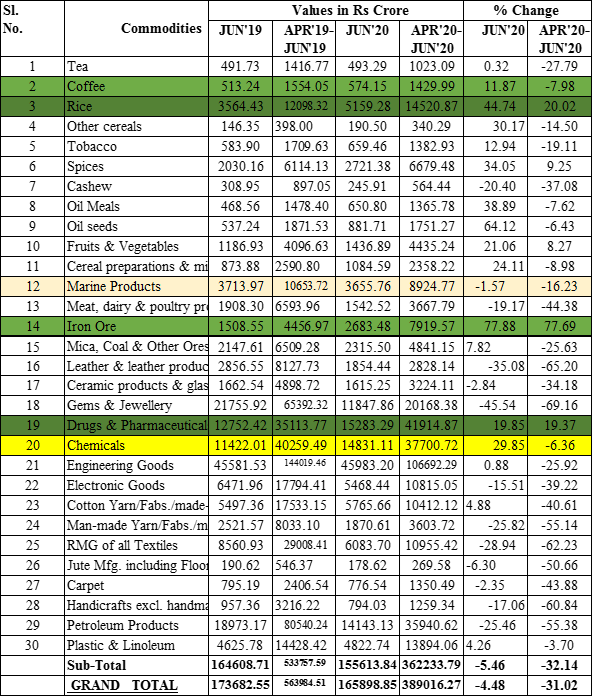 link for June 2020:
Coffee exports have strengthened further during the month of June (+11%) MoM (Down by -7% for 3 months of FY)
Rice exports also increased further with growth of +44% for MoM and increased by 20% for FY till June.
Pharma export continues good run with growth of 19% for MoM and till June of Fy20.
Iron ore exports have grown by 77% for the MoM and for FY (someone tracking the sector may share more insights on this. Godawari ispat and power ltd does iron ore exports as mentioned by vp member during offline discussion)
Export of chemicals are back in action after degrowth during the previous month. Impressive 30% growth for the month (down by -6% for Fy)
Many commodities like tobacco, spices, Oil seeds, cereals, fruits have grown positively compared to degrowth of the previous month.
Marine products exports still remain negative but better compared to May.(Helps in tracking Avanti feed,Apex frozen foods)
Overall trade balance was turned positive for the first time for India during the last decade.
Both import and export in absolute terms remains low.
Few points:
Data link of commodities exports for April-20 is not available.
There may be pent up in some of the exports like pharma during the month of May due to lockdown during the previous month.
Data will be more curated and presented as we learn further
Revenue is presented in Rs Crore. Follow the above links for further detail in dollar terms and import data also.
Going ahead we will try to get more insights on import statistics also which help in noticing certain changes in particular industries. (Eg: Coffee industry imports and it will be exported after processing)
More granular data will be available based on HSN code of particular material which is published by GOI with delay of 1-2 months.
Discl: Invested in KRBL,Apex frozen foods,recently exited Avanti, invested in few pharma and chemical comapanies