Company Brief:
Endurance Technologies is an auto-component manufacturer whose product profile consists mainly of four categories: Aluminium Die-castings, Suspensions, Transmissions, Braking systems
It was started in 1985 by Anurang Jain, nephew of Rahul Bajaj. Initially, it was supplying Aluminium Die-castings to Bajaj Auto and later it ventured into the remaining three categories which have higher margins. These three categories are sometimes referred together as 'Proprietary products' by the management. Endurance's research focus is also on the newer, higher margin segments.
The company has 16 plants in India and 8 plants in Europe. The raw materials are Aluminium and Steel. Any increase in these prices can affect the profitability of the company but the company has a clause with its customers to pass on the costs in next 3 to 6 months.
The company also has an aftermarket business whose sales contribute just around 3% of the consolidated revenues. But this is growing fast at 15%+ and also has high margins. The company has an extensive network of 12 distribution centres and 300 distributors.
The top six clients of the company are Bajaj Auto, Fiat Chrysler, Honda Motorcycles & Scooters India, Royal Enfield, Daimler & VWG.
Recent new customers to the company are TVS, Kia Motors.
Bajaj Auto contributes about 55% of domestic revenues & 39% to overall revenues. In case of Bajaj, we can also try to look at it from the other side. Endurance supplies more than 50% of all auto components supplied to Bajaj. Anurang also mentioned in a conf call that he has high share of business with RE too (30%).
With Honda and as well as Hero Motocorp, we only do castings and suspension. Transmission and Brakes would be a huge opportunity coming our way.
With Yamaha, we have alloy wheels business.
So to summarize, in RE & Bajaj, there would be volume growth and more tech items which will drive growth. For other OEMs, there is scope to increase our share of business and also add new product areas.
The company has been working on reducing customer concentration both in India (with Bajaj) as well as in overseas (with Fiat & Daimler).
The company is working on cross-selling its complete product portfolio to the new 2W OEMs it got entry into.
At the moment, OEMs are rationalizing their vendors and hence this is a good opportunity for Tier-1 supplies like Endurance to cross-sell its product portfolio. OEMs are focussing on rationalising their vendors and Endurance being a Tier-1 supplier should help them
Products:
Structural benefits to our product portfolio (as per AR FY18):
Increase in Aluminium die castings requirement for light-weighting purposes and increased machine casting business for 2W, 3W and 4W leading to value addition
Premiumisation in 200cc+ suspension products and replacement of shock absorbers in scooters with high value front forks.
Increase in paper-based clutch assemblies, increasing business with higher value addition and CVT volume growth from rising scooter demand
Rising 2W demand, higher penetration of disc brakes and its entry into 200cc+ segment with high value addition, and the Govt's mandate for introducing CBS (combined braking system) and ABS (anti-locking braking system) in FY20 for all 2Ws.
Castings:
Endurance is the largest Aluminium die-casting company in India in terms of actual output and installed capacity. Die casting contributes to about 45-50% of total sales of the company.
Casting is a process in which a liquid metal is somehow delivered into a mold that contains a hollow shape (i.e. 3D negative image) of the intended shape. The metal is poured into the mold through a hollow channel called sprue.
Die casting is able to produce automotive parts with complex shapes in closer tolerances than many other mass production processes. Little or no machining is required and thousands of identical automotive die castings can be produced before repairing the molds. Please view a one minute video here:
Suspensions:
A motorcycle fork connects a motorcycle's front wheel and axle to its frame, typically via a yoke, also known as a triple clamp, which consists of an upper yoke joined to a lower yoke via a steering stem, a shaft that runs through the steering head, creating the steering axis. Inverted front forks are used in high-end motorcycles. An inherent advantage of inverted forks is their weight, they're lighter than conventional front ends. A steel fork tube is the heaviest part of a traditional fork assembly. By design, inverted forks have shorter and thinner walled fork tubes. This results in less steering inertia and more responsive handling feel. One more benefit, inverted front ends deliver better compression and rebound dampening than conventional designs. Oh and one more big benefit when you compare inverted front ends against conventional front (tube & slider) ends is their strength. Please watch a video here: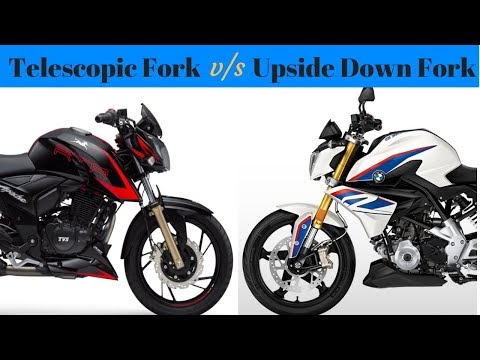 Endurance Technologies is the only company in India to produce and commercially supply inverted front-forks, which are preferred by premium brands.
With the move towards more premium products, OEMs are switching from conventional twin hydraulic shock absorbers for a motorcycle's rear suspension, and are adopting hydraulic and gas filled mono shock absorbers. Endurance has established a sizeable presence in this market, and expects an increase in their use.
Transmission:
Endurance introduced paper based friction plates to be used in high-end motorcycles. These are preferred over the conventional cork based plates for improving clutch performance and durability. The Company has also developed CVTs for scooters, which are preferred over natural clutch assemblies.
Braking:
The Company is poised to benefit from the higher composition of rear disc brakes as compared to low-end drum brakes, its participation in disc brake assemblies for higher cc motorcycles and also the mandatory ABS / CBS.
Endurance has already started commercial production of CBS through a technology tie-up; and the Company has entered into a License and Technical Assistance Agreement with a leading global brake and suspension company for joint development of ABS for 2W and 3W. These products will further widen the market for Endurance.
ABS prevents the wheels from locking up, thus avoiding uncontrolled skidding of the vehicle and decreases the distance travelled without slipping.
The CBS stands for "Combi-Brake System," a name patented by Honda. What this means is that if you apply pressure at either one brake level, braking force is applied to both wheels. In India, this system debuted on the Activa, where the rear brake lever actuated both the rear and the front brake as well.
Endurance's strong R&D capabilities has also helped it emerge as the market leader in the disc braking systems. There is growing acceptance of disk brakes, owing to its sharp braking and ease of maintenance over drum brakes. Endurance is expected to emerge as the largest beneficiary from the rising penetration of disc brakes.
The disc brake dissipates the heat more effectively. It takes longer for the disc brake to achieve brake fade, and these perform better on steep descends. The drum brake has the potentila of collecting water inside during rain or driving over puddles. That can result in the drum brakes not performing as well in wet conditions.
European Operations:
The company's European operations are mainly castings and machinings. These contribute about 25-30% of the sales.
The company also has operations in Europe mainly supplying to Fiat & Daimler. These two OEMs contribute about 55% of overseas revenues.
The company's strategy with Europe is to produce in Europe for the European market and to produce in India for the Indian market. This is because we are going in a direction where we supply big components, and it is not convenient to transport these parts from India.
The Company has secured orders in Europe for EVs and HVs. It has capabilities to produce castings in new shapes as required for such vehicles.
Management:
Management continuously aims to grow higher than the auto industry by increasing their content per vehicle.
Anurang is an extremely quality-focussed businessman. Just read through one of the conference call transcript and you will see his lazer-like focus on quality first, expansion next.
Anurang is also a self-made billionaire with a good track record of diversifying the product portfolio from low-margin castings to the four categories I have mentioned above.
Management is very financials focussed and keep mentioning that they at least want to maintain 20% ROCE in their business and their fresh investments.
No sudden surprises post IPO (like no fall in margins / no fall in asset turnover…)
Management is very happy to provide a lot of info during the conference calls.
Risks:
Slowdown in Auto industry can cause slowdown in Endurance too
Customer concentration risk with Bajaj Auto contributing 38% of consolidated revenues
Too much mix of family and business. The top customer (38% contribution) is Bajaj Auto which is run by Anurang's uncle. Another complication is that Anurang's twin brother, Tarang Jain also supplies components to Bajaj Auto via Varroc Engineering (recent IPO)
EV disruption. Though suspensions and braking systems are safe from this, casting (low-risk) and transmission (high-risk) businesses can be affected
Valuations & Efficiency:
Currently available at P/E of 34, which is on the expensive side for an auto-component manufacturer.
2017-19 CAGR numbers below:
Revenue => 16%
PAT => 22.5%
Efficiency parameters below:
ROCE => 25%+
ROE => 20%+
PAT Margins => Increasing from 5.3% to 6.5% over the years
Assert Turnover => 4+
Working capital cycle:
Inventory days => Less than a month
Receivable days => Less than two months
Payable days => More than three months
This is leading to very strong cashflows from the company compared to its PAT.
| | | 2018 | 2017 | 2016 |
| --- | --- | --- | --- | --- |
| PAT | | 3907.57 | 3303.1 | 3004.5 |
| CFO | | 7420.68 | 5370.77 | 6982.84 |
Disclosure:
No holdings. Not a buy / sell recommendation. Please do your own research.
Resources:
Annual Reports. Conference Call Transcripts. Credit Rating Reports. Wikipedia. YouTube.