This is available to paid members of the morning context only. Would it be possible for you to summarize the key points?
This is a great article written by a veteran banking journalist who wrote about various crisis including Yes Bank. He has majorly highlighted the corporate governance issues & the ongoing charges against the company/Rashesh Shah. To be honest, this is really scary.
IIFL wealth management got a new investor onboard.No Edelweis specific news.
also tax loss harvesting as well
It's a guess but the IIFL sale re-evaluates the wealth management business.
Agree with your points. But last few quarter consolidated revenue is lower than covid time. Any datapoints around it?
I think the author of the post is entitled to his onion.
Sucheta Dalal has done a detailed video on this (one can find a link above posts) about this around a year back. However, I have not heard that Edelweiss has done anything wrong or they are punished, or the case may be settled.
just trying to scare the market, I am not sure how he will benefit but his intentions are clear.
Management has been very optimistic about co-lending model. They were the early starter for this segment, but has been not picked up pace due to the issues they faced in their whole-sale lending.
However, they still bullish on this segment going forward. Here is a very good information in another thread.
This is the best information I have found so far on co-lending so far (and I have been searching for a long time for this) thanks to @ashkrithik
As the announced only .25 rs of dividend, what's your view on it? It can be looked as they are not booking any profit so they don't have anything to pay as a dividend.
I think it is good that they have not announced more dividends. Promoters own around 40% of the company, so I suspect they are looking for a regular dividend from the company. Hence they do pay a yearly dividend (interim+final) over the year.
Looking at the company's health, I would have preferred them not to pay a dividend and instead focus on strengthening the balance sheet. But assuming 90 cr shares (with 0.25 per share), I think they are distributing around 23 cr of dividend. I do not think this is a big amount to worry about, so not too much worried about it.
I am looking forward to the result and waiting for how they see FY23 shaping us for them. So many companies in retail are showing robust growth, I am hoping that Edelweiss will also show some decent growth in coming quarters.
Let's see, I hope they make use of that saved money. Rather than wasting it on another impairment.
Edelweiss has finally made some progress on demerger
They seems to have completed phase 2 as per regulatory filing today.
The regulatory filing makes a mention of the shareholding structure for the demerged wealth management business. However it mentions that EFSL shareholders would be entitled to only 30% of ESL while 14% would be distributed to Edelweiss group. Could someone clarify the same? I thought EFSL had a cumulative shareholding of 44% in the wealth management business. Does this mean 14% worth proceeds would be used for business purposes of EFSL?
Regards,
Gaurav.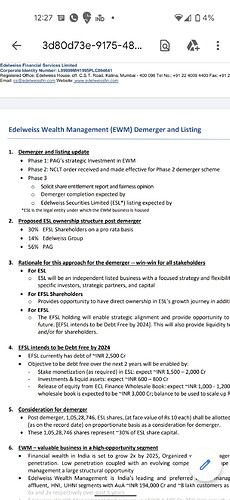 Hi,
I am not able to find file from which you have shared screenshot - is it in yesterday's filing. I have checked both but could not find this information.
in filing they mentioned turnover of only 54 crs period ending with December 2021 but EWM had 54 crs of profits in q3. I am not sure about this mismatch, can anyone advise here?
Thanks!
EFSL (listed parent) has announced a Scheme of Arrangement for the demerger and listing of ESL (PAG Wealth Management, de facto). Of the 44% that EFSL currently holds, shareholders will get 30% and Edel will continue to hold the remainder. The ratio in which Edel shareholders will get ESL shares is yet to be disclosed. ESL is expected to be listed by Feb. 2023.
Edel values its stake (14%) at Rs. 1500 Cr.; this implies a valuation of Rs. 10K Cr. for ESL – once listed. Let's see what Mr. Market says.
Disc: Invested; views biased.
I read through the thread and seems like there have been consistent concerns:
Management not walking the talk.
Concern of employees selling ESOPs.
Giving out dividend even when they need captial.
Diversification never working out.
Demerger being delayed again and again.
Consistent allegations/negative talks.
Constant raising of money though NCDs at a staggering interest rate of more than 9%.
The above concerns have been raised by the thread over the past 2-3 years.
My question is what factor which are keeping you invested?
Disclaimer: Small part of portfolio just because it is undervalued.
The company is a sectoral leader in its wealth management and ARC business segments. Its asset management business is also on a good growth trajectory. The sum of parts of these businesses is greater than the market cap of the co. Key employees have been great hires and selling of esops doesn't concern me. They themselves have been losers due to the undervaluation of the company. A large chunk of esops given to them in 2019 expired worthless due to the high exercise price of ~170. I value the credit business at 0.