There is a lot of talk about drones currently. Drone applications span diverse sectors, including agriculture, infrastructure, logistics, surveillance, and entertainment. Recognizing the immense potential of drones, the Indian government has been actively promoting adoption of Drones in various departments and industries. It has in recent times liberalised and set up a formal framework for development of the drone sector with schemes such as The New Drone Rules 2021, a PLI scheme, announcement of Drone Shakti in the Union Budget 2022 to boost or promote 'Drone-As-A-Service (DrAAS)', promotion of the use of 'Kisan Drones' for crop assessment etc. Flying of drones has now been regulated and brought under DGCA, with DGCA issuing drone pilot licenses with a validity of 10 years. Certified license holders are eligible for employment in various sectors such as defence, mining, agriculture, entertainment etc. where applications of drones are increasing day by day.
With the current growth rate of the Drone Pilot Training Sector in India, the requirement has been estimated at 1,00,000 drone pilots until the year 2025. The country has been boosted by the recently opened DGCA Authorized Remote Pilot Training Organizations (RPTO) within the last financial year. As of 31st March 2023, there are 50 RPTOs that have been set up across multiple states to certify individuals for flying drones legally throughout the country. There are more than 4000 DGCA Certified Drone Pilots in India currently.
DroneAcharya Aerial Innovations Limited
DAIL claims to be a leading player in the Indian drone industry. The hype around the sector can be seen from the fact that the company came up with an IPO in December 22 at Rs.54 per share planning to raise Rs.33 crores and received applications worth Rs.6000 crores. The stock is now listed on the SME segment of the BSE.
I had a brief look at the company. Given below is an introduction to DAIL and some of my thoughts:
Brief Intro – business, location, promoter
The company is into drone pilot training, drone-based services such as surveys, processing of drone data and GIS training. The company is based out of Pune and promoted by Prateek Srivastava, a first-generation entrepreneur. DroneAcharya has collaborated with various educational institutions from India and abroad such as Savitribai Phule Pune University (SPPU) in Pune, IIT Ropar, Asian Institute of Technology in Bangkok, Thailand, Rashtriya Raksha University, Gandhinagar Gujarat, Whistling Woods International in Mumbai etc.
The company has completed training more than 350 DGCA drone pilots and 600 other drone and GIS related training. Company claims to have a 8.4 % share in DGCA Drone Pilot Certification and aims to achieve 20 % market share by the end of FY24.
Prateek Srivastava and his wife Nikita Srivastava are the promoters of the company. Prateek Srivastava is a first-generation entrepreneur who started as a GIS developer and later turned entrepreneur. He holds B. E. Degree in IT from Saurashtra University, Gujarat and M. E. Degree in Remote Sensing and GIS from Asian Institute of Technology, Bangkok. the promoters hold 28 % in the company after the IPO. Ms. Nikita is an HR professional and is the CFO of the company. Amit Tatke, the Chief Trainer appears to be another key person in the company.
Business Segments
The business of the company can be divided into following segments:
Training: The company conducts a DGCA certified Drone Pilot course, as well as various other related courses such as Drone Building, Drones for Racing, Aerial Cinematography & Aerial Making, Implement python for GIS, industrial applications of UAV, Drone data processing etc. At the moment, their flagship 5-day DGCA Drone Pilot training course is costing Rs.64,900 (incl. 18% GST). You will get DGCA Remote Pilot Certificate which has a validity of 10 years.
Services: Services vertical provides consultancy services to Govt. & private organizations, reality capture data processing software, anti-drone solution for rogue UAV, UTM air traffic management solution with help of software i.e., UGCS Mapper, UGCS Pro, Reality Capture and Aerial Cinematography & Aerial Making. The company having boasts of dedicated Surveyors, UAV pilots, GIS analysts and LiDAR experts. Solutions from DroneAcharya also include multi-sensor drone surveys with high-quality service and outputs, seamless processing of drone and satellite data using robust, high configuration workstations, and customised web and mobile applications for specific Geospatial requirements.
Surveillance: Offers all sorts of land surveying and underwater services, data driven solutions for Power Lines and Utilities, Urban and Rural Planning, Oil and Gas Infrastructure, Roads and Highways, Mines and Quarries, Energy & Renewables, Roads & Highways, Urban & Rural Planning, Agriculture & Irrigation, Underwater Inspection and Underwater Bathymetry.
Others: Integrated drone solutions for Bathymetry, drone hows, Hydrography, industrial and archaeological surveys, along with Environmental Monitoring. It is also a reseller of underwater drone products from the Norwegian company Blueye Robotics. Furthermore, DroneAcharya has also partnered with Capturing Reality, a subsidiary of gaming giants Epic Games, as a premium reseller of Reality Capture, their flagship 3D photogrammetry software.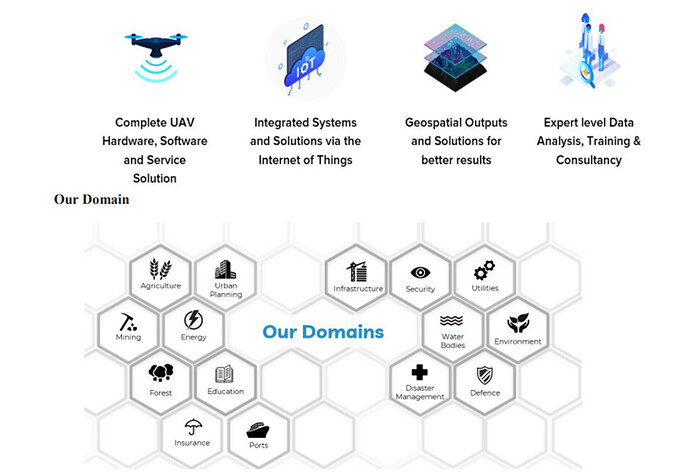 Currently most of the revenues are coming from India but company has planned a global expansion.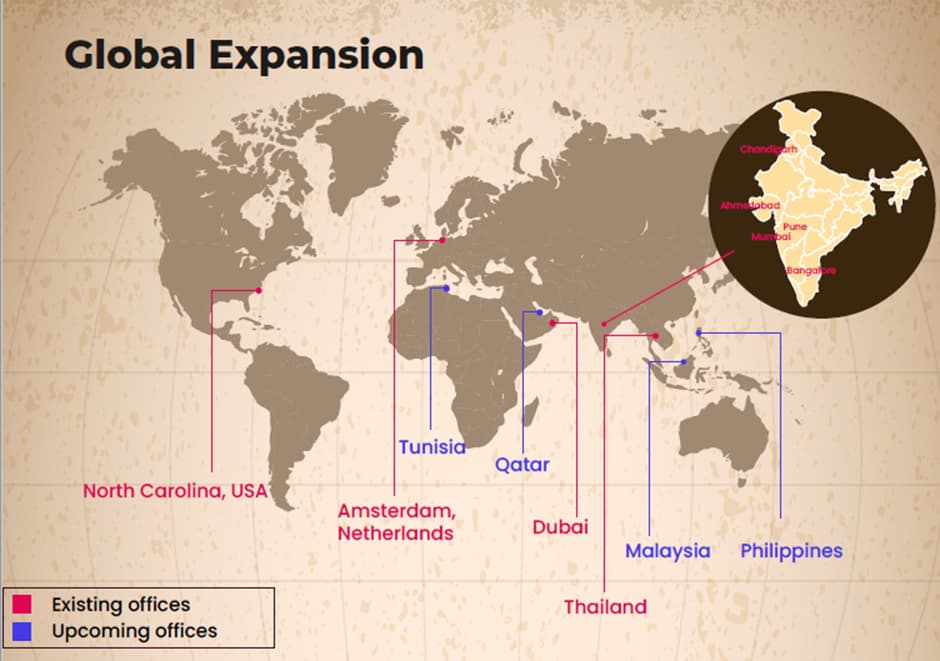 Financials:
For financials of the company, click here: https://www.screener.in/company/543713/
Future Plans:
In order to grow fast, the company is expanding its presence through the franchise model. Presently it has opened 3 franchises at Jabalpur, Jaipur and Noida with a target of opening 25 more in the coming months. These franchises will use DroneAcharya's curriculum, expertise, and support system, ensuring standardized training programs across the country. The franchise model will accelerate the growth of drone training centres, enabling a larger number of aspiring drone pilots to receive quality education. Besides the company planning to open more offices in the months to come as mentioned above.
Also, the company is planning to enter manufacturing of agricultural drones and drones for surveying and surveillance by setting up a manufacturing unit in Maharashtra.
Company has recently signed a MoU with King Mongkut's Institute of Technology Ladkrabang (KMITL) which is one of the top universities based out of Bangkok, Thailand for setting up a drone school.
Management is guiding for revenues of Rs.45 to Rs.50 crore for FY24 with EBIDTA and PAT margins in line with FY23.
Overall impression (based on a first cut research):
Main attraction here is that this is sunrise sector with a bright future. Very large opportunity size. Profit making company.

You need a license to set up a drone training institute. To get a license, you need qualified drone trainers. This is an entry barrier into the training segment. The regulations for who can be a drone trainer are currently not clear, they are being framed.

Promoter holding is just 28 % and may come down further is the company has to grow fast.

Company is getting into manufacturing, but is manufacturing a profitable business? At a basic level drone making is simple and anyone can do it, so I am not sure if anyone can make money in it, unless one has some USP such as patented technology or a government license to be exclusive supplier etc. Here the CEO says in the services and consultancy segment, some element of customizations of the drone software and hardware is required. That is why getting into drone manufacturing will be beneficial for the company. This point needs to be probed deeper.

Presently financials have a lot of holes. Like CCC is very high. Revenue has been booked but cash has not been received. Out of Receivables of Rs.11 crore, 25 % are o/s for more than 6 months. CFO is negative. No dividends paid so far.

Not the best on governance parameters, if one is a stickler for the same. For example, CFO is promoter's wife, same person becoming Chairman and MD, several financial and secretarial audit qualifications etc. But to be fair, being a small startup I would give them a benefit of doubt here but would look for improvement going ahead since they are now listed.
Overall, my impression of the promoters and the Chief Trainer (based on the media interviews) is positive. But I would be more keen on training providing a moat than the manufacturing business.
Sources of information: DRHP, Annual Report, Media interviews etc.
Important Links:
Company DRHP
Company website
Annual Report FY23
(Disclosure: No positions)