Dr. Reddy's Laboratories (DRL) is India's second largest pharma company by global revenues. The company was founded in 1984 and is headquartered in Hyderabad, India. DRL has ~20,000 employees, 1,200 scientists, 350 Ph.D. and amazing portfolio. DRL has been known for great science and great R&D.
DRL operates as an integrated pharmaceutical company worldwide. Operates through three segments: Global Generics, Pharmaceutical Services and Active Ingredients (PSAI), and Proprietary Products.
The Global Generics segment manufactures and markets prescription and over-the-counter finished pharmaceutical products that are marketed under a brand name or as a generic finished dosage with therapeutic equivalence to branded formulations; it also engages in the biologics business.
The Pharmaceutical Services and Active Ingredients (PSAI) segment manufactures and markets API and intermediates; it also provides contract research services; and manufactures and sells API and steroids in accordance with the specific customer requirements.
The Proprietary Products segment focuses on the research, development, and manufacture of differentiated formulations for dermatology and neurology therapeutic areas and engages in developing therapies in the fields of oncology and inflammation.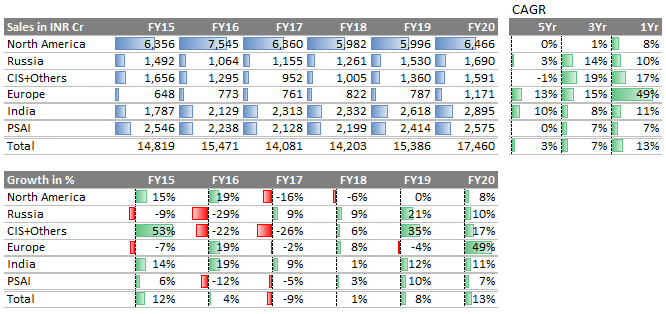 Why muted performance between Fy15 to Fy18?
This is few years ago… When mainstay generics business had started coming under pressure, it led DRL to focus on creating a branded (specialty) portfolio in the US. DRL stepped into an uncharted territory and faced high investments, long gestation periods, and challenges in gaining meaningful market share issues.
At a high level had two main issues in past; one capital allocation and other execution.
Issue #1
Was playing high-risk, high-reward type of a strategy prior Fy18
Significant capital allocation to United States
Was focused on relatively small numbers of assets with complex generics, specialty products and biosimilars
Unfortunately, got more of the risk and less of the reward
Issue #2
Execution issues
some visible (regulatory compliance)
some less visible (inefficiencies)
So what changed post Fy18? Strategy.
Smart cos re-evaluate their strategies; so did DRL.
DRL promoters (Reddy and Prasad) hired Erez Israeli in early 2018 as COO and Global Head of Generics & PSAI role. Israeli's long stint (23 years) with Teva has prepared him well for the job at DRL. Since his joining, DRL has been on transformation journey (almost 2 years now). Erez is promoted to CEO in mid 2019.
Listen Erez's talk (here) at "38th Annual J.P Morgan Healthcare Conference" dated Jan 14th, 2020 to understand new strategy. Slides here.
New strategy at a high level has been -
Create more opportunities, and address more potential space and value with less risk
Leverage of countries: If earlier used to develop for the U.S., now has been developing for any/every country potentially in the world. For the same products, co have now, not one market, but more than one market
Synergy between the relevant spaces: Going for more spaces, but each one of them has a synergy now. Earlier in API, co had some third-party sales, some back integration, however relatively low level
Now if co increases the API capabilities, co focuses to get more third-party sales while increasing the backward integration (to safeguard and benefit from the changes in China)
Specialty products: Co has good specialty products, but did not have an adequate go-to-market in the United States. Now co gives these products to partners in return of upfront and royalty payments; low risk approach. Indirectly helped to pay all the debt (probably only co specialized in generics that has no debt today)
Focus on being more efficient, better execution, get rid of stuff that co should not have been in and change the priorities
Any signs of new strategy yielding positive results?
Top-line: Let's see DRL top-line through quarterly lens. It indicates DRL has turned the table - from degrowth to growth, across all markets. What if this is just the beginning…



Earnings: Despite the price erosion in United States, DRL's margins are getting better in last 2 years. Achieved primarily by focusing on cost and by clocking growth in all market. EBIDTA margin was 17% in Fy18; improved to >25% in Fy20 (excluding impairment charges).

Legacy quality issues (remediation of Warning letters): Successfully resolved (in 2020) the warning letters issued (in 2015) to Srikakulam API plant, Miryalaguda API plant and Duvvada Oncology formulation plants. DRL now has satisfactory USFDA audit closures across all the three facilities.

Divest nonstrategic assets: DRL out-licensed its three specialty dermatology products — Sernivo Spray, Promiseb Topical cream, and Trianex in the US to Encore Dermatology in 2019. Later out-licensed two specialty neurology (migraine) drug assets, Zembrace and Tosymra, to Upsher-Smith Laboratories.