On one hand where Lalpathlab / Thyrocare trades at 100 PE, 10 x sales & 20 x book this little company is trading at 1x sales, 5x earnings & 0.6x book value.
If u do business comparison - Lal chandani lab does collect sample from home services too, cost competitive & NABL accredited.
& even got Approval for COVID-19 Vaccination Centre.
So far in Delhi (5 Labs & 15 collection centers across Delhi/NCR), like Lal Path lab they hav ambition to become pan india as well - they used funds raised through IPO to put up one more lab in Delhi its setup started earning already (P&L hit for short term due to upfront costs).

They also tried expanding outside Delhi -
I didn't find any labs in google map in hybd and bangalore - got the below clarification from the management -

They were primarily B2B but started Pivoting to B2C, However unlike many investors buying Pathlabs at 100 times earnings. They do point out its not a cake walk in their annual report (unlike the 100 PE ones)-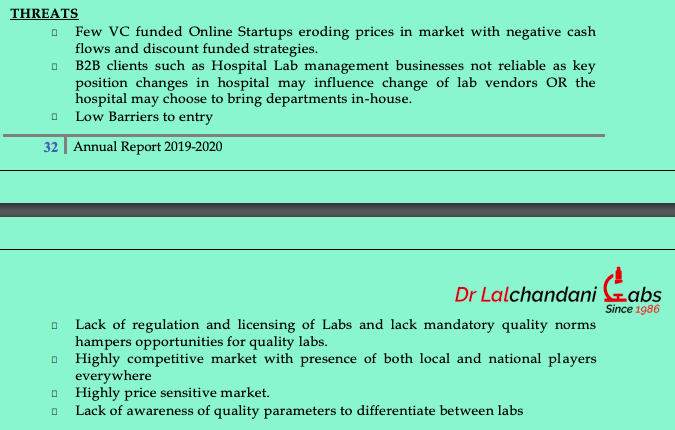 They are tech enabled - You can do online booking, buying etc (like the 100 PE ones) , here CEO (2nd generation - business started by his father 36 yrs ago) talking about it - Testimonial - Dr. Lalchandani Labs - YouTube
Website doesn't look like a 10 cr Mcap small lab - https://www.lalchandanipathlab.com/
They are unique in a sense that their labs are fully integrated & give other services like Radiology, ECO etc too.
It has to be seen how they scale but 100 PE Vs 5 PE is just hard to understand-primarily reason is retail r much more rational in pricing stocks Vs institutions.
Reason of value unlock -
new generation promoter looks like is ambitious -
https://linkedin.com/in/mohit-lalchandani-a5799218/

Services they are offering / their outlets -
Company is NABL Accredited Lab has established itself within Delhi/NCR with 5 (Five) Self-Sufficient Labs and multiple collection centers.
Company Incubates many Fully Automatic Machines from Only reputed Global suppliers like Siemens, Ortho (J&J), Trans Asia, GE etc.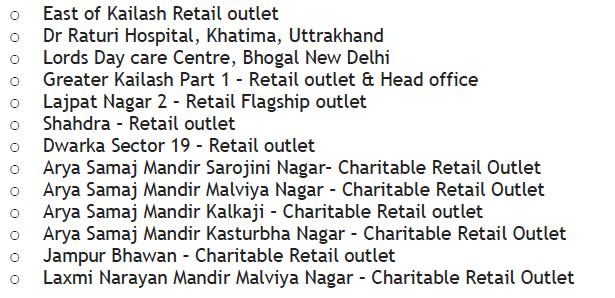 Company has their own Blood Banking services through its sister concern CPC blood bank founded by Dr A Lalchandani himself in 1987. Our setup at Greater Kailash-Part 1 is having technology in Diagnostics and boasts of being aesthetically one of the most beautiful diagnostic centers in India offering one-stop complete services such as pathology, X-ray, TMT, Ultrasound, 2D-echo, Doctor Consultations, Medical Fitness Examinations etc.
Company VISION -

Risks -
Their name got involved in the Mahakumbh scam
ED raids labs in fake Covid-19 testing scam unearthed at Mahakumbh
Got this clarification from the management -
Looks like they are clear from it (below news) as clarified by Management above - Kumbh Covid scam: Court declares 3 key accused 'proclaimed offenders' | Dehradun News - Times of India
Disclosure - Invested.