DLF ( naam to suna hi hoga ) has been a consistent performer at destroying wealth. Its reputation precedes it. In fact, sometimes i think the D in DLF stands for "Debt". With ~27000cr worth of borrowings & a bad reputation in the baddest market of it all ( Gurgaon) its a ship that is sinking and forever plugging the leaks to stay afloat. Anyways i digress.
In late 2009, DLF had announced the merger of its subsidiary DCCDL (DLF Cyber City ) with promoter firm Caraf Builders & Constructions. DCCDL had then issued CCPS (compulsorily convertible preference shares) worth Rs 1,597 crore to promoters. Somewhere in Feb 17 the promoter firm it announced its intent to sell 40% of its stake (should the pref shares be converted into equity ) to external third parties for 12000-14000 crores. The promoters would then infuse this money to pare the debt. Aakhir umidon pe duniya kayam hain. Anyways i digress.
This deal has been delayed. Discussion with shortlisted investors are at an advanced stage and will shortly be presented to the Committee of Independent Directors for evaluation and final decision. Expected timeline for completion of the deal remains to be H1CY17. DLF promoters have agreed to defer conversion of their CCPS to equity in DCCDL till March 2018 at the existing coupon rate of 0.01%. ( from an edelweiss report )
Promoters in DLF hold close to 75% stake and they certainly haven't got a history of being friendly to minority investors.
In short ( pun intended ), DLF is bad news. The run in prices in the last few months is a mirage and heres why.
When you look at the monthly DLF chart in a normal way it looks like this. Its difficult to see the recent peaks and valleys. Not impossible but difficult.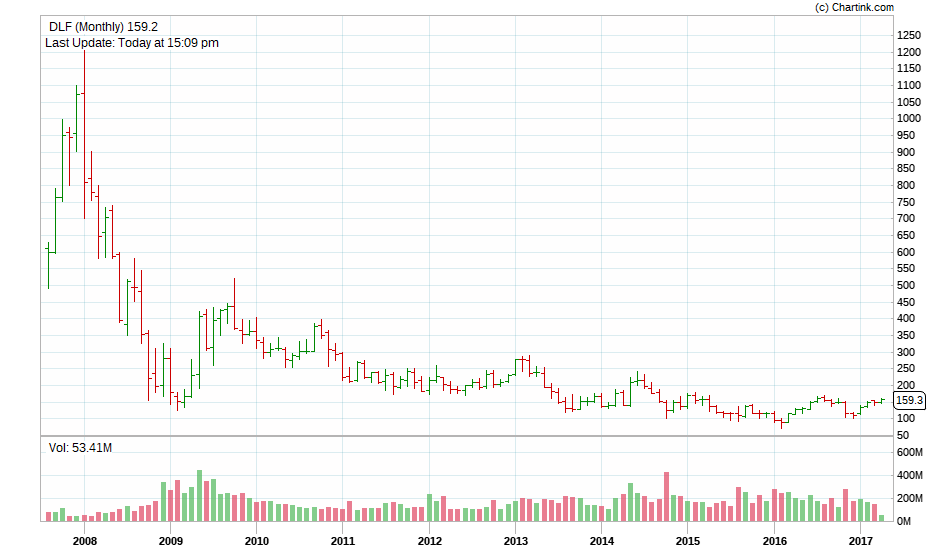 However, if you look at the log chart , its a picture perfect down trend with a clear trend line sloping downward. There is no other way of looking at it.
Since times immemorial the price has tried to break this trendline but the trendline has always swatted it away. This time the price is making another attempt - if it is successful at breaking the previous top at 170 and closing above the trendline i will be in shock as the residential NCR market is the most sluggish of them all and 40% of their stake in their crown jewel DLF cyber city is proposed to be sold. If they manage to sell the stake - its bad ( killing the golden egg laying goose) - if they dont manage to sell it its bad ( debt wont come down ). This is a perfect short opportunity IMHO
You can buy put options of DLF to take advantage of this opportunity. various lots are available at strike prices ranging from 160 to 185. You can look at the option chain
https://www.nseindia.com/marketinfo/companyTracker/mtOptionKeys.jsp?companySymbol=DLF&indexSymbol=NIFTY&series=EQ&instrument=OPTSTK&date=-
I am going out on a limb here, but i shall be very very surprised if DLF breaks upward.
Disclosure - not bought any puts yet but certainly tempted. Also, trading options is a short cut to losing money so please be careful and unless you are an expert at these things dont do it. I am just pointing out a possible opportunity and myself have not acted on it.