DCX Systems Ltd
About the company:
DCX Systems Limited (DCX) is among the leading Indian players for manufacturing electronic sub-systems and cable harnesses in terms of manufacturing capability and revenue in Fiscal 2022 in the defence and aerospace sector. It is primarily engaged in system integration and manufacturing a comprehensive array of cables and wire harness assemblies and is also involved in kitting. It is a rapidly growing company in the Indian defence space and its revenue from operations has grown at a CAGR of 56.64% between Fiscal 2020 and Fiscal 2022. The Company is also one of the largest Indian Offset Partner ("IOP") for ELTA Systems Limited and Israel Aerospace Industries Limited, System Missiles and Space Division (together, the "IAI Group"), Israel, for the Indian defence market for the manufacture of electronic subsystems and cable and wire harness assemblies. Over the years, it has expanded its manufacturing capabilities and grown its order book.
The company's operations can be classified under the following business verticals:
System Integration: The company undertakes system integration in areas of radar
systems, sensors, electronic warfare, missiles, and communication systems. It provides product assembly and system integration services of various complexities to address customers' requirements. System integration services are part of a comprehensive array of electronics and electro-mechanical assembly and enclosure assembly. The company also provide product repair support for the parts that it manufactures.

Cable and Wire Harness Assemblies: The company manufacture a comprehensive array of cables and wire harnesses assemblies such as radio frequency cables, coaxial, mixed-signal, power, and data cables for a variety of uses including communication systems, sensors, surveillance systems, missile systems, military armoured vehicles, and other electronic warfare systems for the aerospace and defence industries as per customers' equirements. The company manufactures the following products in its Cable and Wire Harness Assemblies division.
Fine Wire Cable Assemblies: Fine cables are lightweight, high temperature resistant, radiations resistance, low smoke and zero halogen and strong. Fine wire cable assemblies are extensively used in robotic, aerospace, marine, space and medical applications to obtain high performance.

Flex Flat Cable Assemblies: Designed for board-to-board interconnections, the flexible flat cable is a type of cable that is flat in shape and flexible enough to manoeuvre within tight spaces. Flex cable applications are usually used in small and tight spaces. The construction of a flat cable really helps manage cables because of the uniform, flat shape. Usually, flexible plastic is used in the base where several different conductors are able to be bonded with the surface. The flat cable provides 3 main advantages over a round cable with a space-saving design, improved resistance to electromagnetic interference ("EMI") or radio frequency interference and helps to avoid any issues related to wire coupling.
Kitting: The company supplies assembly-ready kits of electronic and electromechanical parts and undertakes all aspects of procurement including sourcing components from suppliers approved by the customer along with a 'Certificate of Compliance' for traceability, controlled storage of moisture sensitive devices to ensure that customers receive complete, assembly-ready kits when required when they are needed for production.
The company operates through its manufacturing facility at the Hi-Tech Defence and Aerospace Park SEZ in Bengaluru, Karnataka. The facility is spread over an area of 30,000 square feet and is set up for complete in-house environmental and electrical testing and wire processing. Location of the facility is in the same city as certain of its key domestic customers like Bharat Electronics, Alpha Design Technologies Pvt Ltd, Alpha Elsec Defence and Aerospace Systems Pvt Ltd and Centum Adeno India Pvt Ltd.
As of June 30, 2022, the company had 26 customers in Israel, the US, Korea and India,
including certain Fortune 500 companies, multinational corporations and start-ups.
The company's customers include domestic and international OEMs, and private companies and public sector undertakings in India across different sectors, ranging from defence and aerospace to space ventures and railways.
The company has a mix of domestic and international customers and certain of its key customers include Elta Systems, Israel Aerospace Industries– System Missiles and Space Division, Bharat Electronics, Astra Rafael Comsys Pvt Ltd, Alpha-Elsec Defence and Aerospace Systems Pvt Ltd, Alpha Design Technologies Pvt Ltd, Astra Microwave Products, Kalyani Rafael Advanced Systems Pvt Ltd, SFO Technologies Pvt Ltd and DCX-Chol Enterprises Inc.
Management Profile:
DCX Systems is led by experienced promoters and a qualified senior management
team with significant experience in the aerospace and defence manufacturing industry. Dr H.S. Raghavendra Rao, individual promoter, Chairman and Managing Director has over two decades of experience in electronics manufacturing and in the defence and aerospace sectors. Neal Jeremy Castleman, Non-Independent and NonExecutive Director, has vast experience of more than two decades in the field of electronic manufacturing sectors. The other senior management team have demonstrated the ability to anticipate and capitalise on changing market trends, manage and grow our operations and leverage and deepen customer relationships.
Message from Chairman and Managing Director:
Your company has consistently and in a sustained manner excelled in its working year on year surpassing the targets in revenue, improving margins, adequately improving leverage ratios and improving its net worth. The range of growth can be assimilated by you from the table below. Further DCX has clear business visibility with a confirmed order book on hand to the tune of Rs. 2,600 crores and pipeline orders worth Rs. 4,600 crores.
With our strong customer-centricity, we will leverage our diversified business model, track record of operational excellence and good financial discipline to bring about long-term value to our stakeholders.
Competitive Strengths
Resilient business model with strong visibility of cash flows:
The company's manufacturing activity is obsolescence-proof as the technology coupled with intellectual property rights, both vest with its OEM customers. Further, its in-house team monitors the obsolescence factor and provides feedback to its OEM customers for suitable action including drop-in replacements. Its product portfolio backed by its system integration and manufacturing capabilities has led to its order book growing from 45 orders aggregating | 1,941.31 crores, as of March 31, 2020, to 48 orders aggregating | 2,369 crores, as of March 31, 2022. As of June 30, 2022, its order book comprised 42 orders and was | 2,563.63 crore with orders from several customers for projects to be executed in FY23-25.
Well-positioned to capitalise on industry tailwinds:
In FY22, DCX exported US$76 million worth of equipment accounting for 4.7% of the overall Defence Exports from India. The Defence Acquisition Policy 2020 (DAP 2020) has extended avenues for extending offsets, providing foreign businesses direct credit for transferring vital technologies to the Indian economy. The DAP 2020 ensures that the large number of innovations utilised in defence equipment are now available to private entities. With defence, public sector undertakings focusing on specialisation and integration and sub-component manufacture being outsourced to the private sector, there are significant opportunities for the private sector
Track record of consistent financial performance:
DCX has been delivering consistent financial performance, despite the impact of the
COVID-19 pandemic on its business operations. In Fiscal 2020, 2021 and 2022 and in the three months ended June 30, 2021, and June 30, 2022, its revenue from operations was Rs. 4,492.62 million, Rs. 6,411.63 million Rs. 11,022.73 million, Rs. 1,229.14 million and Rs.
2,132.54 million, respectively. Its revenue from operations grew at a CAGR of 56.64% between Fiscal 2020 and Fiscal 2022. It has witnessed consistent improvement in its balance sheet position in the last three Fiscals and in the three months ended June 30, 2021, and June 30, 2022. Total assets have grown from Rs. 6,988.47 million, as of March 31, 2020, to Rs. 9,426.15 million, as of March 31, 2022, respectively and was Rs. 7,634.12 million, as of June 30, 2021, and Rs. 10,116.05 million, as of June 30, 2022.
Key Risks:
• Any changes in the offset defence policy or a decline or re-prioritisation of funding in the Indian defence budget could adversely affect DCX's financial performance.
• Any loss of one or more of its key customers or a reduction in their demand for DCX's products could adversely affect its business performance.
• The company's current order book may not necessarily translate into future income in its entirety. Some of its current orders may be modified, cancelled, delayed, put on hold or not fully paid for by its customers, which could adversely affect the results of operations.
• Significant shortages of, or delay or disruption in the supply of raw materials could affect the company's estimated costs, expenditures and timelines which may have a material adverse effect on its business, financial condition, results of operations and cash flows.
• Any adverse changes in the conditions affecting the electronic subsystems market can adversely impact DCX's business.
• The company is exposed to foreign currency fluctuation risks, particularly in relation to its borrowings, import of raw materials and export of products, which may adversely affect its results of operations, financial condition and cash flows.
Story in Pictures and Charts: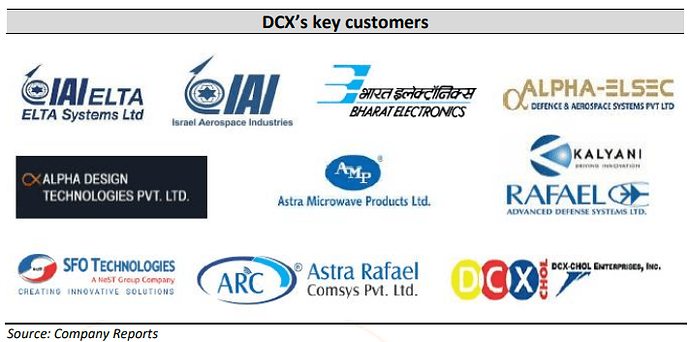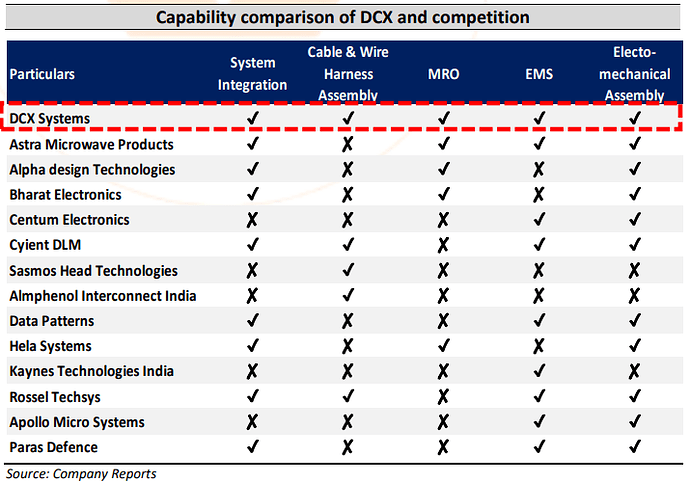 Financial Summary: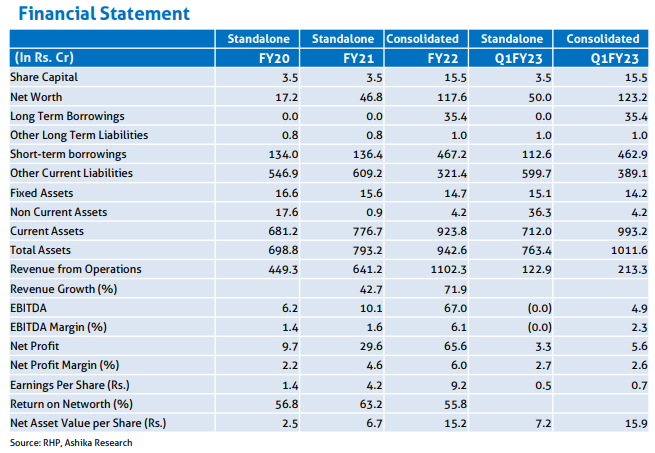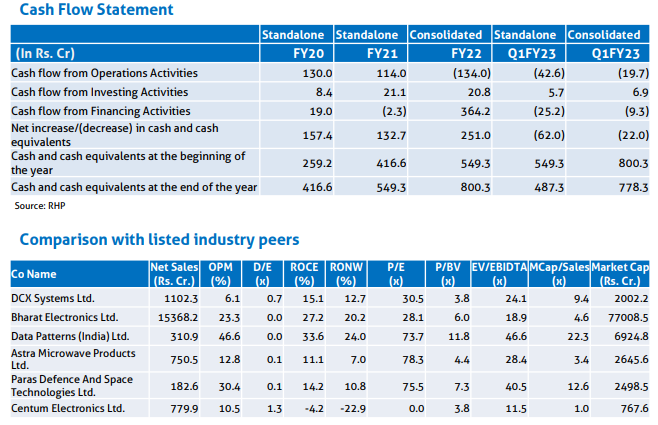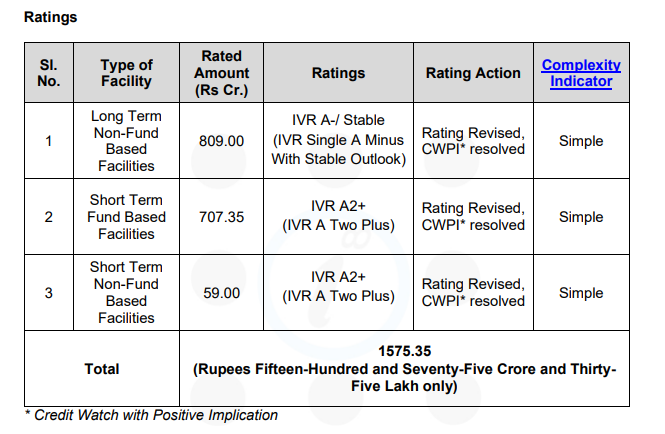 All the above information is taken from the company's annual report, business details, credit report and various equity research reports.