Overview
India's most trusted brand from 2011 to 2018. Colgate-Palmolive (India) Limited is a subsidiary of Colgate-Palmolive, USA and a listed Company in India. The Company is engaged in manufacturing/ trading of toothpaste, tooth powder, toothbrush, mouth wash and personal care products.
Why Colgate?
Market leader in its category
Zero debt
Unwavering focus on personal care and hygiene
Recession free business and inelastic demand
Products/Brands
| Oral Care - Colgate | Others - Palmolive |
| --- | --- |
| Toothpaste | Hand wash |
| Toothbrushes | Soap |
| Mouthwashes | |
| Kids products | |
| Specialty products | |
Marketshare
| Toothpaste | Toothbrushes |
| --- | --- |
| 50% (Leader) | 45.2% (Leader) |
Revenue Breakup
Royalty
Royalty is an additional cost that Indian MNC shareholders have to forego unlike Indian FMCG's like Dabur. When compared to its competitor HUL, Colgate has paid almost twice in terms of royalty fees to its parent.
Sales and Profit growth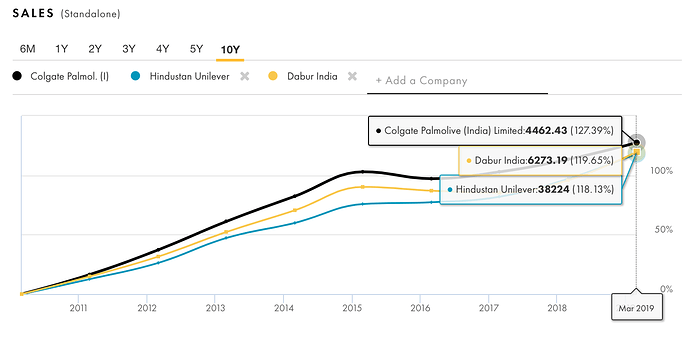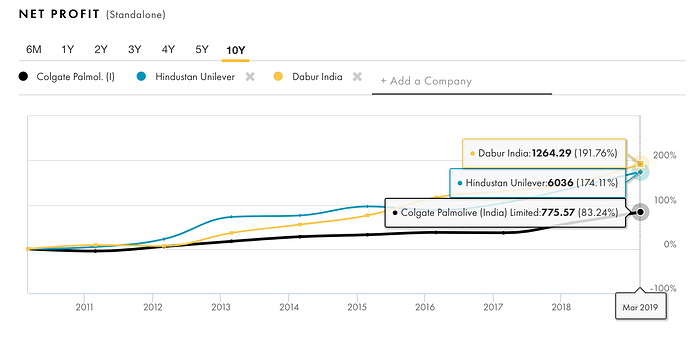 Receivables
A majority of customers pay prior to shipment, thereby reducing exposure to trade receivables significantly. Due to a large customer base, the Company is not exposed to a material concentration of credit risk. However, in recent years, there is a notable spike in receivables as compared to its competitors. Do note that the competitors operate in multiple categories when compared to Colgate.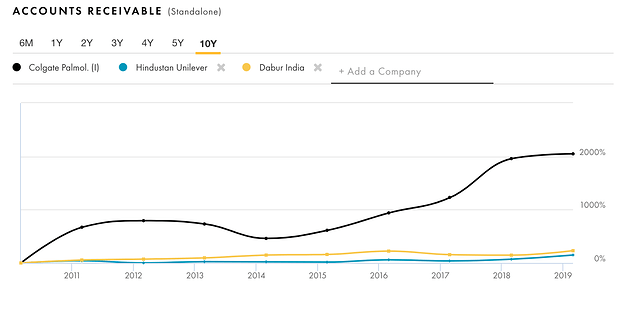 Penetration
As per this report, 1/3rd of India doesn't use toothpaste (questionable?) and only 1/5th use it twice every day.
Consumer Behavior
Unlike other consumer goods, toothpaste is perceived as a product that is subjected to changing customer loyalties in terms of switching to other brands. The cost of switching from Colgate to Close Up is not much and consumers like to experiment often.
For the price points that these products sell, any price discounts/offers can pull consumers from one brand to another.
Advertisements and availability (prominent shelf space) can also influence consumer behaviour.
Raising dental care costs and organized dental care is helping create awareness among consumers. More people are now using toothpaste twice in a day.
Shareholding Pattern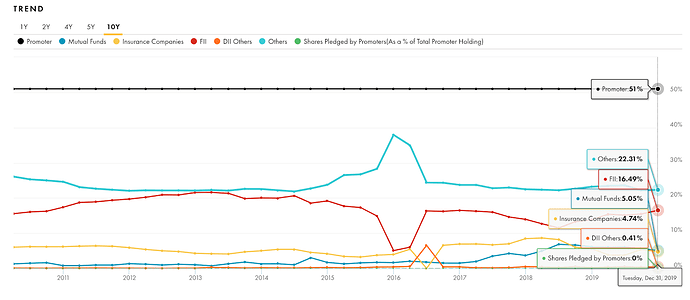 Input costs
Raw Materials: Corn, Carton board, Resins and Palm oils.
A 1% increase in commodity prices would have led to approximately an additional Rs 6,19 Lakhs loss in the Statement of Profit and Loss (2017-18: Rs 6,52 Lakhs loss). A 1% weakening in commodity prices would have led to an equal but opposite effect.
Colgate seems to be doing well on this front as compared to competitors (not an apple to apple comparison though)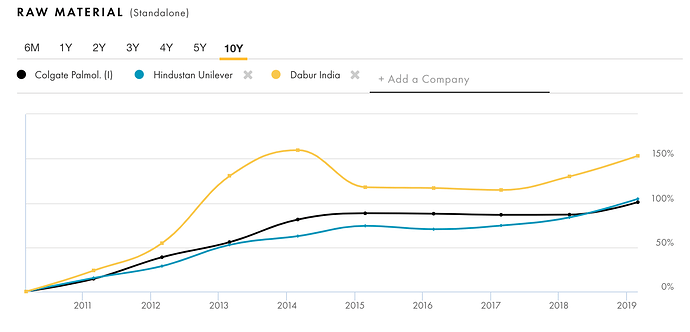 Risks
High competition within the naturals segment
High product penetration might slow down growth
Disclosure: Tracking position