About the company:
Company Name : Clean Science and Technology Ltd (CSTL)
NSE Symbol : CLEAN
CMP - Rs.1564 as on Sep 2, 2021.
Incorporated in 2003, Clean Science and Technology Ltd is one of the leading chemical manufacturers globally and as the name suggests its a eco-friendly manufacturer. It's a family run business.
It manufactures functionally critical specialty chemicals such as :
Performance Chemicals - MEHQ, BHA, and AP
Pharmaceutical Intermediates - Guaiacol and DCC
FMCG Chemicals - 4-MAP and Anisole
Total - 7 products.
Company Market share in its products:


Source : RHP, Page-127
Sales and Distribution across the globe:



Page-135
Key Financials:

Page-129
Summary of Financials:

Pg-15
Product wise Revenue:
Performance chemicals – 70% of total revenues
Pharmaceutical Intermediates –17% of revenues
FMCG chemicals – 13% of revenues
Page-131
Clean Science Unique Manufacturing Process: (Vaporisation Technology - Low cost and High Margins)
First company in the world to manufacture Anisole through Vaporisation.
Source : SOIC
Conventional Manufacturing process by other companies:
Source : SOIC
Manufacturing Facilities:
Currently There are 2 facilities for the company.
Facility 1 → Kurkumbh, Pune, Maharashtra - 7 Units
Facility 2 → Kurkumbh, Pune, Maharashtra - 4 Units
All Facilities strategically located at Kurkumbh (Maharashtra) which is close proximity to the
JNPT port from where we export majority of our products.
Facility Wise product Manufacturing:

Pg-133
Additional Facilities under pipeline: (Location is same Industrial Area as mentioned above)
Facility 3 → which is proposed to be used to manufacture Anisole and certain Performance Chemicals, including MEHQ. We have recently commenced operations in one unit of Facility III.
Facility 4 → where we intend to manufacture stabilizer and other intermediates
for application in pharmaceutical, flavors and fragrance and agriculture industries.
Capacity Utilisation :
Pg-133
Various Products and its application:

Pg-126
Customers:
Our products are used as key starting level materials, as inhibitors, or as additives, by customers, for products sold in regulated markets.
Key customers → Bayer AG, SRF Limited, Gennex Laboratories Limited, Nutriad International NV and Vinati Organics Limited
Promoters Overview: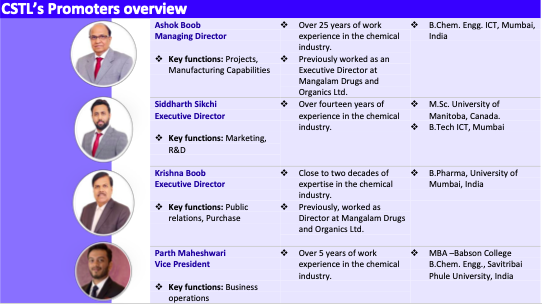 Source : Motilal Oswal Coverage
Products Overview:
Performance Products - 70% of Total Revenues
Monomethyl ether of hydroquinone (MEHQ)
Butylated Hydroxy Anisole (BHA)
Ascorbyl Palmitate (AP)
MEHQ:
MEHQ is an organic compound and a synthetic derivative of hydroquinone. Hydroquinone is basically an aromatic organic compound. CSTL is the only producer globally to manufacture MEHQ by the hydroxylation of anisole.
Uses : Monomers, Inks, API in the agrochemical and organic chemical manufacturing.
MEHQ is the intermediate of BHA and already company is forward integrated.
CSTL is World's no.1 and its peers are Solvay and Camlin Fine science in No.2 and 3 globally.
Expected growth of this chemical for next 5 years globally: 5.8% CAGR
MEHQ is used as a stabilizer for acrylic acid and its salts. Global acrylic acid market exp to grow 6.6% CAGR and India Acrylic acid market exp to grow at 15.5% CAGR for the next 5 years.
Superabsorbent polymers (SAP) are commonly made from the polymerization of acrylic acid blended with sodium hydroxide - Uses : Infant diapers, feminine products and adult incontinence products
Estd 5 yrs growth of SAP globally - 5.4% CAGR
Current Demand of SAP is 100% in India and fully met by Imports and demand for SAP in India is expected to grow at about 11 - 12% between 2019 and 2025.
India Baby diapers and India Sanitary Napkin Market expected to grow 16.8% CAGR and 11.0% for the next 5 years.
BHA:
CSTL produce sulphur-free BHA when compared to its peers Solvay and Camlin Fine science.
USES: As an anti-oxidant in the food and feed industry, in animal feed and nutrition and personal care. Antioxidants are used for providing protection to essential nutrients such as vitamins, fats, and pigments from deterioration.
Indian animal feed market is poised to grow to ~$11B by 2025, growing at a CAGR of ~14%
Ascorbyl Palmitate - AP:
This chemical expected growth for next 5 years globally : 5.8% CAGR
Ascorbyl Palmitate (AP) is produced from ascorbic acid or vitamin C
Uses : Ingredient in anti-aging cosmetic products. Anti-aging products account for 17% of the total active personal care ingredients market (which is expected to grow further at a CAGR of 6.5% going forward).
Second largest producer in India
Pharmaceutical Intermediates –17% of revenues:
Guaiacol
Dicyclohexyl Carbodimide (DCC)
Guaiacol:
The global Guaiacol market is currently pegged at USD 309 million and is expected to grow at a CAGR of 1.3% from 2019 to 2025
CSTL is the third-largest producer globally and 2nd in India.
Solvay is the largest player in world
Camlin Fine Sciences is India's the largest player
Uses : Precursor to manufacture APIs
Used in pharmaceutical industry for the production of cough syrups.
It is also used a key raw material for Vanillin, a food and flavour enhancer. Eg: Vanilla Ice-cream.
Guaiacol is used as a key starting material to produce APIs like Guaifenesin, Carvedilol, Ranolazine and Methocarbamol.
DCC:
CSTL began manufacturing DCC in 2020 and has become the largest DCC player in India and one of the largest players globally within just two years of commencing production.
CSTL manufactures sulphur-free DCC without using carbon disulphide. It acts as an anti-retroviral reagent and is primarily used in the pharmaceutical industry.
DCC is used as a key starting material for producing APIs like Valaciclovir, Amikacin and Glutathione, among others.
DCC is a powerful dehydrating agent commonly used for the preparation of amides, esters, and anhydrides. It is also used in peptide and nucleic synthesis. It is also used as a reagent in anti-retroviral drugs
Expected growth of this chemical for next 5 years globally : 4.9% CAGR
FMCG chemicals – 13% of revenues
4-Methoxy Acetophenone (4-MAP)
Anisole
4-MAP:
4-Methoxy-Acetophenone is an important spice, medicine, and makeup intermediate. 4-MAP is an aromatic chemical compound with an aroma described as sweet, fruity, nutty, and similar to vanilla. 4-MAP occasionally also has the aroma of butter or caramel.
The personal care industry in India is pegged at USD 14.3 billion, and expected to grow at a CAGR of 9.8% to reach USD 25 billion by 2025
Uses : As a cigarette additive, a fragrance, ingredient to manufacture UV Filter(most commonly used in sunscreens), and in food flavouring. It is also used as a chemical intermediate in manufacturing cosmetic additives like Avobenzone.
Anisole:
The global Anisole market was valued at USD 84.9 million in 2019 and expected to record a growth of 5.0% between 2019 and 2025. On a volume basis the demand of Anisole was around 34 KT growing at a CAGR of 4.5% – 4.8%.
Uses: Anisole is a precursor to perfumes, insect pheromones, and pharmaceuticals. Synthetic anethole is formulated from anisole. The compound is mainly made synthetically and is a precursor to other synthetic compounds.
Largest Manufacturer in world and accounting for 45% - 55% of the global capacity
Key positives:
Other companies seeing china as low cost competitor but CSTL exports 30-35% to China which proves they are the low cost producers in the world and only chemical company which exports to china.
Industry best EBITDA(55%), ROCE, ROE and margins.
Company is continuously focus and R&D with a robust R&D Team.
Company has strong relationship with customers and some customers have associated with the company for more than 10 years.
Largest producer of 4 out of 7 products globally.
Backward integrated especially the KSM(Key starting material) - Anisole is produced with vapor technology.
Key Risks:
Litigation against one of the Director - 2 criminal cases and Litigation against the company - 2 criminal cases and 1 Tax case (23.8 lacs)
Facility 4 Environment clearance will take time.
Addition of new products will affect the margins.
Exchange rate fluctuations may adversely affect our results of operations as our sales from exports and a significant portion of our expenditures are denominated in foreign currencies. Especially Phenol which is the largest contributor of Raw material cost.
Top 10 customers contribute 48% of revenues.
None of the company's catalytic process are patented and competitors like Camlin Fine science can copy the process and capex expansion by Camlin will put margin pressure on CSTL.
Recent R&D Breakthrough on 27th August, 2021:
Continuing its pursuit of process innovation through catalytic technology, Clean
Science and Technology Limited (CSTL) is pleased to announce its foray into Hindered
Amine Light Stabilizers (HALS) series.
HALS series comprises a range of products which
find application in diverse end industries including polymerization inhibitor, water
treatment, paint industry, coatings industry etc. The estimated market size for HALS
series globally is approximately USD 1 billion. CSTL would be the first company to
develop HALS series in India.
Company has successfully developed key products in HALS series using in house R&D
capabilities, at lab and pilot scale.
The ongoing capex at Unit 3 is towards existing and new products. In Unit 3, Company
is launching first line of production dedicated towards HALS series, which is expected
to commercialize by H2 FY2023. Besides, additional production lines will also be
installed in Unit 4 for manufacturing products under HALS series.
Link - 79e5a335-7772-4156-9c99-cf4a582c0e45.pdf (959.0 KB)
Disc : Invested
Please feel free to add if I miss something.
Source:
RHP document - 20210701195142_clean_science_and_technology_limitedrhp.pdf (4.7 MB)
Also I Thank @Worldlywiseinvestors and SOIC for simplifying the boring RHP in explaining the manufacturing process.