First I will try to address the issue that's concerning most investors is that Chemplast Sanmar Ltd (CSL) has been delisted at 15 rs in 2012 and coming up with an IPO in a bull market at (530-541) rs.
In 2012 Company took a voluntary decision to delist itself from exchanges as the global outlook following the 2008-09 financial crisis has deteriorated. CSL was listed in 1995 on exchanges and delisted in 2012. I could find only 2 Annual reports of the delisted entity(2011 & 2010) from the NSE website and few disclosures from the past.
Snippet from 2010 AR:

CSL went on to make losses for FY 2011 and 2012.
Financial Summary from 2011 Annual report:
Including 2012 CSL made losses for 4 straight years before delisting itself from exchanges.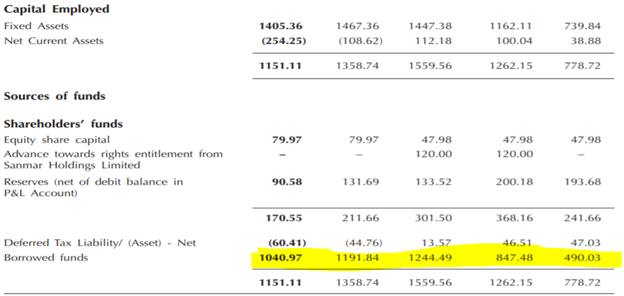 CSL's Debt/Equity ratio climbed to 6:1 and majority of assets are funded through debt.
Continued losses, mounting debt, and a negative outlook forced the management to take a decision to delist itself and restructure its entire operations.
The product portfolios of the delisted entity in 2012 and CSL in 2021 are significantly different.
The company's Business segments in 2012 were
PVC where the company manufactured various PVC resins, Company also has Trubore piping systems (which now seem to be acquired by Prince Pipes & Fittings).
Chlorochemicals- Caustic Soda, Chloromethane Products, Silicon Wafers and Refrigerant Gas (HCFC)
Also had other products like industrial alcohol, industrial salts, Company had 7 manufacturing plants. 5 in TN, 1 in Puducherry, 1 in MH. (CSL's current product portfolio will be discussed later).
Moving ahead with the overview of CSL's current business and highlights from Red Herring Prospectus:
Overview of the Company:
CSL is a specialty chemicals manufacturer in India with a focus on specialty paste PVC resin and custom manufacturing of starting materials and intermediates for the pharmaceutical, agrichemicals, etc
CSL is one of India's leading manufacturers of specialty paste PVC resin
CSL is also the third-largest manufacturer of caustic soda and the largest manufacturer of hydrogen peroxide in the South India region
CSL is one of the oldest manufacturers in the chloromethanes market in India.
CCVL a 100% subsidiary of CSL, is the second-largest manufacturer of suspension PVC resin in India and the largest manufacturer in the South India region
Products:
1. Specialty paste PVC resin
Specialty paste PVC resin is used to make flexible products (such as artificial leather, gloves, tarpaulins, conveyor belts, and coated fabrics). In India CSL and Finolex Industries Limited (Finolex Industries) are the only producers of specialty paste grade PVC resin.
Market size specialty paste PVC is 143 kilo-tons pa (ktpa) in 2020.
CSL capacity 66 ktpa, Finolex capacity 22 ktpa. Total production for 2020 was 78 ktpa and the rest was imported.
Demand is expected to grow 5-7% CAGR between financial years 2020 and 2025 to 182 KT. (CRISIL research)
CSL is planning to add a 35 KT capacity at Cuddalore, which is expected to come onstream in the financial year 2024.
Key growth drivers:
Low per capita consumption(0.1kg) compared to China(0.6kg), western Europe(2.4kg) and other countries
Lack of substitutes
The leather footwear market has significant growth potential
Automotive market recovering sharply
Government initiatives like Make in India to boost investment in artificial leather production
Usage of vinyl gloves rising rapidly post COVID-19 pandemic

CSL is better placed compared with Finolex with better backward integration.
2. Custom Manufacturing
Custom manufacturing is the exclusive manufacturing of non-commercially available molecules for a specific company.
The demand for custom manufacturing catered to by Indian manufacturers is likely to grow at around 12% CAGR between financial years 2020 and 2025, owing to higher penetration of pharmaceutical molecule or compound or API manufacturing
Key growth drivers
India to be a focus region as companies move away from China
Indian exporters to capitalize on global players de-risking their supply chains away from China
3. Caustic Soda
Caustic soda is used in major end-use industries include textiles, chemicals, paper, PVC, water treatment, alumina, soaps and detergents, and chlorinated paraffin wax.
Chlorine and caustic soda are joint products and hence most caustic soda manufacturers have downstream capacities integrated to utilize the produced chemicals in further chemical products such as PVC and chloromethanes
Caustic soda demand is also determined by chlorine demand, and hence producers often have downstream integration for both caustic soda and chlorine as feedstock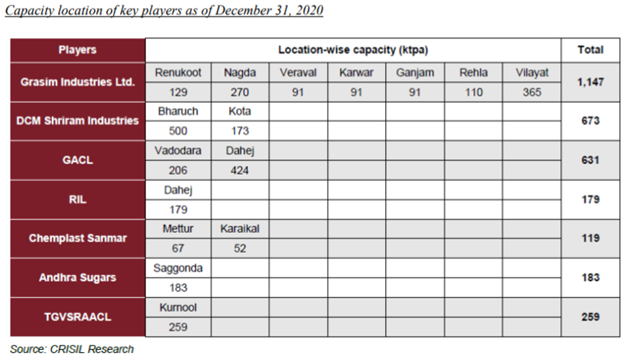 Key growth drivers here are import duties and increased demand from paper and textiles.
4. Hydrogen peroxide
Hydrogen peroxide is mainly used in the pulp and paper industry for bleaching pulp and deinking recycled paper. It is also used in textiles, electronics, food and beverages, and healthcare industries.
As of the financial year 2020, demand for hydrogen peroxide stood at 320 KTPA. The hydrogen peroxide market has grown at a CAGR of 6.9% between financial years 2015 and 2020, led by growth in the paper and pulp segment, which forms 55% of the overall demand. Hydrogen peroxide demand to log 6-7% CAGR between financial years 2020 and 2025
Since hydrogen peroxide is a local product due to its high transportation cost, most players prefer to supply in their regional markets. CSL and HOCL are the only players operating in the South.

Key growth drivers here are import duties and increased demand from paper and textiles.
5. Chloromethanes
Due to their toxic nature, chloromethanes are subject to stringent regulations imposed by government bodies. global demand has grown from 2.8 - 3 mil MT in 2015 to 3.4 mil MT in 2019. Indian market size is 504 KTPA and it grew by 9-11% cagr between 2015-2020.
Chloromethanes market to grow at 8-9% CAGR through FY2025
Key Growth Drivers are Rapid growth in the pharma industry, Rising agrochemicals demand & Import duty on Chloromethanes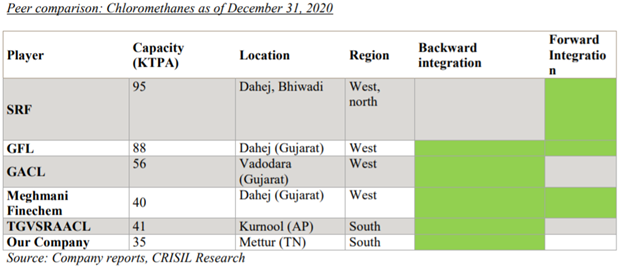 6. Suspension PVC Overview
S-PVC is used in both rigid and flexible applications. pipes, profiles, and roofing sheets are typical examples of rigid applications while flexible hoses, tubings, wires and cables, footwear, calendared sheets and films, extruded films are typical examples of flexible applications.
The market size was 46 MMT in 2019. Demand for S-PVC in the global market is largely linked to the construction industry and therefore economic development. India is one of the fastest-growing large markets for SPVC in the world.
CRISIL Research expects S-PVC demand to clock 7.5-8.5% CAGR over financial years 2021-2025.
Key Growth Drivers are Lack of viable substitutes driving demand, Low per capita consumption of S-PVC, growth in Irrigation, Urban infrastructure & Real estate.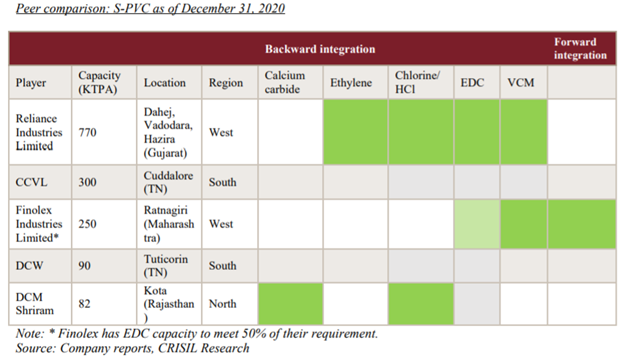 Segmental Revenue:
Revenues from the 100% subsidiary CCVL which manufactures Suspension PVC is a major part of the revenue which is 2510 Cr, 1878 Cr, 2051 Cr from years 2021, 20, 19.
Manufacturing Plants:
CSL has 4 manufacturing facilities, of which three are located in Tamil Nadu at Mettur ("Mettur Facility"), Berigai ("Berigai Facility") and Cuddalore ("Cuddalore Facility"), and one is located in Puducherry at Karaikal ("Karaikal Facility").

The Berigai plant is used for custom manufacturing.


Competitive strengths
There are many competitive strengths mentioned in RHP but I believe CSL has a strong advantage in Specialty paste PVC resin
With only 2 manufactures in Indian for Specialty paste PVC and with backward integrated operations, CSL will have stable margins and with additional capacity at Cuddalore, it will capture more market share. With technical and raw material constraints there is a high barrier of entry in this segment.
Captive power plants at 3 manufacturing plants can reduce power costs and ensure no interruptions
Vertical integration that CSL has achieved is also a competitive advantage.
Picture depicting CSL's integration of production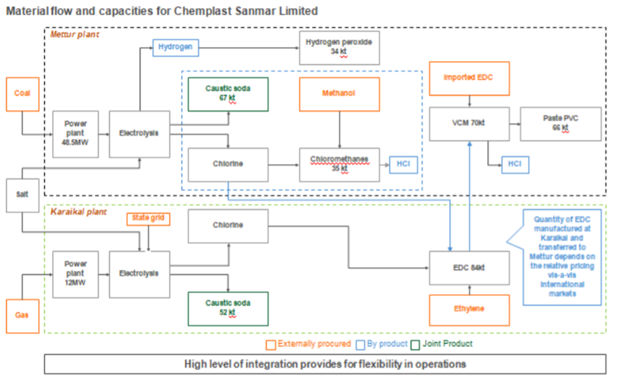 IPO and terms of the offer:
capital being raised: 3850 crores
fresh issue: 1300 crores, OFS: 2550 Crores
Recent developments:
In a recent exchange filing company declared that It has redeemed all its non-convertible debentures worth 1238 crores. and released all the pledged shares of CCVL which is a very positive news
Mutual funds like Mirae and SBI have significantly increased their stake post IPO. - very positive
Risks:
The majority of revenue & income for 2021 came from CCVL and it had a sudden boost to the profits. this could well be a one-time bump in earnings and CCVL might not be able to maintain the growth and margins.
Link to CSL and CCVL Annual reports 2017-2021
Anyone tracking this stock can share their viewpoint and additional risks that need to be considered.
Disclosure: Holding a tracking position.