Crisil Q3 PAT 54.08 from 93.76 of FY19 Q3 …so CARE's not a corner case
If it's an industry problem then as credit cycle improves, the stocks shd so we'll.
crisils press release
The domestic economic scenario continues to be muted, with GDP growth expected to print at a decadal low,investment appetite weak, and continued stress in the financial sector. During the year ended 2019, credit growth slipped to single digit, while wholesale credit growth fell below 4% towards the end of the year. Corporate bond issuances grew 14%, driven primarily by frequent issuers - the number of issuers declined by 30% year-on-year.
Bank loan ratings market fell a sharp 28% year-on-year
The recent SEBI Letter asking CARE Board to check role of Former MD and Chairman in rating decision is showing critical concern for investors in CARE. While we shall wait for final findings, but the way rating were "managed", like many other aspects in Indian business really raise question now is on fundamentals of credit rating business in medium term.
I had invested in CARE rating due to entry barrier by regulation, service industry generating free cashflow, highest level of operating efficiecy (measured by per employee gross profit (Revenue-Empolyee cost) and increasing market share. I also got irrationale about investment in Crisil (personally had worked in past and also have some business relationship due to which my view may be biased) in Care Rating.
There was always concen that Care being bit lenient while giving rating and hence gaining market share. (My post on thread where Rating migeration data of all agencies does express that part on the thread.)
Post ILFS problem, Care managment tried to address many issue in volatile enviroment but not able to address the concerns of investors.Alignment of employee interest to business by providing ESOP is good for business in long term. While providing ESOP is not bad, but it was ill timed. When the revenue are declining, ESOP cost was jumping. That have taken doubled adverse impact on financial.
Second, the top managment was missing at the time when it was required the most. The ship has lost its captain when weather was chellanging. Further, due to diversified holding, there was no promoter/management/institution which was interested in giving direction to the Care team during turmoil. As a result, Care Continue to loose market share. As already shared on Forum, Crisil has done good in business during last 2 quarters while all other rating agencies have suffered. The best players is gaining market share at cost of other during in chellanging time. Even ICRA faced similar issue like Care, but ICRA has Moody's support due to which adverse impact was curtailed despite lossing market share.
Subsequent September Con call, in October and November 2019 I sold my holding (except token position as AGM entry pass). I booked largest loss in my life in Care Rating. This message is more for me to pen down my learning so that I remember not to repeat mistake.
From my experience, I take following learning
First: "Not to invest in business when Core is compromised. Credit Rating /Auditor/ Finance are business where trust is the most important thing. When rating standard were made lenient (like risk standard are relaxed in lending instituation for volume growth ), the question are raised are not able short term business loss, but may also result in long term sustainability if not addressed on time."
Second: " When such chellanges arise, the business with strong promoter (weak promoter may not be sufficient) backing are more likely to recover quickly then those run professionally. Such chellanges were faced by Nestle, Yes Bank, Care Rating, ICRA, DHFL, ILFS and IDBI Bank. We see ILFS moved on liquidation route (no stakeholder stong enough to put effort to revive the company), DHFL again going for change of managment at distress value (have promoter but not stong enough to infuse capital and bring trust in business) , Yes Bank (Promoter converted in professional and reclassify "Diamond" as "Carbon substance", new managment not able to raise capital Despite Regulator support), Nestle and ICRA (there was short term turmoil in share price and business performance but management took corrective actions to address the issue, Nestle recovered while ICRA still passing through turmoil) and IDBI Bank (Stong promoter GOI instructed LIC doing all to assist company to come out of financial trouble, However, for long term performance one has also to address management quality)."
Third: "Buyers be aware. There is no substitute to hard work. I took comfort from Crisil investing in Care Rating. However, investment of Crisil may also like an option to block entry of any other strong players in Indian credit rating business and hence may be stategic then purely financial. However, my investment was purely to make superor risk adjusted financial return. Objective of Crisil investment may be completely different from mine. Hence, never take support from investment action of others"
Despite this problem, I see significant value of Care for Government of India. When China is trying to promoting domestic rating agency, Indian Government is unlikely to allow Care (the largest Indian owned Credit Rating agency) to face survival threat. If Government take approriate action, given cashflow generating business and nil leverage, I see limited chance of Care facing survival issue. However, prospering in medium term for Care would depend on how new management actions to gain back confidence in market. It is not impossible, but defintely difficult.
Having said that, despite my selling of share, I peronsally wish Care Rating quickly come back on business as usual with more riguor and superior credit rating standards. That would good for Indian financial markets, for sure.
Discl: My view may be biased due to my investment decisions. Not a SEBI registered advisor. Investor shall consult own investment advisor
very nice and detail analysis …dont you think that at the present share price of 490 everything is factored in price …given that new management would take over ,it cannot be worse than what state today it is at …ultimately rating business should structurally do well when an economy does well ,if we are betting on Indian economy for long Crisil and care should do well
I would refrain from making any comment on investment till I see management and get idea about their action plan. It was very disappointing to know that now CARE Board have started looking out for new MD candidate (as per Stock exchange disclosure).
https://www.bseindia.com/corporates/anndet_new.aspx?newsid=10f37dfd-c55f-42c4-823b-fe8389cf2898
In case of Crisil, it took almost 6 months when Mrs Kudwa resigned from MD post during Sep 2014. Ashu Suyansh appointed as MD in March 2015There was no major business/integrity related issue with Crisil and S&P was controlling the business and despite that such a long time to replace MD in case of Crisil.
Secondly, in my opinion, till new MD give direction, the boat would just float at one place rather than moving forward. Even managing the current financials for CARE may be chellange in medium term as many people may switch over to competitor.
In my limited understanding, it would take around 12-15 months for CARE now to refocuss and align with new business reality. Hence, I would not like to jump at current juncture.
Actually, the share price may fall even below considering that SEBI is likely to impose fine again on CARE Ratings.
Corporate Governance issue may prevail for 10 - 12 months.
Adding to these the BASEL III Norms require banks to have internal ratings, from which CARE Ratings earns 50% of its revenue, i.e, BLR (Bank Loan Ratings).
https://m.rbi.org.in/Scripts/BS_ViewBulletin.aspx?Id=18704
The Standardised approach for credit risk under both Basel II and Basel III frameworks involves the use of agency ratings. Under these frameworks, the Standardised approach is described as a base-level approach; banks are expected to move to the Internal Ratings-based (IRB) approach over time modelling the capital requirements based on their internal ratings assigned to various assets. On account of a growing critique of the internally modelled approaches, however, the Basel Committee on Banking Supervision (BCBS) has recently revisited the Basel III framework and proposed certain restrictions on the use of the IRB approach and, in fact, strengthened the Standardised approach in terms of its granularity and risk sensitivity (BCBS, 2017). Following the proposed reforms, the role of agency ratings in the regulatory framework stands reaffirmed.
Also read
https://www.reuters.com/article/basel-banks-regulations/basel-regulators-make-u-turn-on-banks-use-of-credit-rating-agencies-idUSL8N1290WX20151009 from oct 2015
Would love to hear from someone who understands the nitty gritties much better
CARE is trading at a valuation discount to icra even though it earns more profit it is at 1/2 of icra's valuation.It is available at a measly P/E of 9 with no debt.
It also has cash of around 300 cr if I am not wrong ( not 100 percent sure ).
It always traded at discounts to both crisil and Icra even in last couple of years .
There will correction in those investments as market has corrected.But yes the valuation looks nice.Only issue is that the growth of the sector has been stagnant for a long time now.If you look at crisil and icra alongwith care,all three of them consistently grew from 2006 to 2016 in terms of sales growth,but this has stagnated after that.Question is will growth return in the short term.
bigger question is will markets going to get concentrated into top two ? and it's a serious issue.
CARE announced the appointment of Ajay Mahajan as MD & CEO of the company for 5 years.
Ajay was a banker, being part of Yes bank (as Group president), UBS (MD & country head), IDFC bank (Group president for wholesale banking) and Bank of America (Country treasurer). He is currently the founder and CEO of FICC Capital, which is a NBFC lending working capital loans to small and microenterprises.
In essence, he has expertise in lending (specially wholesale). Is it normal for a credit rating agency to have as CEO a person who is currently founder of a NBFC? Are there not inherent conflicts of interest? I looked at past CEOs of CRISIL, ICRA and CARE. The current CEO of CRISIL held various roles in a bank in her early career. Others were mostly company insiders who grew into the role of a CEO.
I maybe completely wrong here, insights from industry veterans will be very useful.
Rajesh Mokashi (past CEO of Care) - most professional career with CARE (since 1993)
Naresh Takkar (past CEO of ICRA) - most professional career wtih ICRA (since 1991)
Ashu Suyash (current CEO of crisil) - CEO of L&T investment managers, fidelity. Previously, she held various roles at CITIBank.
If anyone is interested in comparing CARE's business with that of CRISIL Rating business, please check out the below post. The article covers all of CRISIL's segments:
(i) Ratings
(ii) Research & Analytics
(iii) Advisory
In India, the ratings industry is actually undergoing a big change with RBI trying to develop Indian bond market by introducing Insolvency and Bankruptcy Code (IBC), mandating large corporates to borrow 25% from bond market etc.
The post is quite lengthy as i wanted to cover all of CRISIL's segments. Many other interesting developments were also uncovered during the research process like: LIBOR transition, MiFID regulations etc. Do check it out!
Thanks for sharing the post, have you thought about how IBC might or might not impact credit rating agencies. The article you shared doesn't cover this aspect, it simply says that there will be more debt investments which might require higher number of ratings. Have you thought about any higher order impact?
There is NO MENTION of the FIRST FIASCO done by rating agency in global financial crisis where CRISIL was one of the main culprit identified and penalized.
If today we call it "QUALITY MATTERS" then other rating agencies can also be in similar umbrella few years down the lines …
Investing is about being forward looking and not get trapped with recency bias.
Care rating has just came out with their annual results.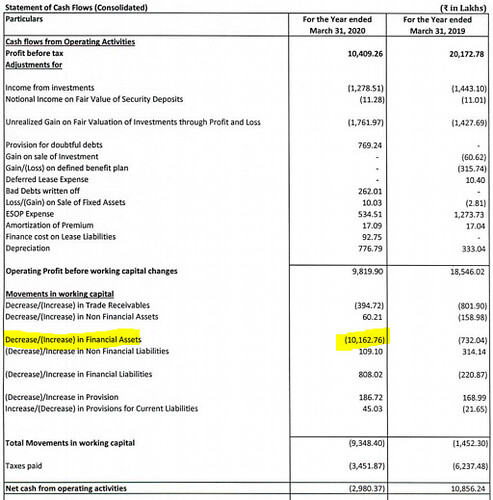 Can someone please explain what this "Other financial Asset" means. This alone is causing the operating cash flow to be negative.
Also, attaching the asset part of the balance sheet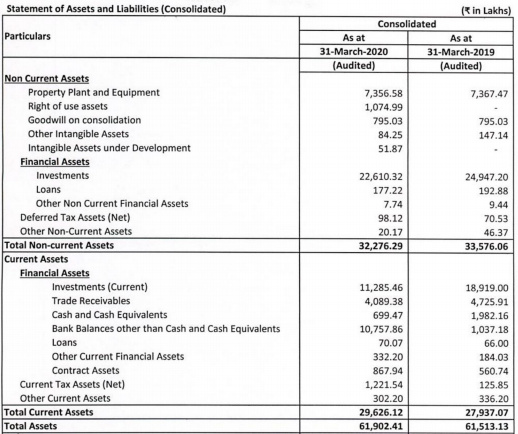 Have they not uploaded a press release taht they generally release with results?