Market Capitalization: Rs. 179 crores
Current Market Price: Rs. 209
Company Overview
Capital Trust Limited is an NBFC, incorporated in 1985 for providing consultancy to foreign banks in India, they moved on to two wheeler vehicle finance with a joint venture with Kinetic Engineering in 1992. The company started microfinance in 2008 and became a Yes Bank correspondent for the same in 2014, they also started providing enterprise loans to MSME sector. The company has 77 branches operating in 16 cities in Delhi-NCR.
Business Model
The company focuses on the untapped market of financing micro and small enterprises in rural and semi-urban areas which are not covered either by banks or large asset finance companies. The company had applied for small banking license but failed to get RBI nod.
The company operates mainly in these three domains:
Enterprise Loans
Vehicle Loans - Two wheelers and Small Commercial Vehicles
Microfinance Loans - Yes Bank Correspondent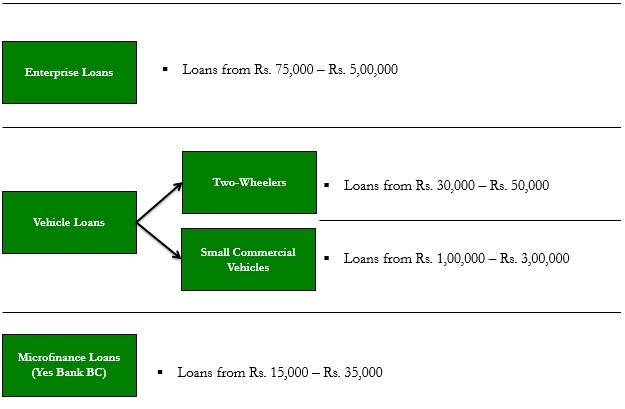 The company has over 80% of its business in Western UP and Uttarakhand, it manages a total portfolio of Rs. 204.50 crores as of March 2015. Loans are provided for farming, dairy and livestock, small manufacturing firms, trading, home improvement, two wheelers etc.
The company has a strong audit and compliance procedure as many of its borrowers don't have adequate literacy or assets.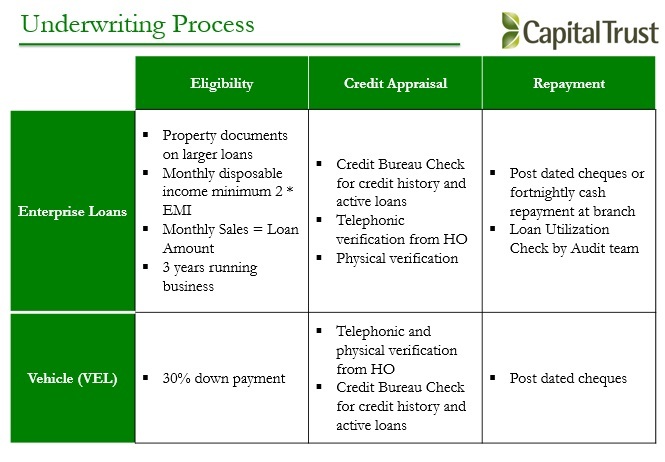 The company has an in-house IT team which focuses on developing applications for collections and other operational processes. Every branch manager is provided with a tablet computer for operations, their management system uses Java J2EE as frontend and SQL server for the backend.
Financial Snapshot
The company has a market capitalization of Rs. 179 crores at the current market price of Rs. 209. It has shown consistent growth in both revenues and profits, despite high borrowing costs for the company, they have managed to maintain to Net Interest Margins at 10%. The company is maintaining the adequate CAR of 21.05%, Gross NPA stand at 0.63% and Net NPA at 0.52%, which looks good for a microfinance company.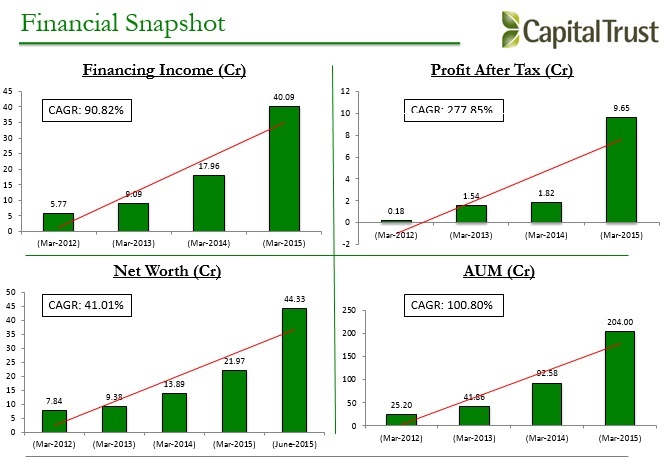 Investment Rationale
The company has high room for growth and is available at decent valuations. We can also expect a small bank license in future though we can't rely on it for making an investment decision. The opportunity is huge and owing to company's low base, it is poised to achieve higher profitability in coming years. The company has around 1 lakh customers in 16 cities and plans to serve 2 million customers in 32 cities by the year 2020. The company's Managing director and CEO, Mr. Yogen Khosla is young and dynamic and loves cycling. We can hope he will keep this company in good shape as he keeps his body. The company has competition from similar microfinance firms, but I believe there's room for everyone to grow.
Disclosure: 200 shares @220, planning to buy more.