Results
18.6% YoY Quarterly sales growth
85.2% YoY EPS growth
Excellent results.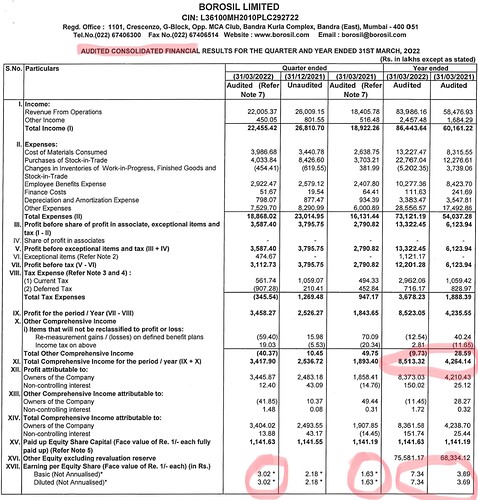 considering they posted loss in June quarter, still available/trading around 30-35 PE range, (Assuming around 2.5 EPS also for June quarter) reasonable for high growth consumer business.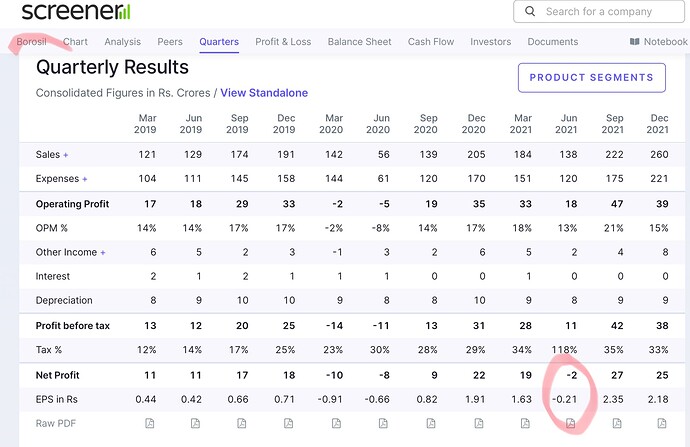 I am attaching my notes from their FY22 annual report.
Laboratory glassware
Sales: 156.2 cr. (23.4% growth)
65% market share, have 2'000 SKUs. Market size is 235 cr. growing at mid-single digits
Had 1-day order fulfillment rate of 96%
Klasspack
Sales: 106.2 cr. (vs 65.19 cr. in FY21), Domestic: 92.45 cr. (vs 56.99 cr. in FY21), Exports: 13.75 cr. (vs 8.2 cr. in FY21)
PAT: 8.58 cr. (vs 1.22 cr. in FY21)
Primary packaging for pharma sector (glass vials, ampoules). Market size is 1'100 cr. and Borosil is positioning themselves as a second supplier
Exploring opportunities in pre-filled syringes, cartridges and siliconized vials
Continues to develop export of laboratory glassware products in Africa, Middle east, South east Asia and North America
Labquest
Sales: 21.3 cr. (vs 15.9 cr. in FY21)
Consumer Products
Advertising & sales promotion: 6.5% of sales
Network of 200 distributors, 14'000 retailers across 100 cities. Serviced by team of 100 sales personnel
Glassware sales (microwavable, vision glass, glass kitchen storage like lunch boxes): 146 cr. (42.3% growth)
Non-glassware sales (Steel Serve fresh, Hydra range, Kitchen appliances): 207.4 cr. (47% growth)
Opalware (Larah): 219.6 cr. (55.7% growth). Plant is running at peak revenue potential of 220 cr.
Market sizes:
o Microwavable glassware products: 100 cr. (60% market share) (outsourced)
o Vision glass (cups, tumblers, etc.): 440 cr. (manufactured in-house at Bharuch)
o Glass storage container: 700 cr. (outsourced)
o Kitchen appliances: 9000 cr. (outsourced)
o Hydra bottles: 1100 cr. (outsourced)
o Opalware: 900 cr. (growing at 15-20%)
Capex
Setting up India's first borosilicate pressware capacity of 25 TPD in Jaipur for 75 cr., expected to commission in beginning of FY24. This will bring manufacturing of borosilicate pressware products in-house
Opalware: Doubling capacity in Jaipur from 42 TPD to 84 TPD at 175 cr. capex, expected to commission in Q3FY23
Klasspack: Expanding Nashik facility (300 mn to 500 mn in vials), (500 mn to 700 mn in ampoules) at 70 cr. which should be commissioned in FY24 and generate potential revenue of 200 cr.
Remuneration
Increased fixed remuneration of Shreevar Kheruka from 1.2 cr. to 4.8 cr.
Shreevar Kheruka: 6.42 cr. (vs 4.04 cr. in FY21)
Rajesh Kumar Chaudhary: 1.2 cr. (vs 1.79 cr. in FY21)
Technology investments
Focusing on usage of technology to enhance productivity
Borosil e-commerce platform is built on shopify
Adopted Salesforce CRM (will be completed by June 2022)
EAZY Decision Management System integrates seamlessly with distributors' stock and accounting systems, providing visibility of secondary sales. This has improved sales forecasting inventory management
Capital employed & goodwill
Consumerware: 297.8 cr. vs 230.6 cr. in FY21 (excluding goodwill) + Goodwill 18.15 cr.
Scientific: 213.2 cr. vs 182.9 cr. in FY21 (excluding goodwill) + Goodwill: 49.52 cr.
Total Goodwill: 67.67 cr. (vs 67.67 cr. in FY21)
Investment into subsidiary
Invested 20 cr. in Klasspack (at 138 cr. valuation; 1.3x sales, 16x P/E)
Invested 4.63 cr. in Borosil Technologies
Miscellaneous
Vision to be the most consumer centric company in India
Struggled with supply chain issues throughout the year with availability of raw materials. Additionally, container freight rates increased dramatically
Real estate fund exposure: 10% of total investments
CSR: 1.06 cr. (2.24% of net profits for last 3 fiscals)
Number of employees: 753 permanent (1010 contractual employees). Contract labor charge was 30.89 cr. (3.06 lakhs vs 5.13 lakhs for normal employees)
Median remuneration: 5.13 lakhs (vs 4.66 cr. in FY21)
Share price: 164.1 (low), 498.7 (high)
Number of Shareholders: 74'162
Assets for sale: 61.38 cr. (14.2 cr. of land + 47.18 cr. of building)
R&D: 64.86 lakhs in Bharuch + 4 lakhs in Jaipur
Auditor remuneration: 81.8 lakhs (vs 81.8 lakhs in FY21)
Useful life for depreciation: 3 years for certain plant & equipment, 2 years for furnace (seems very low)
Demerger b/w consumer and scientific division will be completed in 9-12 months. There will be common legal, secretarial and HR services
Disclosure: Not invested
Key takeaways :
Robust demand and China+1 strategy to aid exports
Post GST, organized players have increased market share
Shift from plastic to glass segment augurs well in consumer products biz
Consumer sentiment moving to branded products
Could pass price cut benefits to customers in coming months
See an increase in health and research spend for scientific & industrial business
Indigenous manufacturing for consumer business to increase from 45% to 75%
Indigenous manufacturing for scientific business to increase from 80% to 95%
Demerger expected to be completed in 9 months
Disclosure - Holding and buying on dips.
Did anyone attend the recent AGM? Was wondering in case we have any insights that came in from there.
Disc : Invested
Great results from Borosil
25% increase in sales for Scientificware and 77% increase in sales for consumerware on YoY basis. 143% jump is PBT YoY mainly due to exceptional losses booked last year and exceptional gains booked this year (insurance claims paid). Removing exceptional items, PBT is up 25% YoY which is decent in current inflationary environment.
Total addressable market of Borosil Ltd collected from Annual report.
| Borosil Ltd | Market Size (Cr) | Market Share |
| --- | --- | --- |
| Consumer Products Division | | |
| Microwavable and heat resistant glassware | 100 | 60% |
| Vision glass (cups, tumblers etc.) | 440 | |
| Glass storage containers | 700 | |
| Kitchen appliances | 9000 | |
| Hydra flasks and bottles | 1100 | |
| Opal serving ware | 900 | |
| Total addressable market | 12240 | 5% |
| | | |
| Scientific and Industrial Products | | |
| Laboratory glassware | 235 | 65% |
| Lab Instrumentation | 570 | |
| Pharma packaging | 1100 | |
| Total addressable market | 1905 | 14% |
*Different sections are growing at different rates so future size may wary.
*Borosil is market leader in Microwavable and heat resistant glassware and Laboratory glassware. The percentage is provided in the report.
*Market share of the divisions is calculated by dividing the revenue per division by the size of the market.
Notes from the last few management interviews.
07.07.2022 (ET interview)
Growth guidance: consumer (15-20%), scientific (12-15%)
In consumer division, currently manufacture 40-45% of products, which will increase to 75-80% in next 2-years with upcoming capex
In scientific division, currently manufacture 80% of products, which will increase to 95% in next 2-years with their backward integration efforts
Demerger timeline: might take 9 more months
15.12.2022 (CNBC)
Demand is robust in scientific and consumer division
Inflation has cooled with raw material prices stagnating, freight costs have come down
Margins were impacted due to delay in capex which resulted in buying more from outside. There will be one more quarter of margin pain
Growth momentum in H1 will continue in H2 in both consumer and scientific division
Demerger and listing should potentially be done by June 2023
EBITDA target for consumer division is 20% while maintaining 20% sales growth
EBITDA target for scientific division should be maintained at 25% while maintaining 12-15% sales growth
Disclosure: Not invested (no transactions in last-30 days)
Latest OTG Campaign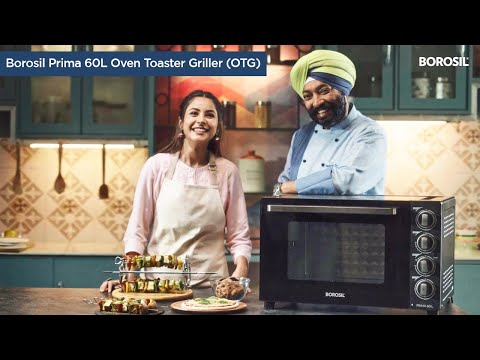 Their OTGs are rated very highly on Amazon.
Recently visited myborosil.com website and surprised to see variety of items like cold press juicer, glasstop gas stove, brass akhand diyas, SS handi server, wooden chopping board etc. So looks like Borosil is working hard on brand extensions and monetizing marketing spends by expanding into related items in Kitchen.
Recently I had chance to experience Borosil after sales service. Borosil Mixer gasket got damaged. After raising complaint (post warranty period), service engineer came to my house to replace the gasket…Pleasantly surprised …If they continue to do this, this company can go long way in service deprived country like ours.