Birla Corporation (CMP: 642; MCap: Rs.4944 crore)
About the company
Birla Corporation Ltd is the flagship company of MP Birla Group which also runs companies including Universal Cables Ltd., Vindhya Telelinks Ltd., Birla Cables Ltd., Birla Furukawa Fibre Optics Pvt Ltd and Hindustan Gum & Chemicals Ltd. Post the demise of Mrs. Priyamvadaji Birla, as per her will, Mr. Rajendra Lodha and his son Mr. Harsh Lodha, were made the promoters of the group companies. However, the ownership of Birla Corp Ltd is under legal dispute, being contested by Mr. Harsh Vardhan Lodha and the descendants of the Birla family Birla Corp's installed capacity post acquisition of Reliance Cement Company Private Limited (RCCPL) in August, 2016 has increased to 15.58 million tonne (MT). It has seven plants located in states including Rajasthan, Madhya Pradesh, Uttar Pradesh, West Bengal and Maharashtra. It has presence largely in North and Central India. The company is the second largest cement players in Central India after Ultratech Ltd. The group sells its products under well established brands viz MP Birla Perfect Plus, MP Birla Unique, MP Birla Samrat, MP Birla Ultimate, MP Birla Ultimate Ultra, MP Birla Chetak, MP Birla Concrecem, MP Birla Multicem, MP Birla PSC, etc. Apart from cement, the company also manufactures jute and runs a steel foundry but their contribution is less than 5% of revenue and profitability.
What is interesting about the company?
• Increase in aggressiveness of the group and induction of professional management: From being a sleepy management running decade old plants, promoter group and management has become aggressive with buyout of RCCPL and then announcement of brownfield and green field capex at Kundanganj (UP; 1.2 MT grinding unit) and Mukutban (Maharashtra; 3.9 MT integrated unit with 40 MW captive power plant & 10.60 MW waste heat recovery system [WHRS]) respectively. Kundanganj capex is around Rs.250 crore while the one at Mukutban is of Rs.2450 and expected to be completed in FY22. Post expansion, company's total cement capacity will expand to 20.68 MT.

Furthermore, acquisition of RCCPL was a well thought out decision as RCCPL's cement unit commenced operations only in 2014 and are based on European technology with high operating efficiencies. Post take over by Birla Corporation, RCCPL has become the most efficient player in the central India with highest EBITDA/tonne. RCCPL also has mineral concessions in Maharashtra, Karnataka, Andhra Pradesh and Himachal Pradesh which can help the company in future expansions.
• Favorable demand-supply dynamics in central and north India: In cement, it is very difficult to forecast the demand and price dynamics. But one thing which can be analyzed is the new supply coming in the region. In terms of new capacity, not much new capacity is expected to be added and capacity utilization is expected to remain healthy going forward also for the plants located in the region.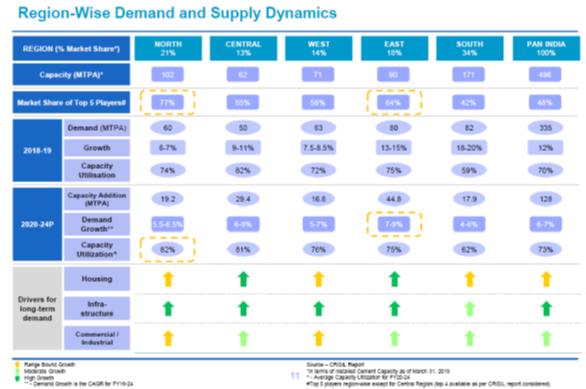 (source: Shree Cement presentation)
Various measures taken for improvement in operating efficiency: Over the past few years, the company has been taking various measures to improve its operating efficiency. These include setting up of waste heat recovery system (WHRS) at Maihar of 12.25 MW, setting up of solar plants at Chanderia, Satna and Maihar aggregating 16 MW, setting up of railway sidings at Kundanganj amongst others. All these measures are expected to improve the operating efficiencies further and increase the EBITDA/tonne. Furthermore, the company has one of the highest shares of blended cement in its total sales at 94% while share of trade channel was at 83% during H1FY20, amongst the highest in the industry. The company has hired experienced professionals from large companies including Ultratech, Lafarge, Holcim etc and they have taken various steps to improve the operations. During H1FY20, the company's sales volume increased by 3.9% while the industry along with the large players saw de-growth in volumes. The company has been taking various steps to improve efficiency in logistics also including reduction in lead distances, judicious rail-road mix, improvement in turn-around time, increase in direct dispatches, better freight negotiations and digital initiatives. There has been significant improvement in performance of standalone company (which had much lower EBITDA per tonne at around Rs.500 – 600) driven by higher capacity utilization of Chanderia plant & increase in mechanical mining there (the operations of the plant have been impacted due to ban on regular mining of limestone at its Chanderia mines due to its vicinity to Jaisalmer fort). Furthermore, the mining capacity of coal mines feeding Maihar plant are being doubled.
Valuations
The company has done EBITDA of Rs.698 crore during H1FY20. EBITDA per tonne improved to Rs.1003 in H1FY20 as compared to Rs.684 during FY19 on account of increase in realization and various efficiency improvement measures that the company has taken over the past 2 – 3 years. Furthermore, the impact of installation of WHRS at Maihar, doubling of coal mining capacity there along with installation of 16 MW solar plants across plants in the company is expected to have full impact only from FY21 onwards.
The Kundanganj grinding plant is expected to be operational from FY21 while the Mukutban plant will commence operations from FY22. The installed capacity will reach 20.68 MT by March – April, 2021. During FY23, I expect the volumes to touch 19.06 MT and assuming EBITDA of 1000 per tonne (factoring in withdrawal of GST refunds in RCCPL's old plants at Maharashtra and Madhya Pradesh, increasing efficiency and GST refunds in new plants at Kundanganj and Mukutban), enterprise value is expected to touch around Rs.18,000 – 19,000 crore (assuming 9 times EV/EBITDA). The net debt is expected to peak at Rs.4,500 crore in FY21 and then reduce. Birla Corp's peers having capacity of 10 MT and above (haven't considered industry leaders like Ultratech, ACC, Ambuja and Shree Cement) including Ramco Cement, Dalmia Bharat & JK Cement trade at EV/EBITDA between 8.5 – 15 times. Other peers like JK Lakshmi Cement and India Cement trade at lower valuations primarily due to various issues.
Key Risks
High Debt: The company's net debt will peak at Rs.4500 crore next year and has higher EV/EBITDA compared to its peers. However, most of these debt is long term debt and even the new debt the company is taking for Mukutban greenfield project is for 12 years. Furthermore, the company has a rating of 'AA' from all the rating agencies and the company has been able to raise new debt at lower rate of interest of less than 9%. In addition, some financial flexibility is derived from it being part of MP Birla Group.
On-going litigation over the promoter: There is an ongoing litigation about the appointment of Mr. Harsh Lodha as the promoter from the Birla family. This can pose a risk in case of transfer of ownership to Birla family. However, the company is run by professionals.
Key Financials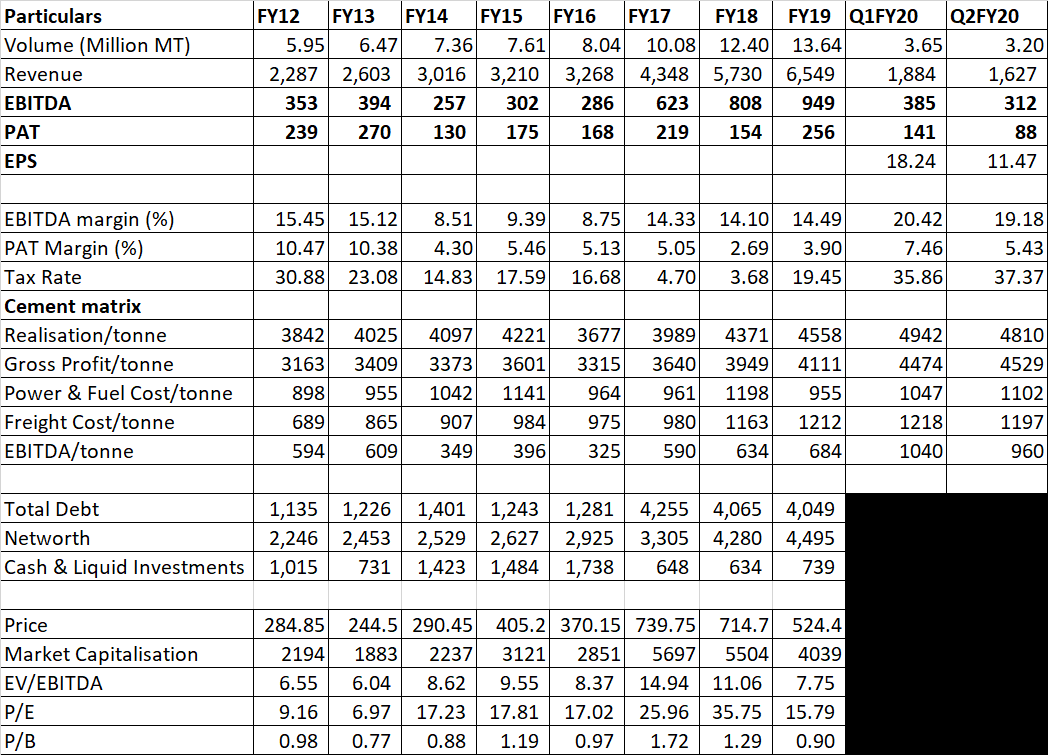 Peer Comparison


Excel File for the working: Birla Corporation Financial Working.xlsx (29.8 KB)
(Disclosure: Invested. This is not a recommendation or advice to purchase the stock)