The company owns prime land in the heart of Chennai where its mills are located and decided to exit its primary business of warehousing and get into real estate development. In 2009 it demerged into three companies - Binny Ltd, Binny Mills Ltd and SV Global Mill Ltd after emerging from BIFR each focusing on separate businesses.
The land is located 3 kms away from Sowcarpet ( Sowcarpet - Wikipedia ) - which is in the market area of north chennai dominated by the trader community. It is congested, dense and looks like this.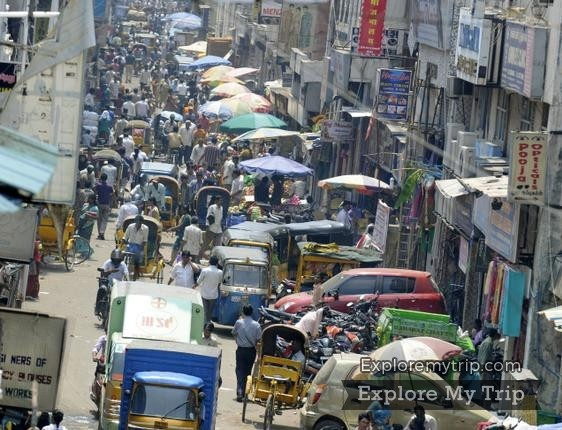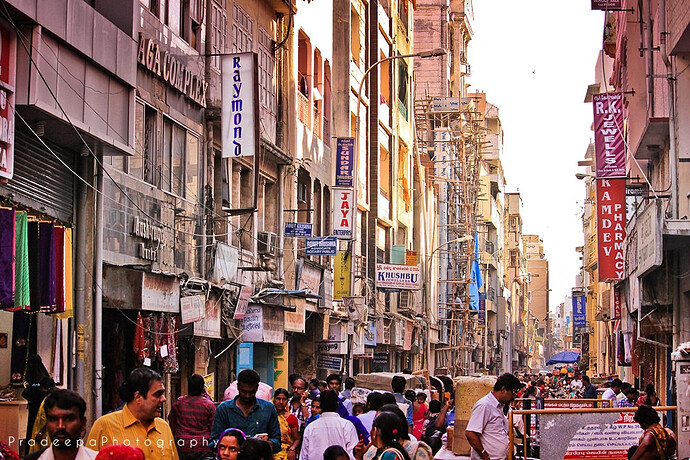 Here is a trip blog account ( Travel Another India: A trip to Sowcarpet, Chennai, 3rd February 2012 )
Binny Ltd entered into a Joint Development Agreement (JDA) on 26.6.2015 on revenue sharing model with M/s.SPR Construction Pvt. Ltd., Chennai on a 63.89 acre parcel of land on which it previously had 120 godowns (which are now demolished and written off from the books )
This parcel of land has been valued at 1662 Crs by CBRE and is located at a 3 km distance from South India's largest Wholesale Market - Sowcarpet. This project is expected to ease the infrastructure woes and once completed it will be Chennais largest township
On 24.10.2016 - it got environmental clearance from the environment authorities which for a township is a big deal.
The Project is expected to start by end of this year and shall be developed over a period of 7-9 years in 2 phases, wherein first phase is expected to be delivered in 36-42 months from the start of the construction. The first phase is 23.89 acres.
SPR has given an upfront JDA security deposit of Rs.250 Cr to the land owner from their own sources & SPR has secured financing of 100 crs from Piramal Capital.
As per the Piramal Capital document the developer has a strong interest from buyers before the project has started ( it has presold the marriage hall & ~1.25 lacs of commercial + residential space) and SPR has a good track record of delivering projects in time. Both SPR and Piramal capital can exit the project at a 24% IRR as a part of the deal.
The revenue sharing proportion is 40% ( Binny ) & 60% ( SPR )
The expected size of development under current CMDA regulations would be based on lucrative 2.5 Basic FSI + 1 premium FSI (subject to approvals). When the project is located in a densely populated area the FSI is generally higher.
a rough calculation is
Total Plot area = 63.89 acre
Basic FSI = 2.5
Total Built up area = 63.89 * 2.5 = 159.725 acres = 69,57,621 Sqft
Average Realization per sqft ( which is generally 2 or 3 times the cost of the land ) should be Rs 5971 per sqft i.e cost of land ( 1662 crs / 63.89 acres) * 2 ( minimum ) = Rs 11,942 per sqft
The total revenue should be - The total builtup 69,57,621 sqft X Rs 11942 per sqft = 8,308 crores. This article in TOI pegs the topline at 10,000 crores but i am taking the more realistic number.
Binny's share (40%) = 3323 crs
The company is available at a market cap of ~310 cr offering more than a decent margin of safety.
In addition to this, the company is also developing other parcels of land ( the details of which i couldn't figure out).
Attached is a chart of the total quantity and delivered quantity for the last year ( source BSE ). The average delivered quantity is nice robust 87.49%. Another thing is the consistent increase in the number of shares delivered over time. From Sept 2016 ( around the time when the project got the environmental clearance ) to March 2017 there has been a spurt in the shares delivered along with a spurt in the price as well. This augurs well in my opinion.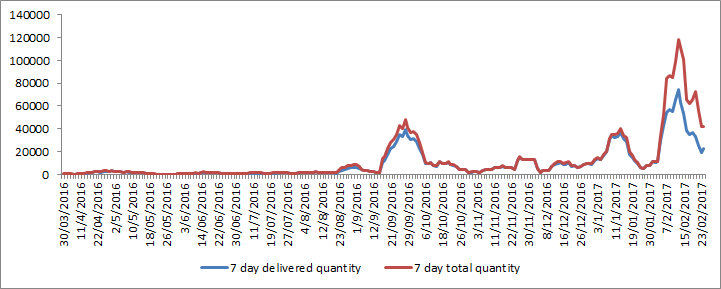 Risks
General slowdown in real estate across india ( thats the perception - i dont know to what extent that it true - with Piramal enterprises on a funding spree i think some part of it is media created hype)

The real estate bill which is not land owner or developer friendly.

There used to be a worker union ( now defunct i guess with the closure of the main business) - i dont know know but they could raise issues

a large quantity of Cumulative Preference shares - which explains why dividends have not been paid to equity shareholders thus far

Demonetisation has to some extent impacted real estate demand. To what extent is anyones guess.
Disclosure - forms a significant part of my portfolio >25% & looking to add more
References
http://environmentclearance.nic.in/writereaddata/FormB/agenda/040220174MHALR5Q196thmeeting.pdf
http://environmentclearance.nic.in/writereaddata/FormB/EC/EIA_EMP/05082016ZB3VS2XKREIAReport.pdf
http://environmentclearance.nic.in/writereaddata/FormB/EC/EIA_EMP/05082016ZB3VS2XKREIAReport.pdf
http://m.xplorerealty.com/crux-detail/120806729/binny-mills-and-spr-group-to-work-together-and-build-a-63-acre-integrated-township-in-chennai#