BIG BLOC Construction -Stock Opportunity
Green portfolio contribution -A member of INDIAN GREEN BUILDING COUNCIL
CMP 185 as on 06 April 2018
Mkt Cap 264.75 Cr
Book Value 16.23
PE 68.75
EPS 2.07
About Bigbloc Construction Limited
Bigbloc Construction Ltd. is one of the leading manufacturers of AAC (Aerated Autoclaved Concrete)
Blocks. AAC Blocks are a high quality building material that offers a unique combination of strength,
low weight, thermal insulation, sound absorption, unsurpassed fire resistance and unprecedented
build ability. There are various economical as well as environmental benefits of using AAC. The
manufacturing facility of the Company is strategically located at Umargaon, Gujarat which is nearer to
Mumbai, Surat, Pune and Nashik which are the growing markets to which the Company caters. The
production capacity of the Company currently stands at 3,00,000 m3/annum. The Company has got
reputed clients like Lodha, HDIL (Housing Development and Infrastructure Limited), Regency Nirman,
Mahindra, Shapoorji Pallonji and many other big construction companies of Maharashtra.
Listing of Equity Shares of Bigbloc Construction Limited
Effective date: March 16, 2016.
Date of Allotment: April 30, 2016.
Pursuant to the Scheme of arrangement involving Demerger of AAC BLOCK Division of Mohit Industries Limited into Bigbloc Construction Limited. 1 Equity shares of the face value of Rs.10 each of Bigbloc Construction Limited for every 1 Equity shares of the face value of Rs.10 each held in Mohit Industries Limited; Ratio- (1:1)
About Promoters
Mr. Narayan Sitaram Saboo, Director
• 30 years of experience in management and operation of Textile Business and 7 years of
experience in AAC Block Business.
• Holds a degree of Bachelor of Laws (LLB)
• Providing industry wise leadership and Management strategy are his key area of expertise.
• He is actively associated with various social welfare and charitable trusts
• He is also a member of Surat Textile Association
Mr. Naresh Sitaram Saboo, Managing Director
• Experience of 20 years in Textile Business and 7 years of experience in AAC Block Business
• Vast experience in providing strategic direction in selection of technology and machineries in
Setting up new manufacturing facilities, improvement of production processes and new
• Ventures Wide experience in dealing with international companies and agencies
Mr. Mohit Narayan Saboo, Director & CFO
• Qualified Chartered Accountant.
• Experience of 4 years in Corporate Taxation, Finance and Accounts
• Mr. Mohit Saboo is striving to build Bigbloc Construction Limited into a trusted corporate
brand with total excellence
Mr. Manish Narayan Saboo, Non Executive Director
• Holds a degree of Masters in finance from Nottingham University, London
• Has more than 5 years of experience in AAC Block Business
• Has expertise in Company's financial planning,
• Credit Management, Strategic Management and is well aware about the International Market
AAC vs Traditional Bricks
WEIGHT AAC blocks weigh 600 kg/m3 as against Bricks which weigh 2,000 kg/m3 as a result it drastically reduces the dead weight of the building resulting in to reduction in steel and cement i.e. structural costs
REJECTION RATE Rejection rate in Bricks is 10-15% higher than AAC. Also 9 Bricks equals 1 AAC block, therefore rejection rate is further lower for AAC
COST SAVINGS Putty work can be done without plaster in case of AAC resulting in cost savings. AAC also reduces air conditioning bills due to its excellent thermal insulation property
FLOOR SPACE AREA Use of thinner blocks (6" instead of 9" exterior walls) because of its excellent water barrier & insulation properties leads to an increase in floor space area between 3-5%
TIME SAVINGS AAC wall construction involves 1/3rd the joints as it is 9 times the size of a clay brick, thus an overall savings in time and as a result labour costs.
ENVIRONMENTAL IMPACT AAC does not consume top layer agricultural soil unlike Bricks. It also consumes significantly less coal and emits less CO2 as compared with Bricks. 65% of the raw material by weight is fly ash which is a waste for thermal power plants and has toxic effects
SIZE AAC Blocks are available in customizable sizes unlike Bricks
PEST Since AAC is made of inorganic materials it does not promote the growth of mould
PRODUCTION FACILITY The production facility to manufacture AAC are state of the art whereas Brick production facilities have unhealthy conditions with toxic gases
TAX CONTRIBUTION Production and sale of AAC Blocks contribute to the Government taxes in the form of Central Excise, VAT & Octroi unlike Bricks
Benefits of using AAC
Sound Proof Thermal insulation AAC wall has an excellent Sound Transmission Class (STC) rating of 44
Floor Space Area Use of thinner blocks (6" instead of 9" exterior walls) because of its excellent water barrier & insulation properties leads to an increase in floor space area between 3-5%
Thermal insulation Reduces Air Conditioning cost by 30% by providing the highest thermal insulation in
the industry. It keeps our warm air in summers and cold air in winters
Earthquake Resistant Earthquake forces are directly proportional to the weight of the building, hence AAC shows excellent resistance to the earthquake forces. It has been proven to withstand wind loads of category 5 tropical storms
Pest Resistant Since it is made of inorganic minerals, it does not promote the growth of molds, as a result pests hate ACC
High Strength High pressure steam-curing autoclaving process gives AAC unmatchable strength to weight ratio, higher than even M 150 concrete and it far exceeds the Indian Building Code requirements
Fire Resistant Best in class fire rating of 4 hrs. The melting point of AAC is over 1600 degree Celsius, more than twice the typical temperature in a building fire of 650 degree Celsius
Energy Efficient AAC uses least energy and material per m3 of product. AAC uses fly ash unlike bricks
which use precious top layer agricultural soil. It also happens to be the walling material of choice in LEED certified buildings.
Audited Financial Results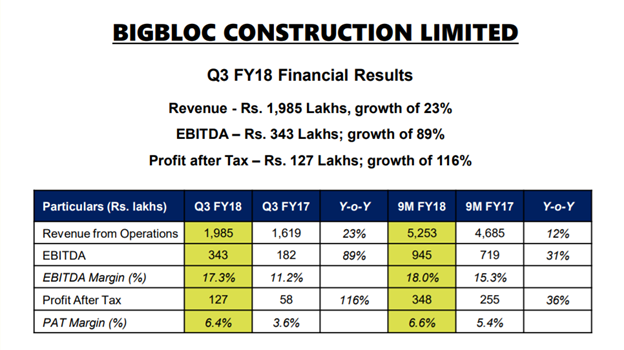 EPS Rs 2.07 per share for the year 2017 as against Rs .33 per share previous year 2016.
Dividend Yield
2% dividend yield for 2016
2.5 % dividend yield for 2017.
SUBSIDIARIES, ASSOCIATES AND JOINT VENTURE COMPANIES: The Company has no Subsidiary, Associate, or Joint Venture company as on March 31, 2017.
Manufacturing Facilities
Our Manufacturing Facilities are strategically located at Umargaon which caters to Mumbai, Pune & Surat which is where the major construction activities take place. Our current capacity to produce AAC stands at 3,00,000 m3/annum. Our plant can produce 35 truckloads/enough AAC blocks required for a 10 storey building in a day.
Capacity Expansion
Looking at the market demand & the current utilization levels, the Company has announced expansion plans at Umargaon & Bangalore. In view of long term sustainability of our business, the Board has already approved a CAPEX Plan of ~ Rs. 100 crores which shall result in tripling of our Capacities from 3,00,000 cubic meters per annum to 9,00,000 cubic meters per annum by FY19."

Growth Drivers
• Huge scope for growth since in India AAC's market share is only 3%
• India's construction market is expected to reach USD 1 trillion by 2025, the third largest globally
• Investment required by housing for all by 2022 is Rs USD 2 trillion
• Restriction on clay based Bricks in major cities due to its environmental impact
• Mandated govt. depts. and CPWD to use 100% Fly Ash based Bricks in their all constructions directly or through contractors
• Falling interest rates & incremental economic growth
Future Prospects
Recently the government has reduced the GST rates for the Affordable Housing Sector. In
addition, the Government has high focus on Infrastructure Development, Housing for All and
Smart cities mission. Post the rollout of GST, we have seen a visible shift from usage of
traditional red bricks to AAC Blocks. The government is also pushing the use of AAC Blocks for
all the Affordable Housing Projects. We expect the demand of AAC Blocks to remain robust for
the coming few years. The Company plans to become the largest manufacturer of AAC blocks in India.
Opportunities
• The market potential of affordable housing projects in the country is expected to touch Rs 6.25 trillion by 2022
• The housing shortage is expected to increase from the current level of 19 million units to 25 million by 2021, based on a stable decadal growth rate
• Assuming an average ticket size of Rs 25 lakh per unit, this translates into a market potential of Rs 6.25 trillion for affordable housing projects
• Pradhan Mantri Awas Yojana, aims to construct two crore houses in India, in three phases, till 2022
• The demand for affordable housing to remain healthy, supported by a growing population, young demographic profile, shift towards nuclear families and rapid urbanization
In addition to these our plant will be in a position to cater to the huge demand created by the construction of the Navi Mumbai Airport. The Mumbai Airport at Navi Mumbai will require huge quantities of AAC Block. Our major sales are inter-state. Implementation of GST shall greatly benefit us.
Majority of AAC blocks to Mumbai are supplied from Surat, but transport cost from Umargaon to Mumbai is cheaper, therefore there is visibility for our expanded capacity as demand from Mumbai is 1.5 – 2 lac cubic meters per month.
SHARE HOLDING PATTERN: - Promoters and Promoter Group own 70.50% of total shareholding. Thought Mutual Funds not yet eyed on this small cap stock one of Europe investment bank (MEINL BANK AKTIENGESELLSCHAFT - MEINL INDIA GROWTH) under FPI category increasing stake year on year and currently it holds .68%.
Although we don't have long history or past performance of this company for in-depth analysis as this is recently listed and is operating in a small scale among listed entities. HIL Limited is largest player in listed entities. Other non-listed entities names are like Biltech/Siporex, Renacon, Kamcrete, Mepcrete, Magicrete Finecrete, Brickwell, Prime etc.
CARE Rating on AAC Blocks
Indian construction industry is one of the most important sectors of the economy as it stimulates building infrastructure and creates growth opportunities for other sectors in the economy. The construction sector contributes around 8% in GDP and registered an annual growth of 4.8% during FY15.
http://www.careratings.com/upload/NewsFiles/SplAnalysis/AAC%20Block%20-%20Conquering%20brick%20by%20brick.pdf
Please review/correct me if you find anything wrong or misplaced.
Your input on this front is highly appreciated. Thanks!
Source of information: - Company website/annual Reports, Money Control.
Disclosure: - I have investments in this stock from Rs 90 per share and added more last quarter. I am not SEBI registered and does not advise buy or sell on any of the securities or stocks.