Telecom is probably one of the industries which any potential investor seeking to compound returns over long periods of time will want to stay away from - significant capex intensity, heavy under-trading of ARPU's and the periodic interference by Governments.
From clocking net margins of 24% in 2008, Bharti's net margins have fallen to a meagre 2% as of FY'17 ( and are likely to be heading further south this year) . However, what is even more painful is that IF you remove Other Income from profitability, the company has actually reported a loss at Net level in 2017 and is barely managing to stay in black this fiscal - all thanks to Mr Jio's nonchalant grip on the Pricing metrics of the industry.
'If you can't beat'em , join 'em' has been the catch phrase for the industry as marginal players have finally given up the ghost and joined hands with the bigwigs. Competition has fallen from 15 players in 2012 to just 3 currently
As Bruce Berkowitz says, focus on where the puck is going and not where it is at currently.
The current scenario -
The telecom industry is currently a battleground for just three players who are in charge of serving 125cr mobile connections in the country - with little by way of ensuing profitability - which raises the question? has this business become an eventual charity?
Charlie Munger, when asked about his wife's ex-husband famously said 'you've got to ensure your competition is weak.'
For Bharti, competition stems mainly from Jio who has been on a nonchalant capex drive to garner market share. The company is now targeting the existing 2g subscriber base of Idea Cellular and has again resorted to a tariff war in order to get incremental market share.
The below pyramid shows the magnitude of users that Jio can still lure away -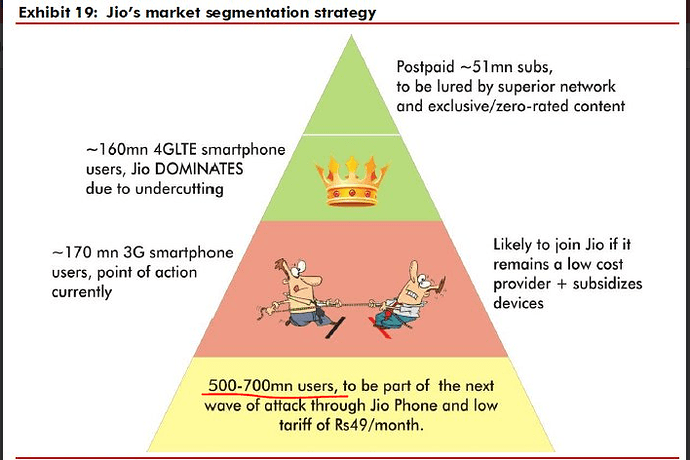 On the demand side, data has become the be all and end all source of entertainment and work for a majority of the Indian population. From being a luxury, data is now a necessity and most of this boils down to Jio's agressive stance on pricing. It would be safe to say that data penetration is only expected to rise with time ( current data users in India stands at approx 45 crore vis a vis total mobile subscription base of 120cr)
The positives -
Concentrated supply
2)Ever increasing demand
3)Turn around of Bharti Africa
The key risks -
When does all of this demand growth actually translate into numbers for incumbents. Bharti guides for an annual capex figure of 25,000cr and mentions that the high capex intensity is stated to continue( remember, this is after incurring a massive 60,000cr over the last three years). Idea and Vodafone are now gearing themselves up for a 60,000cr round of capex in the next three years. With industry profitability already nearing the zone of danger, one wonders as to how long are earnings going to remain suppressed.
I am attaching my notes from Bharti's conference call and a few other links to help boarders get a better understanding of the industry in general and the current scenario.
Airtel and Telecom.docx (19.5 KB)
Conclusion - For any upside risks to RoE's , both Net profit Margins and Asset turns have to increase . Net profit margins are a function of the ARPU recovery going ahead AND asset turns are a function of internet penetration( which in my mind will only go up with time) and ARPU's . Timing the ARPU recovery is something potential investors need to watch for as that is the single biggest driving factor behind this case
Disc - token quantity; still building up on the thesis