Nobody loves war except the weapons industry, however the Ukraine War has brought different types of weapons to the fore. While I would leave it to others who may provide more in depth discussion to discuss the drones, here lets discuss the missiles.
Bharat Dynamics is into producing the following missiles:
QUICK REACTION SURFACE -TO- AIR MISSILE (Q R SAM), which, as the name implies, is a quick reaction Surface to Air Missile capable of Search on Move, Track on Move and Fire on Short halts.
FEATURES:
Length : 4364 mm
Weight : 270 kgs
Range & Altitude : 05 to 30 Km & 6 Km
Vertically Launched - Short - Range Surface to Air Missile -It is a vertically launched Surface to Air Missile with all-weather capability for use by Navy.

MEDIUM RANGE SURFACE TO AIR MISSILE(MRSAM) is a high response, quick reaction, vertically launched supersonic missile, designed to neutralize enemy aerial threats – missiles, aircraft, guided bombs, helicopters. Used by Army, Navy and Air Force as different variants.
Bharat Dynamics has launched "Anti - Tank Guided Missile for MBT ARJUN ",the "Sangramika", a Light Weight Vehicle Mounted Anti -Tank Guided Weapon
System and the "Sanharika", an Armoured Vehicle mounted Laser Guided Short Range Anti-Aircraft Weapon System during the Bandhan Ceremony at Defexpo -2022.
In October this year, Bharat Dynamics and Dassault Aviation Pvt Ltd have entered into an MoU for Integration of BDL Weapon Systems like Astra & Smart Anti-Airfield Weapon on Rafale Aircraft for Indian Armed Forces and future export market.
In May this year, BDL has signed a contract worth Rs 2971 Crore with Ministry of Defence for supply of ASTRA MK-I Beyond Visual Range (BVR) Air to Air Missile and associated equipment to Indian Air Force & Indian Navy.
I have not been able to glean any information from the company's site on any export orders received by them.
https://bdl-india.in/exports
I have however, been able to gather that it has orders worth ₹25000 crore for the next five years. They also have ₹8084 cr worth of orders in hand.
The missiles produced by Solar, for example, Pinaka are better known, and are in demand abroad too.
Like most of the defence sector PSUs, it has been rising consistently.
My intention in this post is to start a discussion on this defence stock. Any input about the stock's investment-worthiness is welcome.
There are also various types of launchers.
The Company had come with an IPO in 2018 at an issue price of ₹428.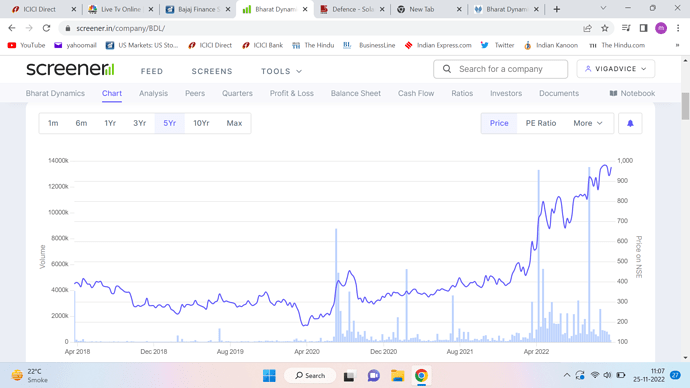 Key trigger for this discussion as well as the rise in its stock price is the fascination for the defence stocks the market has developed.
The profit, as the accompanying graph shows, has been rising steadily.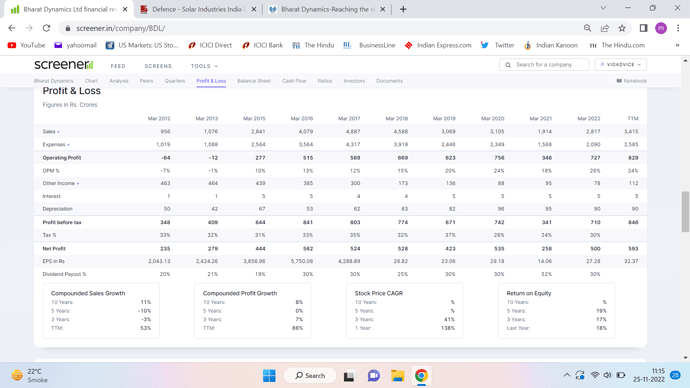 As far as I understand, Bharat Dynamics and Solar are the only two companies into missile production in India. I find Solar more attractive firstly as it is not a PSU, and secondly because of its product spread. Not only there is a ready market for its missiles, it is into drones also.
So, the risk in investing in Bharat Dynamics is the lag between proposals and their executions the PSUs have. Further, it has only one major client (GOI), and it being a PSU of the client, does not have much bargaining power.
Also, there is a fear that as the rush for the defence stocks is recent, it may be cyclical and may fade out.
Disclosure: Since writing the original post, today I have invested in Bharat Dynamics and Solar both to the extent of a few hundred shares in each.