Can you please share source of information for this?. Seems 67% is quite decent collection efficiency given current situation
Interaction with Bandhan's Management
70% collection efficiency in such uncertain times is fantastic . it validates what bandhan mgmt has been saying all along "borrowers are ready to pay but our field staff couldnt reach them "
punishment meted out to bandhan stock over the past few months has been rather excessive .
targets of 65 (doomsday scenarios) were being painted.
if they can raise casa ratio to around 43% in the next two years it would be great.
bandhan offers a higher interest rate above 1 lac .
i personally feel micro borrowers are a lot more reliable than big corporates when it comes to repayment. the only risk being the government announcing some kind of waiver.
Still if the borrowers who use the money from bandhan for increasing business stop paying where will they borrow from in the future .
there has been talk about ESG (socially responsible investing) in other topics on the vp forum. bandhan definitely makes the cut for such a portfolio because
the interest rates charged by bandhan are a lot lot lower than rural moneylenders (can be as higher than 60 % or more per annum ) who lend to women at the bottom of the pyramid.
infact if bandhan reduces its interest rates excessively theres a risk of borrowers turning lenders themselves.
Disclaimer :i am invested in bandhan bank , my views may be biased
Bandhan Bank Q1FY21 results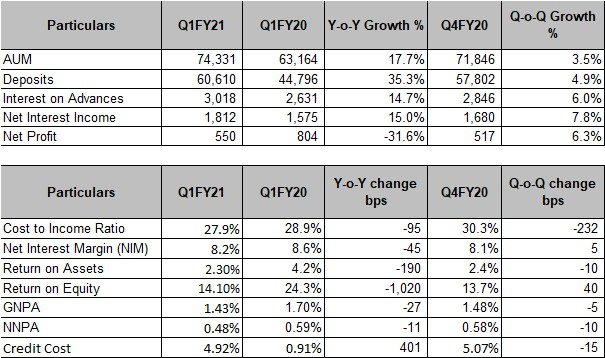 KEY HIGHLIGHTS -
During the quarter the Bank has taken accelerated additional provision on standard advances amounting to 750 crore. With this provision and additional Standard Assets provision that Bank is carrying in Micro banking portfolio total additional provision in books stands at 1,769 crore
During the quarter, the number of employees of the bank has gone up from 39,750 to 41,563
Added 0.21 million Customer during the quarter with total customer base reaching to 20.31 million (Micro Banking- 15.46 million, Non Micro– 4.57 million and Housing – 0.28 million)
During the quarter ended June 30, 2020, the Bank has received Rs 474cr (quarter ended June 30, 2019 Rs 370cr) from sale of Priority Sector Lending Certificates. Out of the aforesaid amount, Rs 118.5cr (quarter ended June 30, 2019 Rs 92.5cr) has been recognised in the Profit and Loss Account during the quarter on an equated basis from the quarter in which the sale has occured and the remaining amount of Rs 355.5cr (quarter ended June 30, 2019 Rs 277.5cr) will be recognised in the Profit and Loss Account over the remaining three quarters.
Average ticket size of micro-banking loans is ₹46,305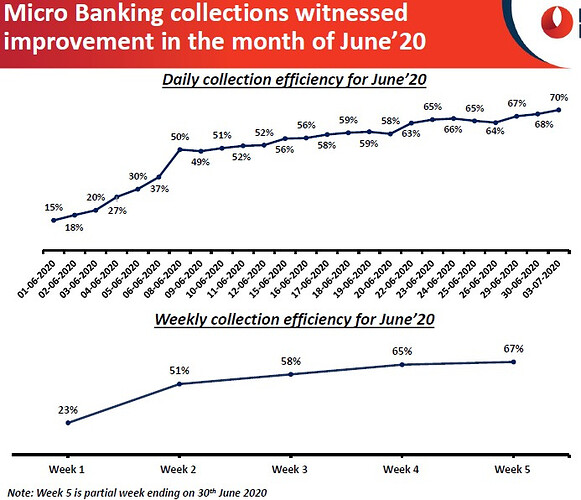 Bandhan Bank Q1FY21 Earnings Call Highlights:
Participants:
Elara Securities
Buena Vista Fund Management
ICICI Prudential Asset Management
Macquarie
ICICI Securities
Kotak
JP Morgan
CLSA
Reliance Nippon Life
Enam
IIFL
Motilal Oswal Asset Management
Emkay Global
Business Overview:
Advances grew 17.68% YoY and 3.46% QoQ
Micro credit portfolio comprises 61% of overall portfolio
Gross NPA at 1.43% vs 1.48% QoQ; Net NPA at 0.48 vs 0.58% QoQ
Deposit has increased 35.3% YoY and 6.18% QoQ to Rs 60,610 crore
CASA grew 47.30% YoY; CASA ratio at 37.08% (excluding GRUH deposits 37.83%) vs 34.06% YoY. CA at 4.94% and SA at 32.14%
Retail Deposit to total deposit at 77.7%
NIM at for the quarter was 8.15% vs 8.13% QoQ
Cost to has improved to 27.94% from 28.89% YoY
Capital Adequacy Ratio remain strong at 27.29%
Bank is expecting things will be normalized by September this year
Employee base has increased to 41,563 from 39,750 in last quarter
Customer base has increased to over 2 crore and borrower base to over 1 crore
Micro credit portfolio: 70-75% of the portfolio in West Bengal, Assam, Bihar and Tripura
ConCall highlights:
Collection efficiency in June for micro credit was 68% and for overall banks was 76%; as of now collection efficiency has improved to 73% for micro credit
Flood in Assam and Bihar and Amphan Cyclone in West Bengal has affected the overall business
During the quarter the bank has made an additional provision of Rs 750 crore on standard advances; with this provision and additional Standard Assets provision that Bank is carrying in Micro banking portfolio total additional provision in books stands at Rs 1,769 crore. 75% provisions is for micro credit
44.4% of borrowers are involved with agriculture and allied activities; 30.3% borrowers are in food processing or having small retail stores
Close to 30% of borrowers have not paid anything during this moratorium period
New customer acquisition in the month of June has surpassed pre-Covid level
Collection efficiency is highest in Andhra, Telangana and Bihar, but Andhra and Telangana is very small part of the portfolio. Collection efficiency in Assam has come down to 61% from 66% due to flood. Maharashtra (54% collection efficiency) and Tamil Nadu has the lowest collection efficiency
New customer acquisition in micro finance business is around 100,000; 5% of existing customer has received new loan. Average disbursement is below 50,000
Bandhan currently disbursing gold loan from more than 500 branches
NPA has increased in loan against property (LAP) book
PSLC income for the quarter is Rs 119 crore; last year PSLC income was Rs 453 crore
New customer acquisition would be lower this year; existing customer will drive the growth
Currently bank is charging 18.75% interest rate, which is 1% higher than earlier on incremental lending to existing borrowers
Once a customer started paying their installments, 99% of them are regular
Bank has 58 lacs micro of credit borrowers which is 51% of total borrowers. 16 lacs micro credit borrowers has Rs 100,000-150,000 loan and 40 lacs borrower has Rs 50,000-100,000 loan. 50% banks borrowers have availed loan from Bandhan only
Disbursement in housing finance is close to 77% of pre-Covid level; during June bank has disbursed Rs 240 crore while in February it disbursed around Rs 300 crore
Bank will merge the holding company with itself it RBI allows, which will also reduce the promoter holding
Bihar is one of the best performing state for the bank
Annual report…

Disclosure: Invested in correction at lower levels from cmp.
Bandhan bank promoter offloading 20% stake which will help to comply the RBI rule. And OFS is priced at 313 rupees . Interesting to see around 10000cr worth of shares going to exchange hands which is huge quantity. Lot of floating shares created in mkt now. Interesting to see stock price movements going forward.
Q1 FY21 UPDATE
Some things I found interesting -
Consolidation Game
Bandhan Bank is playing on front foot where it is trying to consolidate customers with Bandhan+1/2 loans to exclusive to Bandhan customers. This is a mixed bag and how this plays out needs to be tracked. Being an exclusive banker to small businesses is always a good progression - where banking relationship is an important part of overall business for customer. That Bandhan is thinking of doing it and can do it (largely owing to lower cost of funds being a bank) is also a competitive advantage. But Bandhan has larger ticket sizes than many other players (larger vintage too) and this will further increase the ticket sizes. This increases the risk probably.
Disbursement
I had expected Bandhan Bank to report very poor nos and even losses in Q1 but instead it reported growth in interest income which was surprising. So I wanted to know who are these customers to whom Bandhan is lending. As explained in conf call, the disbursement are to 5% of the existing customers and they fall into new categories. 1) Top up loan to existing good borrowers (consolidation game) 2) Several customers typically close loan in March end and take a fresh one for their business. A lot of these loans could not be disbursed post lockdown and they were disbursed in Q1.
Real NPA Numbers
The real NPA numbers would be known only in Sept quarter or in Dec quarter. The NPA clock got frozen on feb 28. On Sept 1, this clock would be unfrozen + clock will start ticking for all the borrowers who are not paying. e.g. clock would start ticking for 5% customers if collection efficiency is 95% on Sept 1.
Few other things on this front that Bandhan is doing to manage are - increasing interest charged by 1%. They have ~3% provisioning on AUM so far and might be able to increase by 1% each in Q2 and Q3. This along with 1% increase in interest rate and hopefully falling interest rates (rising spreads, MTM gains, trading of portfolios etc.) shall provide another cushion of 1.5-2%.
Mr. Ghosh feels very strongly that collection efficiency will cross 90% by Sept end.
My sense is company might return to reporting normalized profits from Q4 or Q1. These can be delayed further due to Floods or any natural calamities etc. In Q4/Q1, the focus will move from asset quality to growth and how company performs on these fronts. In this context, it is good to see Bandhan growing in gold loan portfolio. This product is now offered in 500 branches compared to 75 branches earlier. Gold loan nicely complements to existing Bandhan portfolio where in it has high RoA and highly liquid asset to back up the loan. How this new product grows would be interesting to see.
Disc - Invested, not a buy/sell recommendation.
Bandhan SHP post block deals forced by RBI regulatory requirements
No of Retail shareholders increased by 59401 (more than 20% from march nos) It translates to 0.34%
FII : Increased 14.28% (more than double of previous holding)
The above are some of the most dangerous traits that I see in a financial. There is no need to be brave and it is much better to shrink your balance sheets rather than go aggressive. In times of crisis where financials are facing liquidity issues most of them will be very happy to let their weaker clients go and if Bandhan is happy to accumulate them good luck to them.
Also it makes sense to have an idea of how much of the loans actually end up in consumption and what is its priority when considered against the basic needs, school fees, housing loan etc. The more an MFI loan ends up as a consumption the more difficulty it will have to recover.
Also it will be helpful if folks who are invested try to talk to people around them who have MFI loans instead of just getting one side of the facts from the management.
Discl.: No holding. My views can change very fast depending on data.
Bandhan is filtering out weaker clients & providing top up loans to GOOD Borrowers
I understand that their collection efficiency reported periodically during covid & till date shows continuous increase
Priority Sector Lending :-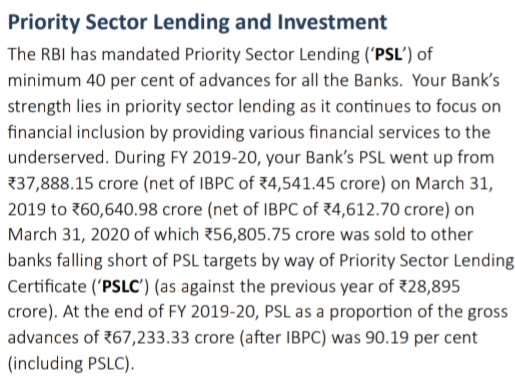 Source : Annual report, page no. 119.
Moratorium details :-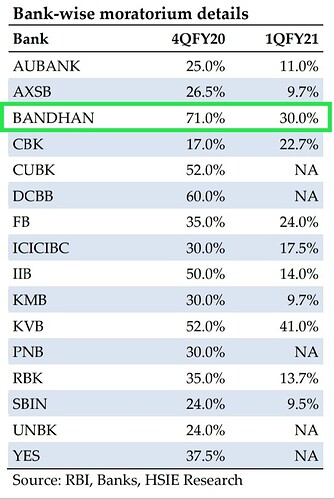 Source : HDFC Securities research report.
"It's about financial inclusion, its about development, its about serving a poor country, etc. So if you want ownership of banks that are on the forefront of financial inclusion, they need to operate like Bandhan Bank ."
Bandhan Bank Collection efficiency ratio has increased considerably, which shows people are willing to repay loans.
According to Crisil, while the bounce-back has been faster than that envisaged earlier, improving it to the pre-pandemic levels of 98-99% will be an important monitorable from an asset quality perspective.
All the regulatory restrictions imposed by the RBI on the Bank are now withdrawn.
Not allowing me to post more than three consecutive replies,so adding into last post.
The housing finance book is targeted to grow five times to Rs 1 lakh crore in the next five years from the present level of nearly Rs 20,000 crore, chief executive and managing director of Bandhan Bank Chandra Shekhar Ghosh said.
When asked about setbacks like repayments impact due to the anti-CAA protests over the last year, Ghosh said till date, not a single rupee of loan has been written off in Assam and the reverses it faced because of the protests are a part of business.
Going ahead, its parent is also set to launch its insurance and asset management company businesses, Ghosh said, adding that the bank "may" turn to its distribution partners.
Collection efficiency of microfinance securitisation pools fell to 3% in April 2020. Thereon, it recovered to 21% in May 2020, and to 58% in June. It remained significantly lower than 83% recorded in March 2020