Bandhan Bank IPO is out. Issue details along with business summary and investment rationale is given blow. Most of this data is from the Red Herring Prospectus along with my notes in investment rationale and risk sections.
Issue details:
Public issue of 11.93 crores shares including
9.77 crores fresh issue; and
2.16 crores offers for sale by IFC and IFC FIG
Dates: March 15 – 19, 2018
Price band: 370 – 375
Total issue capital (higher end): 4473 crores
Objects of issue: Augment Tier – 1 capital
Post-issue market cap: 44700 crores
Promoter holding for BFSL: From 89.6% to 82.3%
Anchor Investors: Amansa Holdings, ICICI Prudential, Neuberger Berman, Nomura Fund, HDFC Standard Life, Birla Sun Life, Citigroup, Aberdeen, SBI Life and Kotak Mahindra.
Business Summary:
History:
• 2001 – Bandhan Konnager formed as NGO providing microfinance services
• 2006 – BFSL started
• 2009 – NGO transferred microfinance business to BFSL
• 2015 – BFSL was largest microfinance company by number of customers and size of loan portfolio when it transferred assets to Bandhan Bank
Management:
 CEO/MD – Chandra Sekhar Ghosh (only person with equity holdings)
 CFO – Sunil Samdani
 CS – Indranil Banerjee
Shareholding (prior to issue):

Overview:
• Commercial bank focused on serving under-banked and under-penetrated markets in India
• Incorporated in Dec 2014 and began operations in Aug 2015 when BFSL transferred entire microfinance business
• Network growth –
o 2022 doorstep service centres (DSCs), 501 branches and 6.77 mn customers In 2015 to
2633 DSCs, 877 branches and 9.86 mn customers by Dec 2017
o 2.13 mn general banking customers added since 2015
o Despite extension, 56.37% of branches in East and Northeast India
• Assets/Liabilities
o Deposits and advances stood at 25293.96 crores and 24364.39 crores
o Advances to deposits ratio at 91.46%
o Retail to total deposits at 85.07%
o NIM of 10.34% in 2017
o Assets
 96.49% gross advances are priority sector lending (PSL) compliant
 Interest earned is 90.48% of total income.
 6.78 % income from Priority Sector Lending Certificates (PSLCs) as of nine months Dec 2017
o Liabilities
 Current accounts, savings accounts (CASA) make up 33.22% of total liabilities and can be withdrawn any time.
 70.62% of term deposits of tenure less than 12 months
• Profitability and return ratios
o RoE of 25.55% in Dec 2017
o RoA of 4.07% in Dec 2017
o Revenue of 4320 crores and PAT of 1111.95 crores in FY 2017 => PAT margin of 25.7%
• Credit ratings
o NCDs: AA –
o Term loans: AA-
o Certificates of deposits: A1+
Strengths:
Operating model focused on serving underbanked and underpenetrated markets
 17 years history in microfinance - was largest MFI by asset size when it became bank.
 Enjoys brand recognition, network and low cost of funding due to banking deposits
 Loans given to women (considered more risk averse than mean) who form self help groups of 30+ members
 Incremental higher loans given to individuals with good repayment history
 Reach customers through cost effective DSCs which are low overhead banking outlets
 29% branches in unbanked areas against RBI requirement of 25%
 96.49% of gross advances are microloans, considered PSL against RBI requirement of 40%

Consistent track record
 Since March 2016, gross advances grew from 15578.44 crores to 24364.39 crores and number of customers grew from 6.77 mn to 11.99 mn
 Deposits grew from zero in Aug 2015 to 25293.96 crores by Dec 2017
 Weathered trouble in 2010 to microfinance industry and rose from 4th largest to largest position in microfinance industry.
 Despite demonetization, GNPAs in March 2017 stood at 0.51%. In Dec 2017, GNPAs at 1.67%

Extensive low cost distribution network
 Hub and spoke model whereby 3-4 DSCs are connected to single bank branch.
 Ability to increase penetration to unbanked regions using DSCs
 DSCs have lower overheads as employees use handheld devices connected to Internet to process loan applications instead of fully fledged systems at bank branches
 Cost to income ratio at 35.38% as of Dec 2017, among lowest in industry

Customer-centric approach
 Offer range on microloans including educational and health. Deposits such as daily and recurring.
 All micro loan customers are insured so if they pass away family does not have to take burden.
 Pass on benefits of low cost of funds. Reduced interest rates on micro loans from 22% in August 2015 to 18.5% in Dec 2017

Consistent performance and robust capital base
 NIM at 9.86 %, RoA at 4.07%, RoE at 25.55% as of Dec 2017
 Increase in non-interest income due to treasury and PSLC contributions
 Share of retail deposits increased from 37.95% in March 2016 to 85.07% in Dec 2017.
 CASA ratio and large percentage of retail deposits provide low cost funding
 SLR, CRR and CAR at 24.9%, 4.12% and 24.85% as against requirements of 19.5%, 4% and 13% respectively.

Experienced and professional team
 MD/CEO Chandra Shekhar Ghosh has 37 years of experience in microfinance
 Members of senior management have 23.9 years of experience in financial services industry
 Hire employees from villages to better relate with customer base
 Eight training centres in India
Strategy:
Maintain focus on micro lending while expanding to retail and SME lending
 Develop pan India network in both microfinance and retail lending
 Reduce dependence on East and Northeast India
 Open branches in affluent areas and urban areas to improve deposit base while increasing opportunities to cross sell products

Continue to strengthen liability franchise
 Focus on source of low cost funding by seeking retail deposits as opposed to wholesale deposits as bank believes retail customers are more loyal.
 Selectively open branches in urban areas where potential of deposit collection is higher

Boost share of non-interest income
 Leverage strong PSL compliant portfolio by selling PSL certificates to non-PSL compliant banks
 Distribute third party insurance and mutual fund products
 Inward and outward remittances services

Enhance digital platform to improve customer acquisition and retention and reduce costs

Enhance retail banking systems and procedures by training staff initially developed for microfinance to carry out duties in retail banking
Financial statements:
Balance sheet: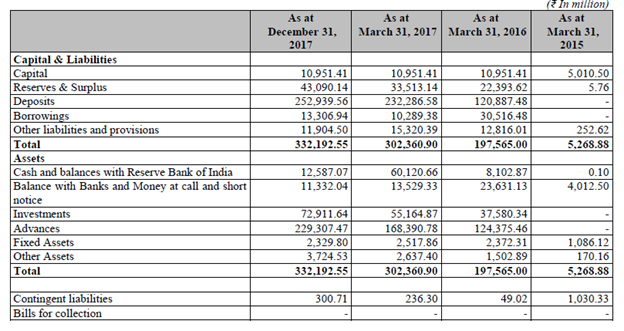 Profit and Loss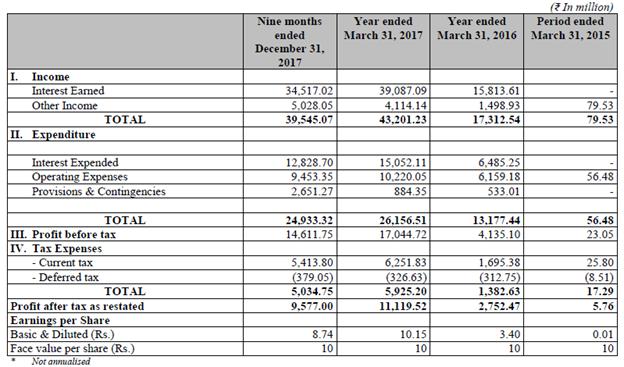 Valuation with industry comparison: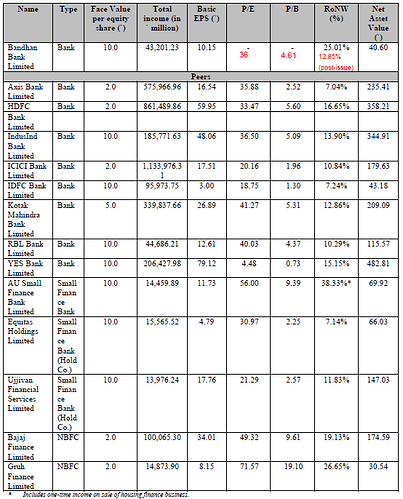 *Figures in red are values estimated/calculated by me
Industry comparison: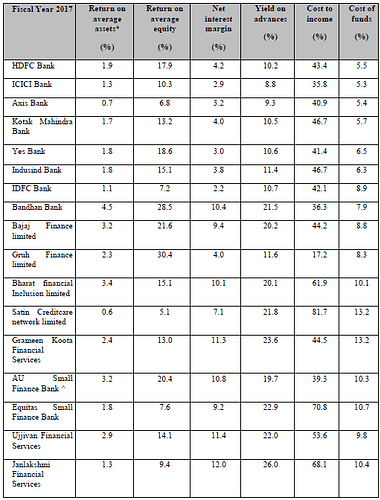 Investment rationale:
Access to low cost of funding from retail deposits likely to ensure superior NIM against peers in private banking. Also poised in industry better than NBFCs that do not have access to deposits.
Majority of client base is currently in Eastern and Northeastern India where access to retail credit is poor compared to other parts of the country such as Western and Southern India so long runway ahead.
Management has a proven track record in microfinance and should be able to leverage its hub and spoke model, especially in Central and Northern India where access to microloans is low.
Capital adequacy ratio already very good. Net proceeds will improve this further. Any hit from increasing NPAs to ballooning loan book in the last two years should be contained without threat to operations overall.
Ability to gain non-interest income from selling PSLCs and third party distribution of mutual funds and insurance products is added positive.
Risk factors:
Since its operations as fully fledged bank began in Aug 2015, it has limited experience in general banking
Substantial portion of operations in East and Northeast India - any regional problem will destabilise operations
65% branches in East and North-east India
Region contributes to 81% of total advances
Competition from players in both traditional banking and microfinance
Asset liability mismatch
May rely on funding options with short term maturity for extending long term loans which may lead to negative asset liability gap
Majority of net advances (87.56%) are unsecured microloans extended to customers with little credit history and greater propensity to default.
Inability to preserve asset quality as geographical presence increases and customer profile changes.
Exact usage of net proceeds has not been outlined – may be used for organic/inorganic growth and/or improving capital adequacy
Seasonality in loan disbursements in third and fourth quarter of year due to agricultural conditions
Cases of embezzlement, fraud and theft in microfinance network
Key man risk of CEO/MD who has almost single-handedly grown the business
Too many changes in key management personnel in the last 2 years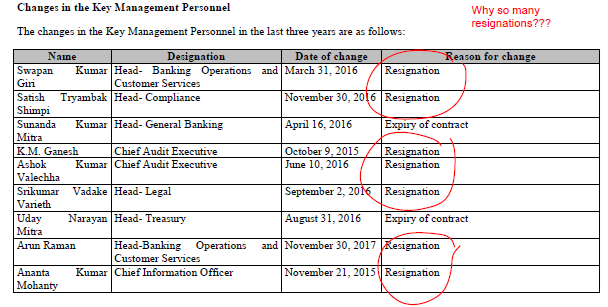 Disc: Investing in IPO to maximum extent in retail section