Hi All,
Edelweiss' investment rationale video.

Regards,
Yogansh Jeswani
Disclosure: Invested
Hi @kumars1672
This is one of the well discovered and most analysed stock on this forum. Kindly go thru this thread from the start. There cannot be better source of information / history of Avanti.
What we could do is more scuttlebutt on the ground (their arena is mostly AP), analyze he latest changes in the industry (impact of increased production in India and overseas, diseases, newer markets and other parameters which could impact the industry).
Hi All,
This is my first post on this amazing forum.
I read an article about a new feed Vannamei plus developed by central institute of brackishwater aquaculture in 2016, which has now had successful trials in Gujarat, AP & Kerala. It cost 55-60/ kg as compared to 80/kg for Avanti's feed.
Can this be a risk for Avanti going forward ?
Discl: invested 5% of pf
Nothing beats reading the entire thread. However, if running short of time, then VP platform offers "Summarize This Topic" option, available just under the very first post in the topic (screenshot below) - quite a nifty feature.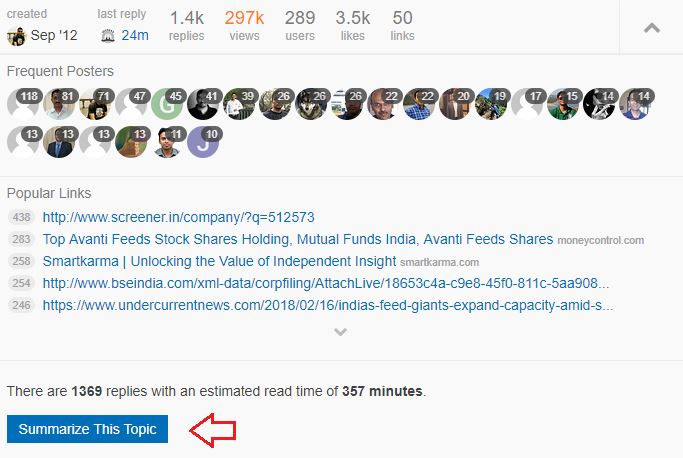 Avanti Feeds board has announced Bonus shares of 1:2 and split of Rs 2 to Rs 1/-
When is the quarterly result due for Avanti?
Earlier BSE website was showing it as 9-May-2018.
The following is some research I did on the sector based on export data for Marine Products. My interpretations are inline.
The trend that started in FY10 has continued to grow by value and volume - now for the 9th year running with just one year (FY16) dipping.
The realisations as well went up during the same time from 142/kg to Rs.333/kg in the current year. However prices have been pretty flat last 3 years.
FY17 and FY18 growth is 27% and 20% - Pretty phenomenal on a large base - mostly driven by volume growth of 21% each year.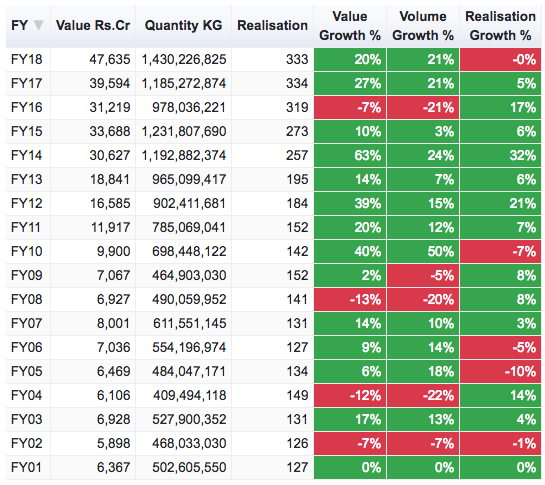 The seasonality of the business can be seen in these two charts -
Export volumes rise in Q2 and peak in Q3 every year.
Realisations as well follow the same trend.
Looking at the last several quarters, Q3 and Q4 FY18 have shown the lowest growth - 15% and 10% - This is a cause for concern.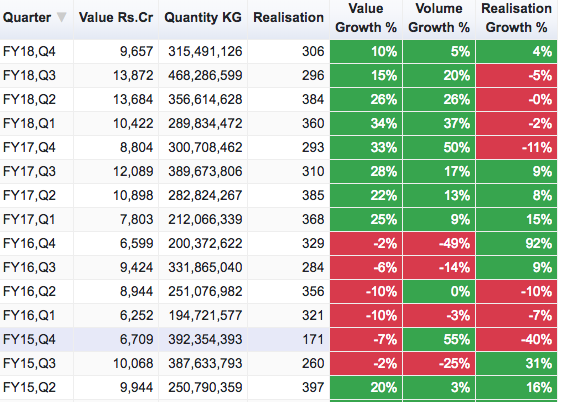 Zooming in further on Q4, FY18 - Value has grown barely in the double digit - Volume has grown in single digit. If realisation was flat, value would have grown in single-digit too.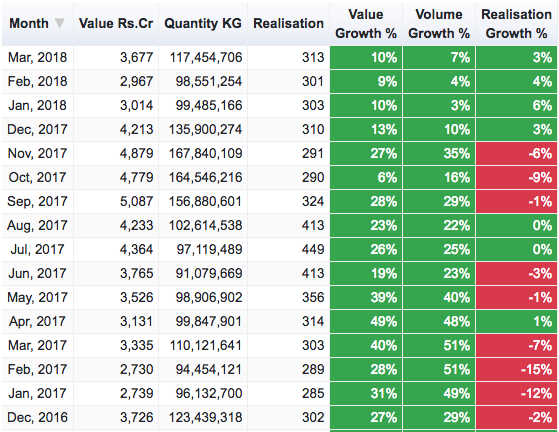 There are some early signs that what we may be seeing in FY18 could be peak earnings. Next two quarters should be watched very carefully.
Hatsun Brand. Dairy Empire. Posting link to the remarkable interview of RG Chandramogan. Reason for posting here: ever so often through the interview I heard echoes of Avanti and Inder Kumar's journey. AWESOME, a word I hardly ever use.
Given the inputs by phreak, we can say industry did grow in March quarter and given Avanti feeds is market leader, we should expect good results from the company.
Time to add more Avanti feeds to our portfolios.
@anujgupta - If market perceives that sectoral growth in terms of volumes and price realisation is behind us, even if Q4, FY18 numbers are phenomenal, the sector is bound to undergo a rerating downwards. Charts of Avanti, Apex and Waterbase are perilously poised. I think Apex IPO was smartly timed as IPOs usually are, if FY18 indeed was the peak for shrimp as a commodity. I think Avanti's stock split/bonus as well had something to do with this - in terms of propping up prices. Markets are very sensitive to the perception of future growth, especially in commodities, so its better to be watchful.
Disc: Been exiting Avanti since the last breakout after split/bonus was announced lost strength.
What market is fearing is - erosion in margin, that is going to happen but at the same time, going to be cushioned to a significant extent, through Rupee, Rupee down by 5% already We need to hear Qtrly commentaries.
Interesting observations on Avanti. Could be quite true because the scrip is not moving for the last 7 odd months.On the contrary this is a company which is a market leader and has shown superlative performance for the last several years.The current valuation is not very expensive and given the quality of management I expect it to bounce back in the medium term unless there is real concern on the shrimp/feed global market and pricing.History shows that strong leaders just dont fade away so easily.There could be some speed bumps on the way. Interesting to watch now
Discl- Invested 15% of portfolio
It has now broken its 200 day SMA. I don't know the reasons for weakness but it would not be wise to ignore the screen.
Disc: no current holding, would like to buy but at a much lower price.
There is one more interesting pattern here. Remember that one year with poor marine product exports in the 9 good years i.e FY16? Observing that year closely throws some interesting parallels.
This is how it transpired.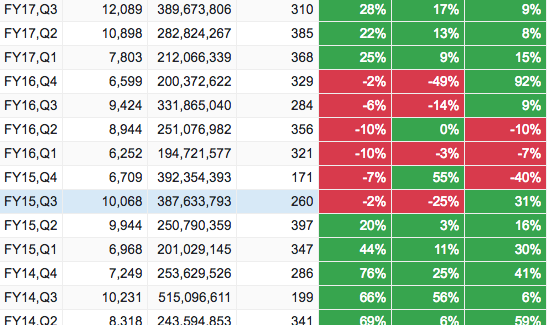 Slight degrowth in Q3 and Q4 FY15. Big degrowth in Q1 and Q2 FY16. During that period, between Sept 2014 and June 2015 - The price (stock price i.e) went sideways (Rs.300 levels after falling from a high of 360 - i.e 20% down). In Aug 2015 it started going up and almost doubled in no time (Rs.660 levels) - Probably in expectation of a good Q2, since Q2 and Q3 is where bulk of the business is.
Before the results, in August promoter sold some shares.
Coming to current year, there is actually no degrowth yet but there are signs of it coming in export data and in the news cycle. Stock price has moved sideways since November. Fallen 20% from highs on average just like 2015 but mostly sideways considering the big runup last year. Promoter has sold shares, this time a lot more than last.
A bulk of it if you notice between July and October, near the peaks.
So when results came out in Oct 2015 for Q2, how did the stock react?
In 3 months between October '15 and Jan '16, it fell 50%. To be fair Nifty fell 10% as well during that time. Did Avanti perform poorly in FY16 because of the drop in exports? Not really. They performed poorly in comparison to their past numbers i.e from a breakneck 80-100% topline growth, it fell to 20% topline growth and a 25% bottomline growth but that was enough for the market to punish the stock quite badly. However, FY17 turned out to be phenomenal and those who bought it in that fall today have made good returns. So while Avanti might have it in them to weather the storm in case exports decline or moderate in growth in FY19 due to their brand and the non-commodity nature of their feed business, the market might react quite negatively very quickly going by the past trend.
Just after I posted noticed one more parallel out of a pure hunch
They had done a similar split!