Q1 Results out

https://www.bseindia.com/xml-data/corpfiling/AttachLive/72af2322-a3ee-4b2b-93df-4064f2c0d820.pdf
I was able to only attend part of the conference call, here are my notes. I will update it once the conference call transcript is available
Ashiana Amantran cancellation of 41 flats which are still in the system will be recorded in Q2FY21; July and August good months for booking
July has been a good month across all properties; see good overall traction in bookings; Needs to be seen if the booking are because of pent-up demand? Management sense: Compression in interest rates favors consumers; 3% rental yield (± 50 bps) in most of the projects
Q2 booking will be better than Q1; Ramp up of construction in months to come, delivery might be a little delayed
Receivables not alarming according to management
o Maintenance segment: particularly for people who do not stay at the property, so receivables can be a little stretched because of that and they pay when they visit
o When delivery letter is issued and last 4-5% of payments is pending, sometimes that gets delayed
Ashiana town: July and August continue to be good. This year will be better than last year
Cash situation will improve in Q3 (maybe suboptimal in Q2), optimistic on the cashflow front
New launches: Vrinda graden phase 5 in process, Nirmay: second block will be launched this quarter, more launches in different phases of different projects later this year; New lauches for FY21: ~1mn sq.ft
Bhiwadi & Jaipur area: Economic activities are coming back to normal, in Jaipur where tourism and jewelry parts a large part of the economy are constrained. In Bhiwadi, auto manufacturing activities started coming back in July
EMI scheme: no 10:90 scheme for Ashiana; Focus on schemes which give upfront cash
Direct sales: Got into it more because of compulsion
Still looking for senior citizen project for Chennai
Disclosure: Invested (position size here)
Hi
I thought to chime in though I don't own any stock in Ashiana nor do I intend to.
I am an investor in Ashiana properties in Bhiwadi for over 6 years. Pre covid the occupancy rates from a rental perspective were quite high and Ashiana is looked as up market as per the standards there. Rentals have grown but is nothing in absolute terms compared to say Gurgaon which is a 45 min drive away. Folks in middle income group have started staying in Bhiwadi even though their offices are in Gurgaon.
The industrial belt including auto companies and glass companies like Saint Gobain is what drives occupancy.
I dont think property prices have appreciated much. I have not kept track of it. But for me rental income has increased almost 100%.
Rgds
disc: no investment in ashiana stock
Hey! What accoring to you will be the current approximate rental yield in the Bhiwadi area?
Here are my notes from FY20 annual report
Will start measuring net promoter score to understand how happy their clients are across projects
Ranked

#1

brand in North India,

#5

in India,

#1

senior living brand (third consecutive time) by Track2Realty
Launched 4 greenfield projects (2 in Jaipur, 2 in Jamshedpur). No further greenfield projects in FY21
Debt as on FY20: 104.97 cr. (excluding IFC funding of 18.74cr.), Out of this 20.2 cr. is working capital debt. Cost of borrowing: 10.5%
Cash as on FY20: 154 cr. (4-5 cr. monthly expense)
Generated positive operational cashflow at 34.22 cr. in FY20 vs 16.41 cr. in FY19
90% of customer loans are from top 2 housing finance companies in India
Land bank: 86.82 acre, looking for land acquisition opportunities in Jaipur, Gurgaon, Pune, Chennai and Bhiwadi
Jaipur market is doing well, there was never oversupply problem here
Gurgaon and Bhiwadi markets are facing challenges, with sales in Sohna (Gurgaon) slow. Bhiwadi senior citizen living project is doing well
Ongoing projects: 31.17 lakh sq.ft saleable area out of which 19.35 lakh sq.ft has been booked
Lavasa (Pune) phase IV has been constructed, however sales is yet to be commenced pending OC approval
Projects launched in 2013 and 2015 have seen pricing impact, where they have unable to pass on inflation in construction costs to customers due to oversupply in market
Enquiries and site visits are back to pre-COVID levels, expect normalcy return in 2nd half of this fiscal
Number of permanent Employees: 524; Median salary: 3.47 lakhs; 9.18% increase in salary of employees other than managerial personnel; 7.1% including managerial personnel
Internship program from leading management institutes went well and has now been institutionalized.
Sold 1505 flats against a sales target of 1600
Advertising and business promotion expense: 28.28 cr. (vs 25.59 cr. in FY19)
Had to writedown 17.39 cr. selling expense whose corresponding revenue were not similar to the costs was incurred
Gross profits was lower at 23.51% vs 30%+ in previous years because of Sohna project (accounting for 47% revenues recognized) which had much lower gross margins
Partnership profit: 300/sq.ft (vs 331/sq.ft in FY19)
Total collection: 353.1 cr. vs 292.36 cr. in FY19
COVID impact:
o Project delays
o Demand contraction
o Supply contraction
o Continued consolidation towards reliable real-estate players with balance sheet strength
o Trying to manage cashflows properly
Disclosure: Invested (position size here)
CNBC Awaaz interview (link)
Construction back to pre-COVID levels
July, August good months in terms of bookings
Site visits higher than pre-COVID levels, virtual visits going well and shortening buying cycle
Seeing substantial traction in conversions where bookings are happening with substantial payments
Ashiana not alone in demand revival; Lots of other developers also seeing traction in residential space, Possible reasons: low inflation in residential real-estate prices over past 5 years, low interest rates increases affordability;
Getting more sales in under construction property compared to ready to move property
Maintenance booking revenue: 4.5 cr./month (not for profit business)
Debt: 55 cr. in corporate balance sheet; 15-20 cr. in project level funding
Company has a business coach based out of Vancouver Canada, and they have also seen spike in residential real-estate demand across Canada
Is anyone able to find out the price at which the promoter has brought this stake.
It can help us to understand at which the promoter believes that this stock is undervalued
SECTOR OF THE DAY : REAL ESTATE
Govt extends several incentives including free Floor Space Index (FSI), concessional project finance, free of cost trunk infrastructure facilities, among others to push participation in Affordable Rental hsg scheme
REAL ESTATE : AFFORDABLE RENTAL HOUISNG PLAY
BOMBAY DYEING/ARVIND SMART SPACES/ ASHIANA HOUSING/ Mahindra life /ajmera/ godrej prop etc
Here are my notes from todays' concall.
Margins were under pressure this quarter due to lower revenues recognized due to lower delivery volumes; will achieve construction targets for FY21
Sales momentum has continued in Q3FY21 and pricing remains stable across markets; Proportion of sales has shifted towards home buyers from investors
July – September: Units booked were ~215 (1300 sq.ft average size); excluding cancellations in Amantran (H1FY21 ~80'000 sq.ft), bookings were closer to 2.8 lakh sq.ft this quarter
Bookings come back to 2mn sq.ft sales booking starting FY22
Have signed 3-4 term sheets for land transactions; With recent sales momentum, company is looking to take those land transactions through; Hoping to do 3 transactions this fiscal year (may spill out to April-May)
Lavasa sales have recovered, however will comment more on the Lavasa market after 1 quarter to see if the sales recovery is stable
Land available for future development: means they don't have approval for launches
o Milakpur in Bhiwadi: Land is owned by Ashiana
o Ashiana Malhar in Pune: It's a joint development project which is now fully funded (this quarter); This is Ashiana's first project in Pune; major approvals have gone through and smaller ones remain; Launch will be in FY22
o Kolkata: Partly funded the land cost and rest is a structured transaction; Facing difficulty in getting project off ground in Kolkata; facing a tough time with approvals (don't expect anything soon)
Vrinda garden has been the most slow selling project in Jaipur
Hoping to gain sales momentum in Anmol (Gurgaon) project
Currently preferring joint-development projects; actively looking for new partners
Currently not seeing inflation in raw material prices for construction compared to pre-covid level
Noida senior living project: Most complex market in terms of approval; Have signed a very early term sheet, want to get a senior living project started in Noida but struggling with getting around the maize of approvals and bureaucracy
3-year plan (aim to get back to mid-term ROE)
o Focus Markets: Chennai, Bhiwadi, Gurgaon, Pune, Jaipur (smaller markets like Jodhpur and Jamshedpur may have 1-2 ongoing projects, however these are not big markets)
o Kind of projects: Senior living housing (Bhiwadi, Chennai; looking for something in Noida); also trying to build into comfort and kid-centric homes
o Long term realization growth: In-accordance with CPI growth (6-8%); Sales realizations have more or less doubled in similar sized projects over the last 12-13 years
o Senior living properties will drive overall profitability (less competitive space leading to less cyclicality in supply) – probably the top developer in India (definitely in top-3)
Access to capital is very limited to developers serving smaller markets (funding first goes to Mumbai developers followed by other metros, etc.). That's why Jaipur didn't have such an oversupply compared to Delhi NCR or Mumbai. Bhiwadi had oversupply because a lot of Delhi based developers who had access to funding went into Bhiwadi.
Future projects summary slide is generally for future units that will be constructed in a given project (which already has units constructed in the past)
Disclosure: Invested (position size same as before)
Thanks Harsh to share your notes.
Thanks Harsh…The last time Ashiana Housing hit 2million sq ft. was in FY14. The market cap. at that time was about 3000cr (about 3.5x higher) and with 10% lower realizations. If they can hit that mark in terms of bookings again on a consistent basis, as guided by the management from FY 22 onwards, it will be interesting to see how the market reacts then. Especially with a way more consolidated industry structure, higher entry barriers and better access to low cost funds (through their partnership)
Bulk deal on 17th November. Can someone explain the rationale for buying and selling large quantities by a mutual fund on the same day at the same price?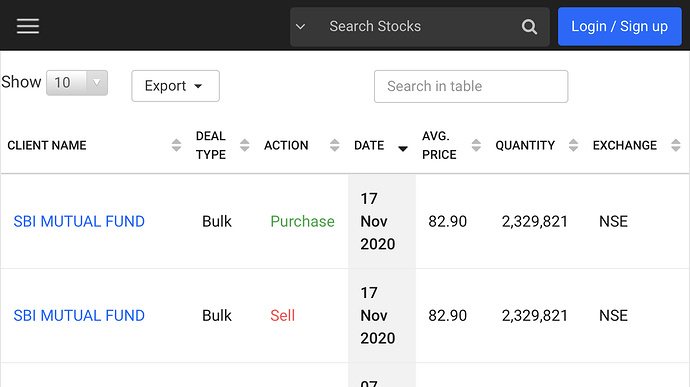 May be shifting to different type of fund like mid cap to small cap or multi cap to small cap…
Just guess…
Here are my notes from their FY21Q3 concall. Overall, sales numbers are starting to improve, cashflow visibility is very high allowing management to be more aggressive in deals. They have clearly addressed what went wrong in Gurgaon and Bhiwadi in the last down cycle (too high land prices paid). Management believes that we are at the beginning of a residential real estate recovery cycle.
Majority of projects that were launched in the past 1-2 years will be completed in the next 8-10 quarters, leading to improved cash position. 9MFY21 cashflow numbers should sustain going ahead. Ashiana will be more aggressive in signing new projects due to improved cashflow visibility
Deal terms with land owners have become better, land market has started hardening (i.e. prices have started increasing) in the past couple of months
Ashiana Malhar (Pune): MOU was done and deal was closed in August 2020. Currently environmental approvals and building plans are under approval. Hope to have launch in FY22 (hopefully early part). Pune in general is a low margin fast moving market
Ashiana Shubham (Chennai) has realizations of 4200/sq.ft and Anmol (Gurgaon) has realization of 4500–4900/sq.ft. Higher sales in Shubham and Gurgaon have increased overall company level realizations. Chennai – have been able increase prices. In Gurgaon, have not been able to increase prices yet.
Real estate market in NCR has changed to a buoyant mode. Strategic change to drive sales in NCR has been partnership with third party consulting firms like anarock, additional relationships with the broker community. Should be able to clear most ready inventory in Anmol by Q1FY22. January has gone very well in Anmol. Hope to have closure on 2 projects in NCR market by next quarter. Costs involved to sell in Gurgaon make Ashiana business model unsustainable
Anmol: Because Ashiana paid higher land prices, gross margins are very low leading to very low ROE.
Bhiwadi mistake: too much capital was spent on land acquisition in the last upcycle. Will be more careful this time around
Kolkata: No outlook to do any more transactions
Chennai: In advanced discussions (term sheet not yet signed)
Have a hit ratio of 1 in 3 i.e. 1 of 3 signed term sheets deals go through
Jaipur and Jamshedpur: can sell at much lower cost in relation with sales compared to a market like Gurgaon.
Noida: Senior living project term sheet in Greater Noida, hope to have it done soon
Senior living: Enjoys higher margin and has much higher returns. Should contribute to 40% of organization profitability going forward (and 25-30% to sales). For that, Ashiana has to create a major preference in Chennai, NCR, Pune and Mumbai markets as these are the major senior living markets. Bhiwadi (Ashiana town Gamma): Plan is to move entire Ashiana town Gamma to senior living
Kid centric home: Currently most kid centric projects that Ashiana has executed have been retrofitted. Ashiana Umang (Jaipur) has been successful in kid centric home where houses were not retrofitted and provides a model that Ashiana wants to pursue. They are currently evaluating one particular project in NCR with a clean slate design and not retrofitting.
Focus markets: Jaipur, NCR, Chennai, Pune
IFC platform: To fund new land purchases. Otherwise, looking for joint project development
Poor ROE for most real estate players: because of higher land costs leads to lower ROEs. Ashiana wants to only do land transactions which give a certain ROE (pre-tax IRR threshold is mid 20s i.e. close to 25%), which also means low number of deals. However, what matters more is the conservative and reasonable nature of the underlying assumptions behind the IRR rather than the actual IRR number
With the current management setup, can do 2.5-3mn sq.ft/year. Sales should be >2mn sq.ft in FY22. Expect margins to expand going forward. Hope to get to mid-teens ROE in next 3-years. Want to create a floor on ROE in the next downcycle (how?)
No new project launches in FY21, its mostly been additional phases in existing projects. For FY22, most launches will be on similar lines i.e. new phases in existing projects.
Longer term plan: to create an annuity income stream from commercial real estate? Or provide contract manufacturing? NOPE!
Disclosure: Invested (position size here)
Does anyone have any insights or sources (apart from management commentary) on the Bhiwadi real estate market? It seems a lot of Ashiana's current & future inventory is in Bhiwadi.
But, have you arrived at a valuation for the company?
IMHO, the investment thesis for Ashiana is PRIMARILY based on a turnaround in the real estate cycle, which according to most people should happen soon. The current selling rates are too less for Ashiana (or for that matter any real estate developer) to get decent profits. A turning real estate cycle means two things: Increase in Selling Price/Sq ft and higher sales velocity.
People have been correctly pointing out that a lot of their saleable inventory is in Bhiwadi. While it will be great if Bhiwadi starts selling well again, but this point can be (SOMEWHAT) addressed if the management gets new projects in other markets that they operate in and they are indeed trying to do the same.
However, the most important part of the thesis is improvement in selling prices.
Hence the valuation and the entry point in this stock will be based on your personal call as to when the cycle will turn.
19th Mar 2021
Ashiana Housing has received approval to raise Rs 120 crore through Non-convertible Debentures/ Bonds (secured/ unsecured) on Private Placement basis. The Board of Directors of the company in its meeting held on March 19, 2021 has considered, discussed and approved the same.
Ashiana Housing is a real estate development company. It is engaged in building residential and commercial projects. The firm also offers retirement resorts, group housing, hotels, retail and facility management.