Hi bandlab1. Are you still tracking this company? Thank you.
Hi bandlab1, any update on Artemis post restructuring?
The company is constructing a new hospital block at its existing location in Gurgaon hospital to add 144 beds (the same is expected to become operational from Q1FY22) at an estimated cost of Rs.168.72 crore mainly pertaining to building and equipment. The project is proposed to be funded by a term loan of Rs.142.80 crore (sanctioned) and balance Rs.25.92 crore from internal accruals. Till June 30, 2020, the company had incurred cost of Rs. 70.54 cr funded by loan of Rs. 45.30 cr and Rs. 25.24 cr from internal accruals. The project is expected to generate sufficient revenues and profits to service the higher debt load. Timely completion of the project without any significant cost overrun would be critical for AMSL and will remain a key monitorable
Excerpt from the CARE rating report
Artemis Medicare AR2021 summary.
Artemis Hospital / Artemis (a unit of Artemis Medicare Services Limited), Sector- 51, Gurugram- 122001 established in 2007, spread across 9 acres, is a 395 bed; state-of-the-art multi-speciality hospital located in Gurugram, India.
Artemis Hospital is the first Hospital in Gurugram which was accredited with JCI and NABH.
Artemis is the first Hospital in Gurugram to receive JCI accreditation, USA constantly for the third time.
Artemis Hospital is the first hospital in North India to be accredited with National Marrow Donor Program (NMDP), USA. Artemis Hospital is first to introduce Masimo technology based on Clinical Surveillance System and equipped with North India's first M6 Cyber knife having successfully performed over 1000+ procedures.
For significant expansion of hospital infrastructure, construction of new tower adjacent to the hospital building has commenced which has potential to accommodate approximately 160 beds. The construction is in full swing and the same is expected to operationalize soon. (Company guided for completion in May 2021 in AGM 2020).
The Company's Expansion projects also got delayed due to COVID-19 pandemic.
As a caution and care for expecting mothers, the Company had set up an extended COVID free birthing facility at a distance of around 2 kms from Hospital premises under the expert team of Obstetricians and Paediatricians
It is also pertinent to highlight that COVID-19 pandemic has resulted in disruption in regular business operations due to lockdown and travel bans (both Domestic and International) since March 2020. However, the Company has adopted various measures such as restructuring its costs, developing Digital platform to provide online consultation and homecare treatment etc. to ensure business continuity with minimal disruption and the Company believes that the COVID-19 pandemic will only have a short-term impact on its operations and after complete easing of lockdown and travel restrictions, the business is expected to return to normal.
Financials

The consolidated revenue achieved by your Company was ₹ 41,194.17 Lacs during FY 2020-21, as compared to ₹ 56,961.43 Lacs during the previous financial year. The consolidated EBIDTA was ₹ 3,873.65 Lacs for FY 2020-21 as compared to ₹ 6,605.76 Lacs for the previous financial year. On consolidated basis, your Company earned a Net Profit of ₹ 616.00 Lacs for FY 2020-21 as against ₹ 1,946.01 Lacs for the previous financial year.
Foreign Exchange Earnings 3,634.31
Rs. 30 cr capex during the year.
The borrowing cost capitalised during the year ended 31st March, 2021 was Rs. 142.37 Lacs. (31st March, 2020 : 121.00 Lacs).
Related party transaction: Purchase of medicines through Premedium Pharmaceuticals Pvt Ltd of Rs. 42.12 cr (Rs. 47.72 cr in Fy20).
Revenue by geography
India: Rs. 340.51 cr (Rs. 365.80 cr)
Outside India: Rs. 61.54 cr (Rs. 197.28 cr)
Revenue Contribution
Oncology - 22% Neurology - 16% Orthopaedic - 12% Cardiac Sciences - 11% Medicine & Critical Care - 6% Nephrology - 5% General Surgery - 4% Obs & Gynae - 3% Gastroenterology - 3% Liver transplant - 2% Others - 16%
scuttlebutt ranks it decently specially in knee and general surgery like stone etc. Its crowded one. So post covid , utilisation should not be an issue for the incremental beds coming in.
Since co doesnt have plan of expansion this could be cash cow or might sold to another chain and that would be the win situation for investors. Margin should see good jump from fy23 again on post covid and post expansion. On the revenue per bed, mcap/bed, etc this looks cheaper.
biased with decent allocation in portfolio
stock circuit up on news of board meeting for split and q results. split would increase liquidity . for me q results and commentary on new capacity on-boarding, cash flow would be point to look at.
Q122 results looks decent on following point:
even with covid wave2 , revenue on QoQ is almost same. must be some incremental revenue from new beds.
finance cost under control
scope of operational leverage while still a 30 pe something stock.
bullish since
hospital stock which is well established in metro
recent capex went live which increased capacity by. almost 40%.
available cheaper at mcap/bed parameter
promoter doesnt have plan for starting chain of hospital so either it would be acquired by another hospital chain or becomes cash cow.
result https://www.bseindia.com/xml-data/corpfiling/AttachLive/2d496789-46b6-400a-8d1c-267e079c3a7b.pdf
Just to correct. The new capex has not gone live. It will be done towards Q3 FY 22. Owing to covid the plan was delayed.
Thanks Amit. I am pleasantly surprised to see revenue holding up in spite of 4 bad weeks during 2nd wave.
Happy to see you @daya555 . I have build a large position in Artemis and seeing you tracking/invested here gives me more confidence.
I am betting on improved roe and earning on back of expansion and this becoming either. a cash cow or acquisition target.in both cases i see 3x potential in next 3-4 years. Can you share your opinion?
Thanks, Rakesh. Of course, I think it is undervalued. But I don't have a large position. Not very confident about promoters' ability to create big wealth.
Artemis Medicare looks very interesting from several parameters. Having gone through several hospital businesses, there seems to be a combination of factors here that made me interested in the investment.
1. Interesting position in Capex cycle with recent bed expansion completed
My main issue with hospital businesses was brutal Capex requirements always keeping cashflows and return ratios subdued. This continues in several reasonably valued stories like Aster. On the other hand, with the beds expansion completed in its only hospital in Gurgaon and no further Capex plans, it does seem that operating leverage could play out significantly and we could see enhanced return ratios accordingly for Artemis in the coming year.
2. The return of medical tourism should lead to better payor mix
I have personally been to the hospital a while back and it is very well located in Gurgaon and was very full (this was pre COVID). What I also noticed was a massive number of international patients, medical tourism is a large business component for them. It is also the most lucrative business for hospitals. With COVID hopefully waving away, there should be renewed demand and maybe even pent up demand in this space which should drive up profit margins and ROCE profile.
3. Growth visibility in the coming year due to new wing
My scuttlebutt with a doctor indicated that the new wing is getting operational, and it should be useful in terms of incremental revenue as the hospital is usually very full and continued to be highly occupied (>70% from estimates). Even if Artemis retains the revenue per bed, this should be a clear incremental factor towards additional revenue and profits next year.
4. Gurgaon is a very lucrative market for leading hospitals, with excellent ARPOB numbers, high spend power for patients and proximity to the airport for Medical tourism
The fact that the hospital is centred in Gurgaon makes me think that this as an individual entity has the potential to be a cashflow generating business even more than the top chains. Additionally, at current valuations, could this also be a lucrative acquisition target? Considering the valuations Max, Apollo are quoting at, I won't be surprised if this would be accreditive to earnings and return ratios (this is purely a hypothesis though with no concrete information behind it)
5. Management skin in the game
The issue with Artemis is management disclosures are very poor and they do not hold conference calls etc which really reduce the coverage of the stock in my opinion, in addition to it being a micro cap. What I do like though is that the promoter ownership is high and scuttlebutt was positive regarding Mr. Neeraj Kanwar and his involvement in the business. Additionally, with ownership in Apollo Tyres which is a much larger company, it makes me wonder why would management risk any corporate governance issue here, considering it could have a larger impact for them elsewhere.
6. Interesting JVs which could be potentially high growth and less capital intensive versus a hospital business
Quoting from the latest results : Currently Artemis Hospital is running 5 Cardiac centres under the Joint Venture with Philips Medical System Nederland BV and one Obstetrics and Gynecology centre under Brand "Daffodils by Artemis".
7. Attractive Valuations
Currently, Artemis is quoting much cheaper on a per bed valuation as pointed out by forum members above. On all valuation parameters, including PE and EV/EBITDA it is very cheap versus hospital peers. Currently it is available at below 10 EV/EBITDA while the likes of Max, Fortis, Apollo, NH and HCG are far higher (most>20, Max is >30 I believe being the best quality business)
Some other points which could be points to ponder were:-
Management disclosures are very poor, I believe they can do a lot more in terms of investor relations
They announced getting into management of international hospitals through an arrangement with PolyClinique De L'Ouest Ltee,Mauritius. There is no visibility of this might mean in terms of growth/capex - so this could be a positive or a negative
Overall, this does seem to be a very interesting story with growth visibility, at a very good valuation and with potential tailwinds on return ratios/better business mix/higher revenue per bed. I wish management was better in investor relationship management.
Disclosure : Invested, biased. Transactions in last 30 days. I am not a SEBI registered advisor, please do your own research before investing.
Seems some capex is still pending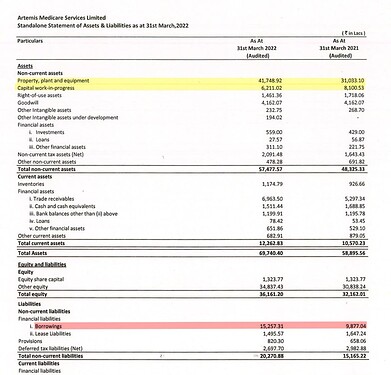 But hopefully FY23 can be a good growth year (after long wait) as they start utilizing the expansion done. Also, with international travel opening up, they could get better utilization. Lets see if they can improve margins finally.
Ayush
Disc: Invested in family and client acs
Disc: Invested:
Visited the Guragon facility last week. The new tower seems good and informal chat around figured out the occupancy was high.
Daffodils is the mother child care business is not in the same compound and is 10-15 mins away
The hospital is situated in the middle of residential area. Potential seems good.
On results:
Disappointment on both higher expense for the qtr and lower topline growth.
Opportunity:
Need to track the utilsation and margins as @ayushmit suggested… Kovai is the benchmark … lets see how it plays out
Adding the new tower facilities map::
Thanks for sharing these insights. Its helpful.
I had visited this hospital pre-covid to do scuttlebutt. It's a really busy and jam-packed hospital. I felt that they could had done better and grown had they got the clearance to expand earlier. But anyways better late than never. Also, when a hospital is not growing, there is bound to be margin pressure as in this industry the cost of doctors keeps increasing…at the same time brownfield expansions can be very lucrative as they bring operational leverage if execution is good. They seem to have space to go up to 800-1000 beds.
happy to see in company of great value pickers like Ayush sir and Daya sir. I live in same city and have being doing scuttlebutt regularly. There are just two points to track for me:
numbers (top line and bottomline ) growth should come in next 2-4 Q.
long term plan . they had closed dwarka , delhi unit. Will they expand outside gurgaon campus or will become cash cow ultimately .