Suggest admin @Administrator to split this topic and create a new thread on Artemis Global. Good listing by hitting UC. Thank you @lalit_anr and @Anant for bringing this special situation to notice. This is my first demerger listing and I could learn much from this experience.
Disc: Invested 1.5% of PF at average rate of 145 before demerger and sold off PTL.
Thanks @Anant the stock is rocking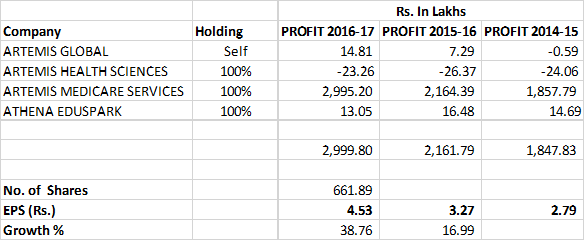 I have tried to calculate consolidated EPS using information available at http://aglsl.in/pdf/Advertisement-for-Trading-Business-Standard-English-edition%2012-07-2017.pdf
Share trading at 140 looks pretty expensive if my calculations are correct. The company has about 350 beds and is trading at market cap of Rs 1100 cr, where as Narayana Hrudayalaya with 7181 (5932 operational) beds trades at Rs 6200 cr valuation and Kovai also trades at Rs 1425 cr valuation for 700-800 beds.
Regarding PE ratio, AGLSL trades at 31 pe vs Kovai 24 pe. I am not comparing apollo & fortis as they are very large companies and have other businesses also.
I think there is a 200 bedded construction going on in Artemis in the same premises. By 2020 these will also become operational and hence their margin will increase. So forward P/e will be lower.
Can you please provide your source for this expansion and any management
plans. It will be great.
Annual Report: http://aglsl.in/pdf/Annual-Report-2017.pdf
Expansion plans: Your Company is proactively considering to augment the capacity of the hospitals as a part of its expansion plan.
Your Company is confident to maintain good performance of the Company and plans to construct a new tower at Artemis Hospital
Gurugram and make it a 500 bedded tertiary care hospital by FY 19.
Your Company continue to look forward to a sustained healthy growth of the Company by nurturing long term committed
relationship with its doctors, staff while ensuring good clinical outcomes coupled with customer delight and greater customer
satisfaction.
Hi,
I will be attending the AGM on 27th Sep. so anyone who has questions can share it with me on the thread and I will try to take it up at the meeting.
Cheers!
AGM Notes
---------------
New tower will be ready by June19, capacity is 150 beds
New tower capex is 150 cr, 75% debt and 25% internal acruels. Will break even after 1 year. first yr 40%, next yr 60% utilization
30% of revenues come from foreign patients, with 1-2% higher margins
Dwarka hospital has 41 beds, its running slightly below break even, its a facilitation center.
9 acre land in GGN can house max 850-1000 beds, plan is to complete this by 2020
No plans to expand beyond GGN facility. No plans for chain hospitals
On lower ebidta margin (12% vs 20% by appollo etc), management didnt give convincing answer. Mr Onkar Kanwar has replied we are consolidating our operations, will take time to improve margins
Somebody asked why we are not giving consol earnings, mgmt replied its not mandatory to give
GGN hospital is running at 85% utilization, Dwarak at 40%
On asking any plans to bring in some strategic investor in the place of Kerala Govt, mgmt said no
Somebody asked about recent drop in stent prices and effect on cardiac theropy, mgmt replied we dont give therapy wise break up.
Regarding changing health care regulations, mgmt replied we are a responsible health care organization and business plans are laid after considering these strict regulations
One investor started shouting that he didn't get balance sheet (he means annual report) and wasted some 5 min
My observations
----------------------
AGM was conducted with lot of pomp and there are many employees than investors. In fact i am surprised at lack
investor awareness about this company. But whoever is there are serious and asked questions
My purpose of attending this AGM was to gauge the managements seriousness about this business. Can the big guy take it the Appollo Tyres way, do they have plans to start chain hospitals. But the feeling i got is completely
opposite. looks like they might use this as a cash cow to fund their life style and sell it at a later stage.
Beyond 850 beds by 2020, there is no visibility or vision (right now)
For all practical purposes we can ignore Dwarka facility as its not accredited by Joint Commission International
There is always some confusion on number of beds. Earlier they mentioned 200 beds (new tower), now its only 150
The new tower is going to have only inpatients beds , it will be connected with existing tower which will host all the equipment and medical infrastructure, so the margins will definitely improve (sharing fixed costs)
Somehow my feeling is the reported margins could be different from actual margins. 12% is too low for such a hospital running at 85% and with 30% inbound foreign patients. Since its demerged and new tower is coming, my feeling is slowly reported margins could be better
I have visited both hospitals (GGN, Dwarka). The Gurugram (GGN) hospital is really good with lot of foreign visitors.On talking to an American visitor in the cafetaria, i understood these guys have some agents who will facilitate the medical tourism (family members in goa and the patient in the hospital, entire package serviced by insurance)
The construction thats going on in the new tower is very crowded, they are doing it adjucent to parking space. i don't know how they could take it to 850-1000 beds unless they relocate the nurses querters.
The new tower will break even faster as its an extension of existing tower and no need for building new teams, existing doctors can serve both towers
Sanjay Baru didnt attend the AGM, recently they have taken S Narayan into the board, he was present. Mr Onkar Anwar is the only one who spoke and answered, all others were silent
Mr Neeraj Karwar was also there, he is actively involved in this business.
**Disclosures **
---------------
I own more than 5% in my portfolio, i bought before and after demerger
My observations are My observations based on what i could feel from the AGM and visits to the hospitals
Because of poor audio quality in the auditorium and different accent i could have heard some numbers wrongly
They are not putting out Consolidated numbers. The hospital is a subsidiary.
Agreed. how does it help small investors like us if they dont release consolidated numbers?
Pleas enlighten me if Iam missing anything here.
I agree with you that since the subsidiary company is the only operational entity they should publish its results, publishing parent company's result is a pointless exercise. Although not statutory required, It certainly puts the management in bad light.
Personally I am not worried about the quarterly results in this specific case mainly because the business is secular in nature, what I don't like though is the little clarity that the mgmt has given in terms of future roadmap in AGM beyond the current expansion.
Discl. Invested.
A very novice question, the company on its website still claims "On a larger platform, PTL Enterprises is the holding company for Artemis Health Sciences."
So post this demerger how much they own of the hospital business. Secondly, i could not find any details on their earlier holding in Apollo Tyres. So, can i assume it to be a new investment?
Many thanks in advance.
Artemis Global FY18 Annual Report Notes.
Artemis Hospital (a unit of Artemis Medicare Services Limited), Sector- 51, Gurugram- 122001 established in 2007, spread across 9 acres, is a 395 bed; state-of-the-art multi-speciality hospital located in Gurugram, India.
We have became the first hospital in India to adopt the Masimo technology based on clinical surveillance system.
Artemis has recently launched its Heart Transplantation Services.
Artemis Hospital has received accreditations from the Joint Commission International, USA ("JCI") for meeting international healthcare quality standards for patient care and management. Artemis hospital has also received accreditation from NABH. Artemis Hospital is the first JCI and NABH accredited hospital in Gurugram.
Capex done of Rs. 60 cr during the year. Out of the total capex Rs. 35.87cr was done on Plant & Machinery. Opening Gross Block of P&M was Rs. 94.37 cr. So that's a major 38% increase in P&M block.
Share of revenue from foreign patients increased from 31.82% to 35.60%.
Domestics Sales = Rs. 323 cr (Rs. 315 cr in FY17), growth of 2.53%.
Foreign Sales = Rs. 179 cr (Rs. 147 cr in FY17), growth of 21.76%.
Salary of MD (Devlina Chakravarty) increased from Rs. 2.58 cr to Rs. 4.03 cr, an increase of 56%.
Professional Medical Consultancy fees increased from Rs. 38.18 cr to Rs. 51.89 cr, an increase of 36% yoy.
Contingent Liability regarding pending demands at various forums for Rs 66 cr. approx.
AGLSL (post merger of AHSL and AEL into AGLSL) would be merged into AMSL i.e. reverse merger. AMSL would issue and allot equity shares at par on a proportionate basis to each shareholder of AGLSL whose name is recorded in the register of members of AGLSL as holding equity shares on Record Date in the ratio of 1:5 i.e. 1 (One) equity shares of Rs. 10/- each of AMSL to be issued for every 5 (Five) equity shares of Rs.2/- each of AGLSL held by the shareholder of AGLSL.
As India crosses the 100 million mark of its ageing population and is expected to be the home for around 143 million elderly by 2020, this fact will contribute to the increasing demand for healthcare services.
Regards
Harshit
Disclosure: Invested
The details of the composite scheme of amalgamation here
This is definitely a positive in simplifying the group structure and reporting going forward
Listing tomorrow i.e. Thursday 23 Jan 2020