Does anyone know when the 1:1 merger of APL Apollo with Apollo Tricoat is expected to close?
Does anyone has clue of NCLT approval for merger? As per last concall they were supposed to get an approval in May
I think the matter is posted in July 2022
As per CRISIL report in May 2022 " **"The onset of the weak demand season because of monsoon and less-lucrative exports mean domestic steel prices should begin easing and ultimately move towards Rs 60,000 per tonne by the end of this fiscal. They will, however, continue to hover well above the pre-pandemic levels. Flat steel prices could rise 3-5% this fiscal after surging over 50% last fiscal."
Combine this with the comments of Mr. Sanjay Gupta in the Q4 con call "once the volatility gets over and steel prices crash downs to a reasonable level where steel
plants also are comfortable, consumer also is comfortable and mediatory also is comfortable so, this is very good for the business. So, what I am thinking that we are closer to it. Right not we are going through a painful time but we are hopeful that future is very bright. Once the coal prices will come down so steel plants will also reduce their prices after June so this is a very good situation for the steel plants as well for the consumer. We cannot touch the precorona Rs. 40-45 stage but I think when the price gets stabilized between the range of Rs. 60-65 this is a very good position for both the sides".Next trend to watch is intl coal prices. India's sales of Russian coal have increased in recent weeks with discounts of up to 30%. Tata Steel imported about 75,000 tonnes of coal from Russia in the second half of May weeks after pledging to stop doing business with Russia.
Things could shape up better for APL if global trends turn favorable
Disclosure; Invested
All category volumes are lower compared to last quarter…Is this a normal trend for 1st quarter or any anomaly ?
Hey,
Just found the full interview with the management on Youtube! I find it very insightful. It's like a revision of the company, and also shows how collected the Chief Strategy Officer is about the business going ahead.
(Ignore the later part of Sequent Scientific)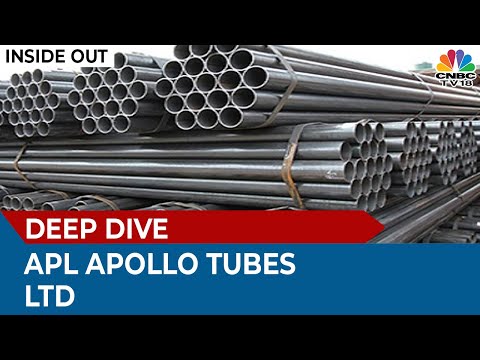 Tomorrow the matter is listed in NCLT Delhi IV …

Should do 250 cr types EBITDA. Major growth in commodity product. Value added products dropped from 61% to 54% and EBITDA/ton should drop under 4500 rs/ ton. Will wait for mgmt commentary to understand what led to this growth in general structures segment and flattish in other categories.
• OCF 110% of EBITDA. OCF was utilized for Raipur Capex & Dividend.
• Raipur Capex is near completion. Total Raipur Capex Rs 1000crs (800crs already spent)
• Raipur volume for Q2-12,000 tonnes. Q3 is expected to be 75,000 tonnes. Q4 is expected to be 100,000 tonnes. Raipur Volume guidance: 600,000-700,000 Tonnes & 1mn Tonnes in FY24 &FY25 respectively.
• Minor write-downs in Raipur plant this quarter impacted margins.
• Raipur product margins are likely to be 7,000-8,000/tonnes.
• HRC CFR is $540, domestic primary steel is Rs54,000/t and secondary is around Rs50,000/t
• 30% volume CAGR expected between FY'22 to FY'25
• Sold more commodity products this quarter.
• Product prices have come down from Rs 74,000 to 54,000 in 6 months, this has impacted the EBITDA in the first half. Don't expect prices to come down much from this point on. Expect the price to correct by not more than Rs2,000-3,000/t in the current quarter.
• Expected volume will be 2.2mn tonnes. Full year EBITDA of 4,500/tonnes. Expected EBITDA/T will be 5,000/tonne in the second half.
• Demand is expected to remain strong as steel is replacing wood in home fitting like doors and railings.
• Brand expenses will come down from 50crs to 25-30crs pa. Expected spend next year will go up.
• Export margins are slightly lower than domestic. Total exports are 5% of total volumes.
• Market share is going up consistently. Current market share is between 55-60%
• Raipur plant has taken debt to fund its working capital. Cash generated in APL Tubes (Parent) will be kept in the parent.
• Up to FY'25 the total capex will be Rs 500crs and the capacity will go up to 4.5mn tonnes.
Hi this might be basic, but asking this company has been enjoying premium valuation over its peers because of their product innovation, and bright growth prospects. But then why are the promoters off loading shares consistently over the couple of quarters?
can you share relevant data points please?
APL has a sizeable market cap now. They are purchasing raw material from Tata and JSW. What is the entry barrier in this business which prevents Tata or JSW to play aggressively in this segment.
Will Tata and JSW sit quietly watching APL to grow further 3 x from here…
How much more can be upside for APL…
Can this be an anti thesis…
Disclosure: Tracking for analysis…
APL apollo business is of gross margin of 12-15 %. So 85-88 % of APL top line is part of Tata/ JSW.
Vertical integration by TATA/ JSW of APL product will only add 12-15 % of Tata/ JSW existing revenue.
APL is enjoying high ROCE because of better asset utilization, high efficiency, better planning/ marketing, use of new technology and working capital management and many patents.
Tata/ JSW will also have to increase the penetration of distribution/ retail etc.
APL is further reducing the normal structural material and keep on adding value added product.
Raipur plant will only add value added product and that is first in India. No competition.
Are the promotors following "Game" for better ROCE?
APL Apollo is promoter of SG Finserve Limited which is giving loan to dealers, distributors and even suppliers. Give loan and sell products !!
Read CRISIL report here CRISIL report
Yes . This would be definitely ROCE accretive for APL apollo as it will further shorten the Working capital cycle and improve profitability ratios . I assume it will also help them scale up operations with ability to generate higher sales with existing dealers and further increase dealer network .