Hi everyone,
I've started to invest pre elections and these are my investments: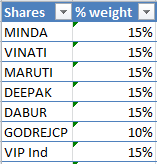 I've bought patiently on dips and my portfolio is 2% down ytd.
Rationale behind each:
Vinati Organics- I like that company is the leader in their products and that it takes a long time to formulate something. I like the management as well as the growth rate, which was present even before the Chinese Chemical sector problem.
Maruti:- I believe that Auto's are getting a bad rap and rightfully so, the numbers have fallen to a low of 2017. However auto is a very tough sector to implement regulations. Even when the changes happened in America Ford, GM and Chrysler all went through a very bad phase. When it comes to the EV story, I believe it is far away, and when it comes Maruti will be ready. A 50% market share company won't give up so easily.
Minda Industries: Minda has created a lot of weath for its shareholders and is a very well managed company. It is a leader in Switches, Lights, Alloy wheels and a lot of other segments. It is in both 4 and 2 wheeler segments. Minda has been one of those companies who has given positive revenue growths in grim market scenarios.
Dabur- Steady FMCG compounder, and at the time of buying was near its 52 week low and valuation wise as well as a good company was at attractive valuations.
GodrejCP- Same story as Dabur. Difference between them however is of distribution and products. I like them both. Valuation gives much comfort in this.
VIP- I like the story due to a few factors:- Their continued market share, shift from unorganised to organised, Decent valuation and growth, however would like to buy cheaper. I like that it is one of the niches who has the potential to gain from the trade war.
Deepak Ntr- Acetone and phenol plant was the main attraction. I expect the growth from that would lead the company to better profitability. Also, the board of directors is a group of very interesting people. I like the bargaining power it has over the govt, however it can be a double edged sword as govt may have too much of intervention.
I am still siting on 55% cash
Other companies I am tracking, GMMPfaudler, APLApollo, Natco Pharma, Maithan Alloys, Edelweiss, United Spirits, ION Exchange and Godrej Properties.
I was holding RBL Bank, but its journey from 52 week high to low was too quick and that worries me.
If market crashes and only then I'll proceed to buy Bajaj Finance, HDFC Bank, Asian Paints, Pidilite and Nestle.
I invite all views/suggesstions/criticisms.