Aaron Industries is primarily engaged in the manufacturing activities of Elevator doors and parts, and trading in Electrical products (negligible quantity). The Company has also started new business line of polishing, processing, designing and finishing of Stainless Steel Sheets as backward integration. In the FY 2021, elevator segment contributed 64% of the revenue whereas polished steel segment contributed 31% of revenue.
The company is led by first generation entrepreneurs [I have a bias towards first generation entrepreneurs] and has been growing at a very fast pace with decent profitability. This picture will give the financial of the company for last few years [Trendlyne].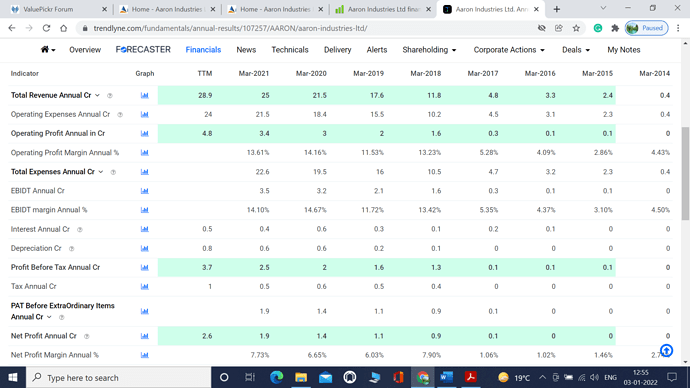 Points to note in financial:
Topline is continuously growing.

With growth in topline, even OPM and EBITDA is improving.

The company is in profit and paying due taxes.

Debt is under control.
The company is already in manufacturing various elevator parts like cabins, machines, control panels, autodoors, COP and LOP etc. It is possible that the company may move in manufacturing complete elevators. In fact, the company states in Annual report 2021- "The company is engaged in manufacturing of elevators and elevator parts". The annual report is also claiming "premium elevators" as its product. It is possible that the company may enter into the elevator market, sooner than later [my guess].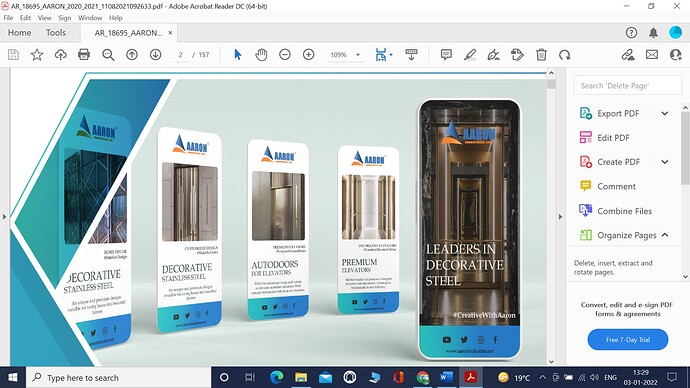 An elevator business is a lucrative business. None of the elevator manufacturers are listed. Thus, Aaron is the only listed elevator play.
The elevator industry is transforming in India. It is no more a discretionary luxury expenditure. In new constructions, it has become more like a necessity. People are preferring elevators even in 3-4 stories bungalows. India is already second-largest market for elevators and escalators. Thus, it is expected that the elevator industry will grow at a much faster pace than the normal economy. This will give a tailwind to this business.
Presently the company is valued at around 120 crores market capitalization. Though it is a nano-cap, by no standard it is cheap. It is trading at 9 times book value and at around 46 p/e. Promoters hold 75% of the equity, and in last year they have increased their holding from 73.5%.
Basis of Investment:
There is only one basis of investment in the company- it is fast growing small company, which is growing without much debt infusion and with decent profitability. If such growth continues for a few more years, it can prove to be a decent investment.
Risk:
Investment in nano caps can lead to 100% capital loss.

The company is richly valued.
[Disclosure: Invested, plan to add more]