another possible positive development for Saregama
The Saregama Carvaan is 55-year-old Archana Singh's primary music listening device. She listens to bhajans in the morning and evergreen melodies of the 60s and 70s while having her evening tea. Last Diwali her children gifted it to her and her husband. And over the past year, Carvaan has become her prized possession. What's more, Singh's friends who have experienced Carvaan at her home have also bought the portable music player.
Scepticism was rife 16 months ago when legacy music licencing company Saregama (erstwhile HMV) announced the launch of its digital music player that resembled an old fashioned radio. Who would pay to buy a device that stores 5,000 songs when everything is freely available on sites like YouTube, most wondered. But people like Archana Singh and her friends are testimony to the consumer insight that drove Saregama to rethink how people listen to music. People wanted a device that is convenient to use.
Positioned for people in the 40-plus age bracket, Carvaan delivers a lean-back listening experience in a world where people need to proactively create playlists of their liking and decide what song they want to listen to next.
The scepticism about a product like Carvaan stems from people, and sometimes even marketers, getting stuck inside an echo chamber of people just like them. The success of Saregama Carvaan teaches marketers to never lose touch of the needs of the end consumer.
Vikram Mehra, Managing Director of Saregama Carvaan, says, "As marketers we start thinking that the whole of India or the world is like us. It need not be so. There are a large number of people in this country who still want things that are comfortable." He says that marketers must not lose touch with what the end consumer wants.
Calling Saregama Carvaan unique and unconventional, brand guru Saurabh Uboweja said, "This is a simple product that is packaged around a need that was not serviced." At a time when all marketers are chasing the millennials, "Carvaan targeted a market that is largely ignored by brands," Uboweja pointed out.
Mehra said he was surprised to learn that people thought that Saregama was not sharing its huge library of music even though all the songs from the Saregama stable were available on all leading streaming platforms and YouTube for free.
Consumer research also revealed that the fear of technology gets stronger among people as they age. In addition to the 40+ demographic from non-metro cities and towns, Saregama spoke to people in the 65+ age group in Mumbai to learn their sentiments. They asked this group of people what they feared the most; the response the company was expecting was "dying." Instead, this urban group said what it feared the most was "being dependent on children."
Armed with this consumer insight, the company set out with a clear vision to create a product for people who grew up listening to iconic singers like Lata Mangeshkar, Asha Bhonsle, Kishore Kumar, Mukesh, and Mohd. Rafi. Positioning typically defines the target audience for a product. "It is also important to know who we are not positioned for," says Mehra. He and his team is not targeting this product for a 21-year-old and they are clear about it.
The Saregama team designed Carvaan to have a familiar user interface that triggers nostalgia. In the early version of the Carvaan, the buttons were activated on touch. "People got back saying with touch they were not sure of having pressed the button. So in the later models we introduced mechanical buttons," explains Mehra. Nostalgia-inspired products like Paper Boat's drinks have been making a comeback in a huge way. Tapping into the nostalgia element through design and the selection of music has been a winning strategy for Carvaan and helped the product gain entry into the living rooms of people.
The latest version of the product is also large in size because of the feedback that some perceived the product to be fragile. Mehra lifts the metallic Carvaan Gold to prove that it is light, though the appearance of the product makes it look robust.
All the attributes of the Saregama Carvaan, including its creative communication that positions it as a gift that youngsters can give their parents and grandparents have hit the right notes. The product has sold one million units since its launch and contributes to nearly half of Saregama's music revenue. The company has just scratched the surface of its potential market size - 25 million homes.
Mehra could not be more proud of the product and what it stands for. "Biggest feather in our cap is that we not just created a new product but a new category and new concept that too from a brand that is not into retail." As per Saregama's internal studies, Carvaan is played for around 7.5 hours on average every day in a home where there is at least one person above the age of 60.
Mehra says that Carvaan will see many further iterations as feedback flows back into the company. He reiterates that the core insight that made Carvaan a success will always inform every stage of development.
"Carvaan is not just giving music but memories connected to music along with the convenience of listening to music," he says.
TAGS
This is the data I gathered from Amazon for Carvaan. The number of reviews could give an idea of how much the topline can grow for this segment very roughly. Rupee depreciation during the quarter may play spoilsport with the margins though.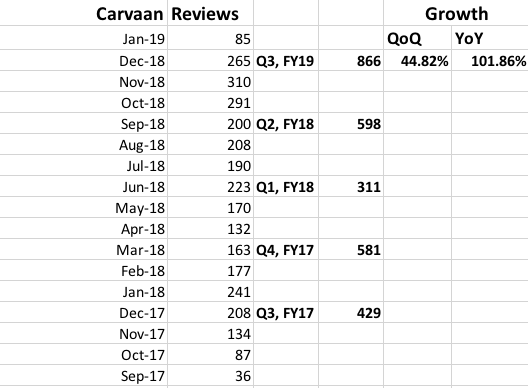 have the management in any of the concalls clarified on the issues of rising Receivables and negative OCF .
Trade recivable increasing -
Fy 17 - 55.59 crs
Fy 18 - 78.1 crs
Sept 18 - 115.56 crs
profits -
Fy 17- 10 crs
Fy 18 - 31 crs
Why Operational cash flow are negative in-spite of profits ?? -
OCF -
Fy 17 (- 8 crs )
Fy 18 (- 22 crs )
If any one have insight on above issues please share .
Results on the 25th.
I was just wondering today if the promise made in the last concall was going to be kept.
whats your take on latest saregama results both y on y and q on q ?
@Vivek_6954 Topline growth is good and inline with festive sales but operating margins have deteriorated so the results are not great. profits YoY are phenomenal but that was on expected lines. How they perform from here on is more important as they will be performing on a higher base. Lets see what the management says in the concall today.
Disc: No holdings
Bit strange that the operator did not hand over the call to the mgmt for final closing comments. He kept saying they would announce new product launches/new initiatives etc. It ended abruptly but the outlook looks great to me. So many avenues to make free cash like music society payments/streaming etc. I am slightly disappointed that their marketing costs continue to remain elevated.
Disc: Invested
Gross margin has declined by a bit, although Carvaan margins are up QoQ, so I presume this reduction is driven by TV/Films. EBITDA margins have only slightly deteriorated QoQ, at this stage I wouldn't read too much into it. But I am quite comfortable on the margin front.
What worries me is that come Q2/Q3, the revenue base effect is going to start kicking in and growth is probably going to stagnate, unless they manage to sell more and more Carvaans. Carvaan accounts for about roughly 2/3rd of the total top line (3 Lakhs unit sold at roughly about Rs.3000 per unit is around Rs.90 crores which is 2/3rds of Rs.150 crores Q3 revenue).
One of two things could happen
The company might continue to push sales of Carvaan through aggressive marketing - ad costs will go up, OPM will go down resulting in bottomless growth.

The company might continue to introduce new variants - which is happening now. They are going to introduce Caravaan Go. Now I strongly believe that for a product company to be able to thrive, they have to continuously introduce products to suit various customer tastes. The automobile industry, technology industry are good examples to this. However in all those cases a repeat purchase is warranted. This is a key missing element for me in Carvaan. So in essence this cycle could lead to slowing top line growth and a deteriorating margin profile due to high SKUs.
Growth triggers in the short to mid term are missing and that is going to be a worry. Yoodle films is doing well, but it will take years and plenty of investment before it can effectively fill the Carvaan gap. OTC, YouTube and online streaming hold great potential, but monetisation issues continue to plague the industry as a whole.
Interesting times ahead, but I am only going to be a spectator watching on the sidelines.
i dont have subscription. Can you please post screenshots of the full story… I hope it is not against group policy
He is saying the same thing as he did on ET now. Nothing new except a new product called Caravan Go i.e. a new mobile type device for the younger generation and aggressive plans for films and perhaps OTT series later on.
Carvaan has also got approval from CSD Channel for sale of flagship Carvaan to be sold through army canteen channel .This will have some positive impact on their sales next financial year .
Lots retired defence guys will love to purchase this as it would be available at substantial discount to market price and also this will result into additional revenue stream .Besides payment is secured .
Hi All,
I had a cursory look at the co. and here is observation followed by some questions.
Saregama is into following business,
Music - B2B and B2C
B2C is Carvaan and B2B consists streaming of music on OTT platforms (Gaana, Saavn, etc. In total 45 platforms, 9 in India.), Youtube, Licensing (TV, Radio, etc).
Films
A movie production unit that goes by the name of Yoodlee films. The target is to create content for digital mediums. All the movies to be produced in the budget of 4-5 crores, story is the main hero in the film and not the star cast. 4 movies produced till now and all exclusive rights sold to Netflix for a period of 24-36 months. A couple of others are under various stages of production/post production.
Tv
The co. produces TV content for Tamil audiences. It receives ad slots in compensation from the broadcaster.
Publication
The co. owns Open magazine which is at present making losses.
From what I could distill after all the reading, the co. is on path to monetise its existing IP in music and use the cash flow to create new IP to stay relevant in future. The co.'s music assets are rich but addressable only to a certain audience with a certain preference for music. Carvaan was a master stroke in that direction but will lose its relevance beyond a point.
The big question to answer is whether the co. can create and monetise IP on a loop (pun intended) and turn this operation into a virtuous cycle. Newer platforms available for monetisation of IP in present day is a big plus and could put content creators on a different orbit.
At the whole, the Saregama wants to re-invest in creating new IP till the point of maintaining a PBT of 13%. (excluding provision for Stock Appreciation Rights).
As far as films are concerned, the co. has decided to continue till the point losses accumulate to 30 crs and not beyond. The co. is well on track and plans to use funds raised from selling movies to make even more movies. The payback period is 5 years but the co. claims to be doing far better as of now.
As far as Music goes, the co. is taking baby steps by buying music of new films.
Questions:
For new music IP that the co. is buying, how does the co. plan to recoup the expenditure beyond the initial phase? By initial phase I mean, the time from release of the music before release of the film to 8-12 months after the release of the film, usually the duration for which music of a film stays relevant. How much percentage of total amount can be recouped in this phase?

Is there a formula to recoup all the investments in new music IP or the co. could also incur losses? What kind of ROI can a music label make on a portfolio level?

How does the co. plan to compete in acquiring new music with biggies with fat wallets like T-Series or Zee? What is the typical amount spent on buying music rights of a new film, just for the sake of reference?
(I spoke to a friend working with a competitor of Saregama and got to know that big ticket film music with superstar cast can go for anywhere between 15-20-25 cr. 2-5 cr is the lower range for which film music gets acquired. There are also instances where a film has an old song remixed, as is the trend nowadays and the owner of the old song will invariably get the music rights of the film on favourable terms. It's not as simple, the deals are not plain vanilla and standard. Some biggie music label co. with great clout that can create buzz for a film could have the music for lesser than a competitor for example. Please validate. No onus.)
As far as films under the Yoodlee banner are concerned, does the co. plan to improve payback or ROI, and how? And does the co. expect better realisations for its movies once the Yoodlee banner is established in the market, given the cost for producing a will remain in the tight range of 4-5 cr per movie?

How much of the 25 mn target audience the co. can reach in 5 year's time? For how long does the co. expect to sell Carvaan, 10/15/20 years after which the product might become outdated in its current form and existing content (60s-80s)?
I would be grateful if someone could give me pointers on the above and correct me if I'm thinking in the wrong direction.
Thanks.
Disclosure: No Investments
Small But Positive developments

Product description on AMAZON:
No calls. No messages. No internet. Enjoy an uninterrupted music Caravan Go, a personal digital audio player that comes pre-loaded with 3000 evergreen Hindi songs inside. This portable device allows you to enjoy songs of your favourite artistes like Kishore Kumar, Mohd. Rafi, Lata Mangeshkar and many more. The Go has stations designed for every mood such as happy, romance, sad etc.
It also feature 50 specially curated playlists to match any activities you take on like driving, yoga, morning walks and host of others.
You can enjoy local FM/AM stations or even your personal collection of songs on Go by simply inserting a micro SD.
You listen to the songs on GO by plugging in your earphones or by connecting the device to your personal Bluetooth speaker.
This handheld device is light weight and has a long battery life that lasts upto 7 hours. So what are you waiting for? Leave your mobile phone at home and walk, drive, fly with– Carvaan Go.