that is correct.but anybody aware why he is exiting when all optimistic reports about pokarna is coming and company available at low pe and having wonderful margins plus new capacity expansion upto 130 pct will start commencing from q1 of calender year 20
New capacity will come in stream after Q4 of FY20 from what I have read.
It seems three quarters sales growth losing here then
Could be for many reasons. Maybe he needs the money. Maybe he has found a better opportunity. Maybe he feels that the future for Pokarna is not that good. Our conviction should be based on our research and understanding.
Disclosure: invested in Pokarna
ya.from feb or march next year new plant will start production.
Cambria, the American company which had filed an Anti dumping duty petition for Chinese Quartz imports in US has filed a similar petition now for India and Turkey as well.
If this petition is successful, it would be a big set back for Indian exporters, Pokarna is majorly impacted because 97% of its revenue is from USA.
The list of Indian exporters which can get affected by this petition includes following companies.
Pokarna
Acrysil
Madhav Granites
Divyashakti marbles
The theme which was so far working in favor of Indian exporters is now potentially working against it!
Disc.
Invested in all 4 companies mentioned
This is partial truth. Local organizations have objected to this petition saying Cambria is abusing the law and may lead to job losses of 50k.
They had objected against petition for Chinese imports as well but the case has been going against them. As of now about 300% ADD is effective on Chinese imports. I believe Cambria winning against chinese gives it more potential to win against Indian imports as well. Anyway, there will be more clarity within 6 months or so as the hearings progress.
Pokarna is already running at peak utilization level for quartz and new capacity is coming in line after q4fy20 so it wont be able to gain from chinese ban anyway in short term. Better to wait for few months before staying put here IMHO.
Disclosure
Exited my position in pokarna at around my entry price in recent jump.
Guys, any idea for the recent fall in stock price. I don't mind volatility, however if the fall is because India imposed retaliatory tariffs on US recently and the market fears US will impose further tariffs including quartz .
I believe we can use this uncertainty to add more.
I think decision will be made on 24-Jun. Then, duties will be imposed, if any, in Sep/Oct and after final investigation in 2020. I would be cautious to add. Don't know to exit my position now or wait.
https://www.usitc.gov/press_room/news_release/2019/er0624ll1119.htm
A big negative for Pokarna. The agency thinks that there has been a material impact to the US Industry due to "Alleged" subsidy provided to players in India and Turkey. I do not see where subsidies are provided to Pokarna. Can someone elaborate.
This is a significant material information. In case the proposed ADD goes through, survival may become difficult for Pokarna. Let's see how the game plays out.
Disc. Have a tracking position
Thanks for sharing . Any estimate as to how much will be the ADD and the countervailing duty if they get applied ? Also probably Pokarna will also inform the exchanges about and share the details.
High risk opportunity as the committee decision might swing the balance either way.
US is trying to shrug off as much imports as they can. The decisions are clear in pharma companies observations. It is going to impact the end customer prices …essentially all decisions are unilaterally focused on appeasing the vote bank and strengthening US businesses.
I think the number was closer to 345%
Hi Kanav,
Thanks for keeping a track of this and sharing the same. As US isn't a major producer itself and they import quartz from few countries like Turkey, China, Korea, India etc. If they impose duty on too many Countries then the product should only become more expensive for them. I doubt they can really create capacity very quickly. Here is a summary of the key countries exporting to US: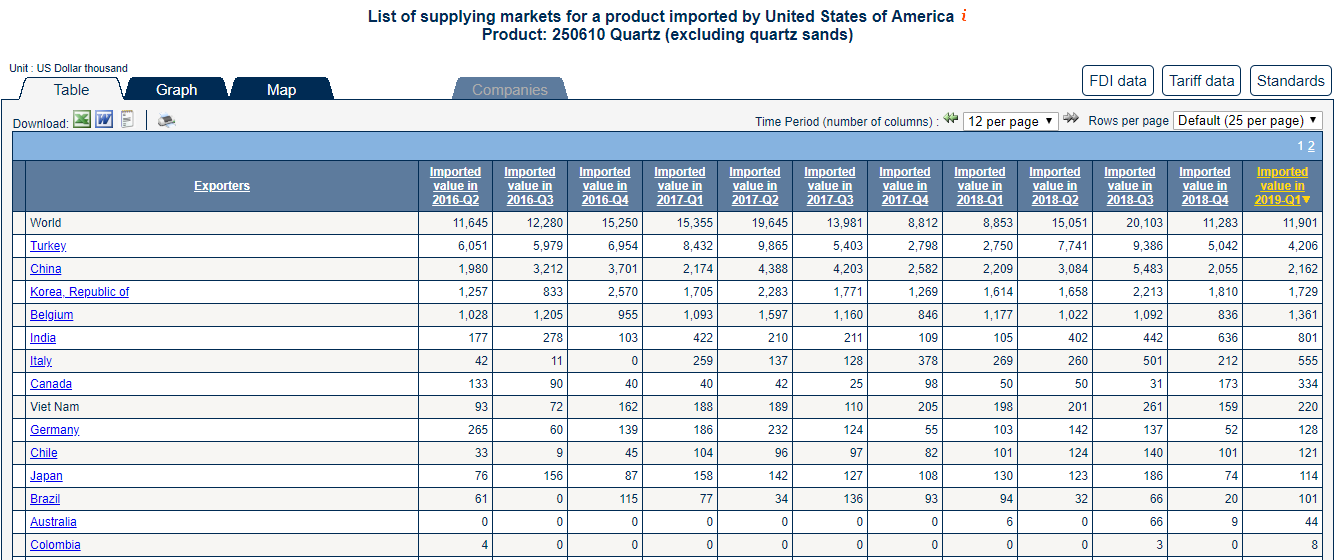 So I was thinking that as Turkey & China are the biggest supplier, as long as duty is being applied on them too and the duty being applied on India is lesser than that being applied on these two Countries, shouldn't this trade be ok? (especially given that a very high rate was applied on China). And one will come to know about this rate down few months only…correct? Also, as per international trade laws, how is the rate of duty determined (is it limited to the export incentives being received by the exporting company)
It is a negotiation chip. Hit margins of exporting countries.