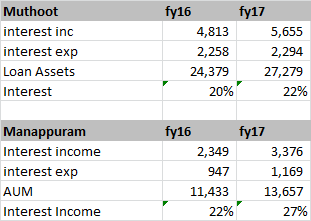 Please have a look at this. What is the reason for such high interest yield for Manappuram? Yield as per income statement is at 26% in FY17; which is higher than 24% it claims for gold loans and despite the fact that 20% of the loan book is of slight lower yielding housing finance and vehicles.
Also the increase in interest yields and thus income (without corresponding increase in interest expense is wierd) and explains such a dramatic jump in net income for the Company in FY17.
If Muthoot being market leader is lending at 21 odd percent, what are the chances for Manappuram to continue with 26% kind of average yields.