Sorry, to clarify:
We're discussing macros and how they impact institutional investors like large asset managers. They may or may not be relevant to value investors. Large market moves are largely not driven by value investors but traders, momentum riders and hedge funds, for whom macros are key - and many of those players make money as well, so whether macros matters to your investment strategy is relative - it is not the value investor's strategy to follow macros closely. My point is limited to illustrating that market moves can be driven by interest rate changes as large institutional players, mostly foreign ones, react to these by reallocating their portfolios - the rates they refer to are the reserve currency rates.

My point on looking at US Fed rates is in so far as we are talking large institutional investors and macros - my personal belief is that market volatility is led by foreign capital inflows and outflows, and these players are so huge that they essentially set the tone for all emerging markets - and their decisions are based on US T bills and the Fed, as it is the primary reserve currency and safe haven. Indian G-secs, as you correctly pointed out, are set at a risk premium to OECD rates. I don't think we can understand market moves completely when only referencing local policy actions as the primary drivers of those moves (especially tyhe currency) are foreign investors - the recent turmoil has been widespread across emerging markets and has its roots in changing policy stance in the US, and I don't think its any different for India.

Not saying risk premiums are fixed, but refuting the point that they contract because the risk free rate goes up - this is analytically incorrect - market risk premium is defined as a fixed spread above the risk free rate. The spread can change, but this is because the perception of risk changes, not because the risk free rate changes - if I need 5% above the risk free rate to invest in security x as a hurdle, then 5% doesn't decrease if the risk free rate goes up. It can change if I think security x has become riskier or safer. It is clear that if the safer asset becomes more rewarding, I'll demand at least the same level of premium as before for an unchanged, riskier asset. Please note this is not data analysis, but just drawing theoretical conclusions from portfolio theory. You can differentiate the equation for the DCF cost of equity by the risk free rate Rf, and noting that Rm is an increasing function of Rf, f(Rf), and see the derivative wrt Rf to be 1 + beta*(f'(Rf) - 1). f'(Rf) => 1 by definition (in simplest terms f(Rf) = Rf + S, where S is the positive markup that is derived from the inherent volatility in the asset). So the derivative is positive as a whole, implying increasing coe i.e. increasing discount rate and lower PV of cash flows, and lower equity valuations.

CAPM is theory of course, and does not hold in practice in many instances. Thanks for sharing the article, it is an interesting read, but the article is a little disingenuous with its data - the only place in the data there where equity returns rise is in the years 1978-1980 - and these rises are much below the standard long term return on US indices (about 7%) so cannot draw the conclusion that they increased from the baseline. The only other year is 2006, and the return here is again just about at the long term annual trend. On the contrary, decreasing rates have high correlation to higher than average equity returns.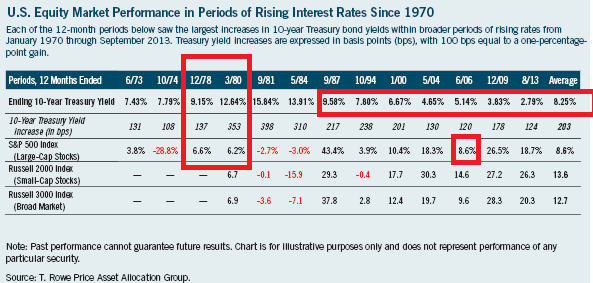 Another major conceptual issues with the analysis in that article imo - Monetary policy today is v different from how it was in the 1970s and 1980s which were a v chaotic period. Today forward communication and managing expectations is the key task of monetary policy, so rate hikes which are well communicated and within the inflation target range of the central bank should not worry markets - it is the unexpected change in long term yield expectations that causes volatility and erosion in other asset classes - modern central banks spend a lot of effort in keeping the long term yield expectations unchanged through clear policy communication - I do not reallocate my long term portfolios if my long term risk free return remains unchanged - this concept did not exist in the 1970s and was developed later. If one looks at the data for the last ten years again the thesis is not supported - actually there is no recent data for equity performance in a period of rapid rate hikes simply because it is yet to happen - the point is not a permanent increase in rates, but that long term expectations of the risk free rate undergo flux, leading to reallocations of long term strategies. The second piece of data provided, that equity moves up when yields are < 4 is also not fully representative of the fact that 10Y US treasuries have only been below this level since the advent of the modern monetary system in the late 2000s i.e. the era of quantitative easing and massive monetary stimulus - which as we all know propped up markets world over. So imo cannot read any correlation in this relationship as the market has been factoring in continuing loose liquidity in the face of gradual, well communicated rate hikes - liquidity makes the rate hike a moot point, allocation is easy when you continuously get inflows.