Hello,
Has someone used/tested the Zerodha feature called "Overnight investment". Is anyone aware of what funds do they buy and what has been the return from those funds?


Clicking on "More Info" points to this writeup -
Is there a way I can ensure that I don't miss any opportunity?
Yes. If a client hasn't utilized all funds for an overnight position in the trading account even for one day in a quarter, he could buy liquid bees or liquid mutual funds any one day in the quarter and sell them the next day morning as soon as market opens. With liquid mutual funds, this trade can be done is such a way that the funds get debited only after market closing and credited before next day opening. Liquid funds are fixed income instruments and have no brokerage (at Zerodha) or STT charges. This way a client can ensure that funds are never blocked when markets are open and also not have to bear any bank or gateway charges.
If the client doesn't have the bandwidth to do this on their own, client can request us to track, remind, and place an order for this. To do this, visit console.zerodha.com and set preference as 'Buy overnight liquid fund' as shown below.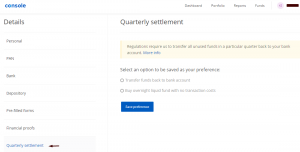 In case of pledged securities, the only way out of not having to go through the entire pledge/unpledged requests would be to take a F&O position utilizing the collateral value completely on at least one day during the quarter.
Thanks,
Manish