Short note:
Zee Lear Ltd (ZLL) is operates in pre-school and K-12 segment education segment along with recent entry in manpower training and placement. ZLL has ~1700+ preschool centers under KIDZEE brand and ~100 K-12 schools under MLZS brand. It primarily operates through franchisee model, which presents a scalable opportunity with low opex requirement. Additionally, ZLL owns and operates 5 KIDZEE franchisee and 5 MLZS schools and ! MLZS IB school (premium school with 5-6L/pa fee).
Operating leverage at play: A successful scalable and asset light model with fixed opex rsulting in significant improvement in EBITDA margin. ZLL's EBITDA maring improved form -ve 36% in Mar12 to +ve 23% [Jun17 LTM EBITDA margin is 32%]. This is a result of increasing network of franchisee for both preschool and K-12; increasing capacity utilization; 6-7% annual increment in fee with costs being nearly stable .
Preschool segment - KIDZEE
* ZLL has a chain of 1,741 operational centers and adds ~250 operational centers every year. Core franchisee number is growing at a rate of ~10% (1st  lever for volume growth)
* Average enrollment per Kidzee centre is c.74, against full capacity of c.175 per centre (2nd lever for volume growth0
* Kidzee charges INR35K as student fee per annum, which it has increased 6-7% pa. (pricing power, driving value growth)
* Franchisee pay one time INR2.5L signup fee and invest 18-20 lakh to setup center.
* Annuity based business model; only organized pre-school chain operating with a business model wherein its share of royalty is collected in advance. no debtors.
* ZLL charges 20-22% royalty from Franchisee

K-12 SCHOOL SEGMENT - MLZS
* Zee Learn acts as a consultant to local entrepreneurs who wish to setup K-12 schools, under its brand name Mount Litera Zee School and provides end to end Education management andAdvisory services.
* MLZS with 110 operational schools is one of the fastest growing school chains; Annual addition of 15 K-12 schools
* Average enrollment per MLZS is c.500, against full capacity of c.1800 per school
* Our own operating K-12 schools [5 MLZS + 1 IB] are in nascent stage with relatively low average enrollments of c. 700 per school, against full capacity of c.1800 per school
* ZLL charges 10% royalty into K-12 schools. Apart from the royalty in K-12 schools, we charge for the student kits that we supply, so roughly, if you includethe student kit price, we roughly take about 17% of the total fees from the franchisees per studentper annum
* 
	* As far as K-12 school franchise revenue is concerned, we collect kit revenue in advance but royalty is collected not ona pre basis, on a post basis. So there you will have some debtors standing into
	* Kit revenues from students: 60% gross margin; improving enrollments would result in better margins thorugh bargaining power over vendors

* Leasing income form owned school: "As far as leasing business is concerned,again it will have a net margin of about 5% or so because it is not a business wherein youwill have healthy margins. You have lot of capex so, depreciation comes into it. You havelot of borrowings to build those assets, the interest comes into, but till the time we havethose borrowings in our balance sheet we will keep paying the interest and therefore themargin on that business will not be very significant. However, as and when going forwardin another eight to 10 years when we pay off all the loans, the margin on this business willalso keep growing."

Manpower recruitment and training Segment (Zica, Zima)
* High ROI, nil capital employed and low margin business [EBITDA margin 4-5% and net margin 1-1.5%]
* Aims to cater to 10K people for Zee Group first and then move outside

Market Opportunity
*The pre-school industry is still in its nascent stage in India with approximately 3% penetration. Considering the average enrollment in a pre-school is 75 kids per center, 113 mn kids would require over 15 lakh centers. However, as of today, India has a severe shortage of pre-school centers due to low awareness of Early Childhood and Care Education ECCE.
Valuation: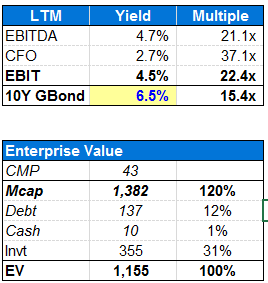 Thanks
Ayush
Disclosure:
1. I'm invested in this company