Here's a portfolio of exclusively blue chip companies.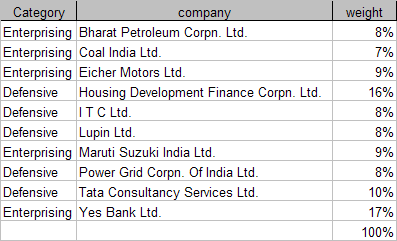 Criteria is very simple.
Only blue chip stocks from Nifty 50
Only 10 stocks
Each stock will be between 5% to 20% of portfolio.
Easily recognizable names requiring less research and monitoring
Process is also very simple.
I categorize Nifty members as Enterprising or Defensive. Enterprising is the one that is likely to benefit from economic growth and improving investor sentiment and defensive stock is the one that will survive a slow down or risk aversion.
Take out many PSUs or companies that are too volatile or cyclical or heavily leveraged.
Take a contrarian view on the economy or market. When consensus is growth, overweight defensives and when consensus is slowdown, overweight enterprising
Annual rebalancing. Avoid short term capital gain tax and minimize churn.
This portfolio generally outperforms Nifty 50 by 4-12% each year and has produced 20% return over last 10 years. This portfolio never gave me sleepless nights or even shock and awe.
This is a portfolio that I have recommended to my senior relatives for the only reason that names in this portfolio are easily recognizable. They are most comfortable with that. When a stock goes down, they blame the company, not me
My actual portfolio (of mostly large and mid cap stocks) outperforms this one but requires lot of research, monitoring and has periodically gave me shock and awe. Over time, as I would like to spend less time managing portfolio (and enjoy the return on the portfolio), I will be moving this strategy.
Comments are welcome.