can you please elaborate your rationale behind the nectar life sciences and fcel
thanks
@hitesh2710 bhai
Market is again going through Feb 16 type of phase, many stocks are really cheap, reminds me of 2011-13 period, those sitting on cash will be really loving it
, others can do lots pf PF switching to maximise gains, other can simply sit tight as this too shall pass
Cheers
This is no where comparable to feb lows. Only few stocks which are presumed to be hit by DeMo have corrected deeply. The broader market made mild correction. Range bound market. This is an observation made looking at my portfolio.
Pl download the above chart on your laptops and study it closely. It beautifully captures the underlying symmetry of Indian market.
The middle forkline on the chart presents the levels at which the market gets buying support…
The market did not fall to the lower channel line even in the 2008 bear market…Or sept 2013 panic…
There is no reason to believe that the economic situation now is so bad that market will fall to lower forkline @6000.
So if the buying support @ middle forkline continues… then even if the market falls, there will be a quick pull back to the middle forkline…
All these go on to show that we are now in a bull market correction…
And the most appropriate strategy in a bull market is to buy into the corrections and then adopt a buy and hold strategy.
The upper channel line on quarterly charts… that I have posted represents the top of the Namo 1 bull market…
It may happen either in 2017 or maybe 2018…
After this the market will start demanding performance from the Modi sarkar…And go into a long correction / consolidation.
This is important now… Because, the time to move hugely into cash is not now…But when the above topping out of Nifty takes place…
where is the chart.Unable to find any attachment
Mehnaz
What is the level on upper side as per the chart?
Nifty reaches the upper fork line @13000 - 13500 levels…
Fundamental analysis of banks is not possible for most individual investors…Hence here investors would do well to rely on the collective wisdom of the market as well as better informed big institutional investors through Technical Analysis.
Below is the chart of one such stock…IDBI.
It's showing a very rare technical formation - DOUBLE BULLISH DIVERGENCE ON QUARTERLY CHARTS…A very good investment opportunity for long term investors and practitioners of slow investing…
Now offering good margin of safety… if bought above the resistance line…And using the said line as stop loss…
Investing at these levels, there is very little possibility of permanent loss of capital.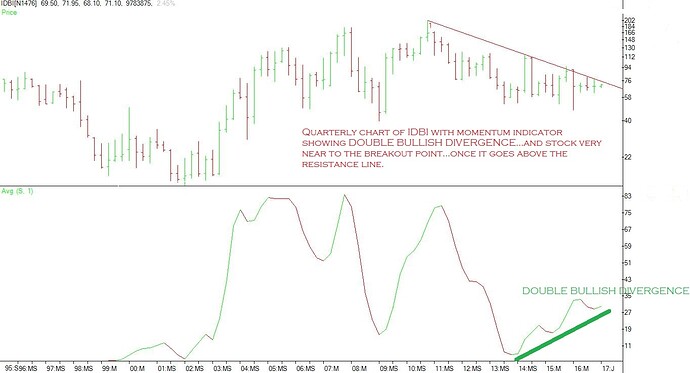 Incidentally, there are quite a few banks which are giving very strong bottom formation signals…Just when all the experts have turned bearish on banks.
I think, there may not be many retail investors / weak hands still invested in such beaten down sectors. Once the stock moves into strong hands and weak hands are driven off…Its just a matter of time before the rally starts.
Which othe rbanks you like on techniocals Mehnaz?
There are quite a few of the banks… where clear sings of bottom formation can be seen. Risk reward ratio hugely favours the buyers in these banks. Will post the charts of these banks /NBFC/financial institutions…
@Mehnazfatima
I don't know anything about technical analysis. But I have analyzed few banks based on fundamental analysis.
I find karur vysya bank, federal bank, south indian bank, Karnataka bank as interesting bets.
I have even started a thread on kvb Karur Vysya Bank
Can you please share your technical analysis observation on the banks I mentioned.
Some of the PSU banks which meet my criteria are as below…
Mehnazfatima
As per your TA is NIFTY PE is high? what's your inference?
I am really scared in this market. Even real estate stocks have doubled since November. Some even hitting upper circuit. I am wondering what has changed so fast?. Is this the time to completely get out of the market and move to cash?
I request senior guys like @hitesh2710 to share their view.
The number of stocks hitting 52 weeks high is huge and of course, a small number of stocks hitting 52 week lows.

Similar trend can be observed in the number of stocks going up by more than 5% in a day. And very few stocks that are going down by more than 5%

Buy recommendation in ET, other newspapers and news channels have also gone up in the past 2 weeks.

Finally, I am able to see a spurt of activity even on our forum. All signs of a bubble forming now I am started pruning my portfolio gradually.
.
Its really scary at this point of time.
Every day market is getting on to the new high, mostly funded by the MF euphoria by all time high inflow.
Hi @Mehnazfatima, I was reading some old threads and saw your msg in context of what happened in PNB. Of course, hind sight is 20:20 but this was the time it was unfolding and some of my ibanker friends told me that people made good money shorting PNB.
I don't understand technical and don't plan to learn but just curious, did you see any early signs in other PSU bank space?
Have a look at simple heiken aashi chart of PNB…its very apparent that the stock was already being sold off / in downtrend even before the Nirav Modi scam came out…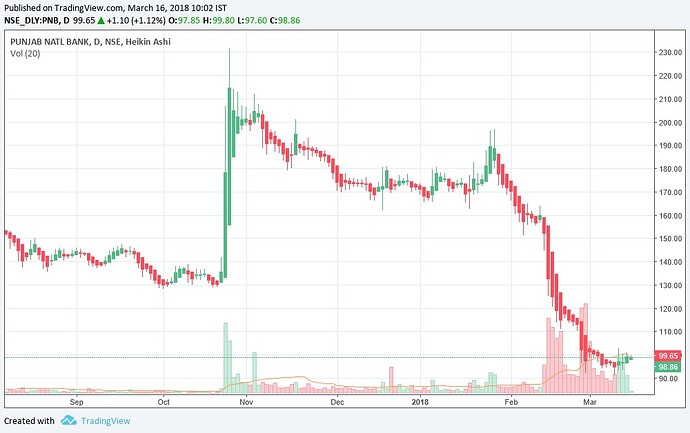 Those who were strictly going by the technical would have exited much earlier. of course in the market, to investors like us, the real reason for the weakness will be known only much later. …Insofar as shorting is concerned, technically, the best point to initiate short position in PNB was on 29 jan 2018 @ 174 levels…I think those who shorted then would have made very good money. Same goes for charts of other banks too.
On a personal note, since I was not invested in banks, I was not watching the charts of PNB…
secondly, those already invested in PNB would do well to note that, its forming some sort of bottom now…I think its still in downtrend BUT most of the price damage is behind it…no point selling it now.