I was doing some calculations on the Index since the start of the century and I was surprised by the results.
From March 31 2000 to March 2023, the Nifty rose from 1528 to 17360, at CAGR of 11.1%. Prima-facie, this is a return that most investors would be content with over a long period and would appear to be a moderate compounder of wealth.
However, it is important to factor in the real rate of return. While from a macro-economic perspective, the real return only factors in inflation, I wanted to capture the effect of currency depreciation as well.
Raw data: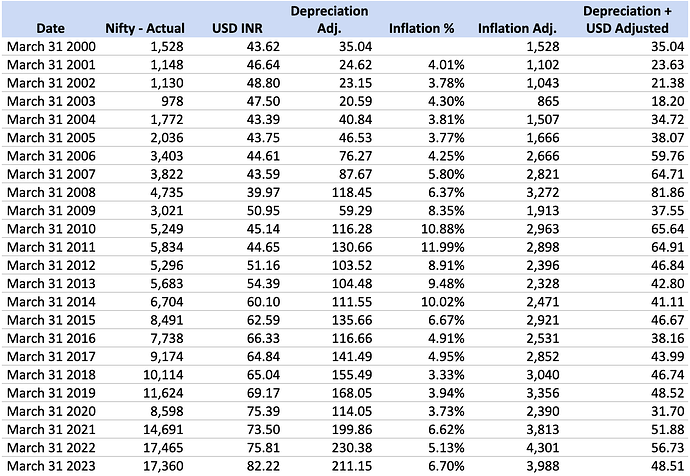 Indexed data: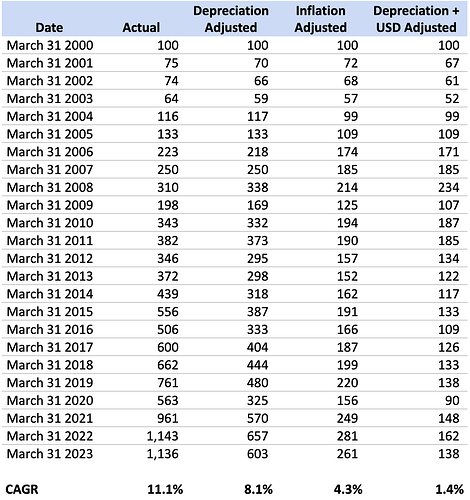 Graph: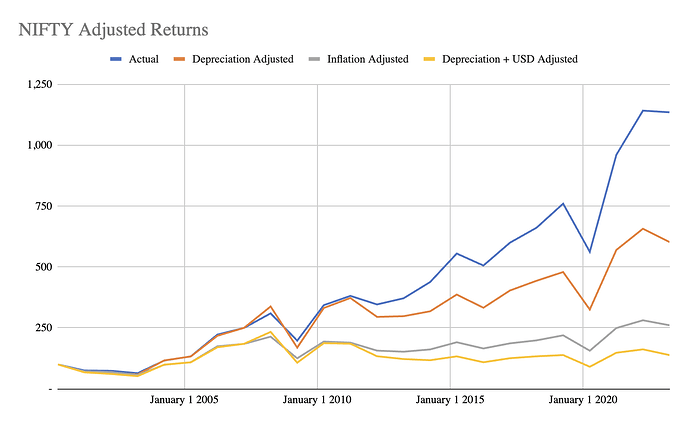 This brings me to a thoughts / questions.
Is India really growing? 1.4% returns compounded over a 23 year period is abysmal. How do we define growth? Excluding inflation, where is growth taking place? At a macro level, has the standard of living improved? Has productivity improved? Has value creation increased?

Compounding, while magically accelerating returns over time, also accelerates expenses over time. We should be aware of the real return. Do passive investors (most people) invest for capital preservation or capital creation? Why is there a push indexing investments?

While I am personally diversified across asset classes, no other class matches the returns of equity. With this, given the fact that equity is the only instrument that can preserve purchasing power, does it make any sense to diversify, in a meaningful way, across asset classes in India. Fixed income returns with this approach will likely be consistently negative while gold / bitcoin can be used as a hedge calamity.