@harsh.beria93 and I were discussing these concepts offline and I thought it would be great to discuss them on the forum so that all the members could add their knowledge and opinions.
The primary questions that we want to talk about are:
What drives asset prices higher? What is money?
My core hypothesis is that net of inflation it is the rise in human productivity that drives asset prices higher thereby creating value for humans and in turn creating wealth.
1,00,000 years ago, a silica rock was simply a piece of rock and humans valued it similar to other rocks, perhaps a well crafted one might have fetched something in return, but it was worthless otherwise. Through the accumulation of knowledge and skills, we learned over millennia to turn that rock into a device called semiconductor. This created value and a market for the processed silica to be traded in. Although the physical substance silica is limited, its applications are practically unlimited. It is hence by adding value on top of existing products and services that newer markets are created, such markets drive existing asset prices higher (a silica mine is worth a lot more now), allowing people to generate wealth with which they then trade in these newer products and services.
The continuous value addition on top of finite resources drives human productivity and the quality of the human experience higher at a rate which is strictly higher than raw asset price inflation. It is the creation of these new markets for these new resources that are the primary source of wealth creation. Until there was no internet, there were no digital ads. Once we learned how to put the physical resources together in a way that adds that value on top of the raw physical resources, we created and facilitated the creation of future downstream markets allowing unlocking of value that we did not even know existed.
A summary:
The following is the virtuous cycle of wealth creation through value addition: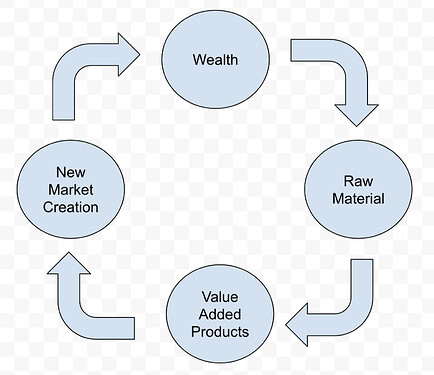 @everyone, @harsh.beria93 please feel free to add your thoughts.